We spent some time with Soren Kjeldsen ahead of the BMW PGA Championship at Wentworth this week and posed some of our own style questions to the PUMA Golf star. Read on below to find out his answer to our fan's own #AskSoren question, too.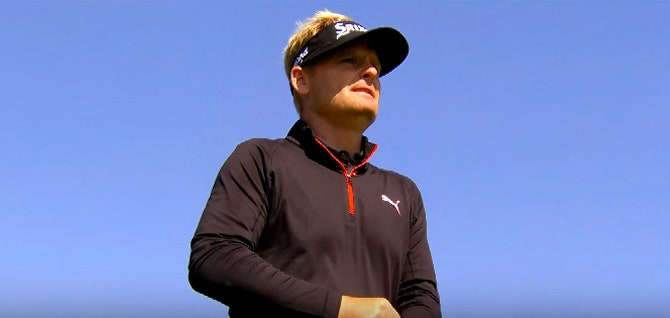 What's your style like on & off the golf course?
Erm…being very honest? I like pretty much everything I get from PUMA - I'm pretty easy. If anything, I'm probably quite conservative both on and off the course. That's probably down to my age, but I think it suits me. I love the PUMA gear though and everything I get I really like.
What do you make of the golf fashion scene at the moment - thinking about the Rickie Fowler inspired high tops & jogger looks, the unique collar designs and golf hoodies?
It's not for me at 40 plus, I think you have to be very careful wearing stuff like that at my age. Rickie wears it well though.
Is there anything you would love to see PUMA Golf create that you could wear on tour?
I think you know…every season PUMA comes up with new stuff, and it always seems to be improving year on year. I have been with PUMA for quite a long time and, honestly, every year I am very very happy with what I receive. I think they have come an extremely long way since I joined and it has been exciting to be part of that journey.
Would you get your legs out if shorts were allowed in competitive play?
I like the idea of shorts - but I'm not too sure on tour.
We've spotted you wearing the PUMA DISC technology on the PGA Tour recently - how do you find these shoes in particular?
I have certainly been surprised by the DISC footwear and I have worn it more than I thought, they are very stable and comfortable. I do like the variety with the lace as well though - they are great shoes too.
Favourite Puma golf item (current & of all time)?
I'll go for the DISC shoes. I know, I was quite surprised, too! I was a little hesitant with trying something new and then I put them on and saw how it all works with DISC and I'm very happy about those. They are probably my favourite item at the moment. Maybe they can expand further down the line with DISC, who knows?
The shot Soren Kjeldsen hit to beat Rory in the @DellMatchPlay (via @PGATOUR): https://t.co/QDLLM4Rzlf pic.twitter.com/PMZ96unEIl

— Golf Digest (@GolfDigest) March 22, 2017
Who would make up your ultimate fourball?
Ultimate fourball? Tough question. It would be great to play with Jack Nicklaus and Tiger Woods. Then the last one would be Bernard Langer - he is my hero, he has always been my hero. He keeps winning and won again this week; he is the guy I have always sort of looked up to. I also think he has been the "pro's pro" - everybody I have come across hasn't said a bad thing about him even after he was very successful. He is one of the nicest people on tour.
Do you have a style icon?
Not really, to be honest. I'm quite conservative in terms of my clothing, so pretty safe as you would say.
Favourite tournament/course to play in?
The Masters - I've always said it's my favourite. It's a little more tricky as I'm European - so my answer should be The Open...but you grow up with it being on the TV at the same place every year, the tradition, just everything about it. It is also when the season starts for us in Scandinavia with the weather, so it's the perfect time for us. It got us going crazy for playing golf after a bad winter, it would be the first time we could watch golf and then go out and play straight after! That tournament is just special.
Favourite Scottish course?
If I have to play just one? The thing about Scotland is the incredible variety of course. Loch Lomond is spectacular, I actually played with my boys last year after The Open and it was beautiful. There are obviously so many traditional courses; St Andrews Old Course is pretty tough to beat and you have to play some good golf around there, which I love. Carnoustie has always been one of my favourites too, my coach grew up there so we play it quite a lot - it has a special place in my heart.
Final question from Hywyn Griffiths, who wins a pair of Puma Golf shoes signed by Soren Kjeldsen himself:

If you could have one mulligan from your career where would you use it?
That is a very good question. Very tough. Which is the one that got away? I think it would be the play-off at the '07 Volvo Masters with Justin Rose and Simon Dyson. I had a 15 footer on the first play-off hole and I left it short… I know, short!! That sometimes creeps into my mind.
A huge thank you to Soren Kjeldsen for his generous time at Wentworth this week, it's always a pleasure to speak to such a gentleman!
Soren Kjeldsen wears the latest Puma Golf collection for 2017 which you can view and shop online at Golfposer here.