Read our exclusive Max Homa interview where we talk all things TravisMathew, Twitter, the Masters 2020, Rory McIlroy's shoe game & more...
Max Homa Interview Exclusive | 2019
GP: Hi Max, huge thanks for taking the time out to chat with us! We are one of the few online retailers of TRAVISMATHEW apparel in Europe and today we have a short series of questions lined up for you. We've only been stocking TravisMathew online at Golfposer for around ten months now - but you've been wearing the brand since 2014…
Can you give us a little bit of insight into how your relationship with TravisMathew came about and why you've kept them as your choice of apparel for all these years?
MH: I was fortunate enough to meet the team at TravisMathew early on in their growth and luckily they reached out to me once I turned pro. I love their whole Southern Californian chill vibe. It's cool clothing that isn't too loud - which suits me perfectly.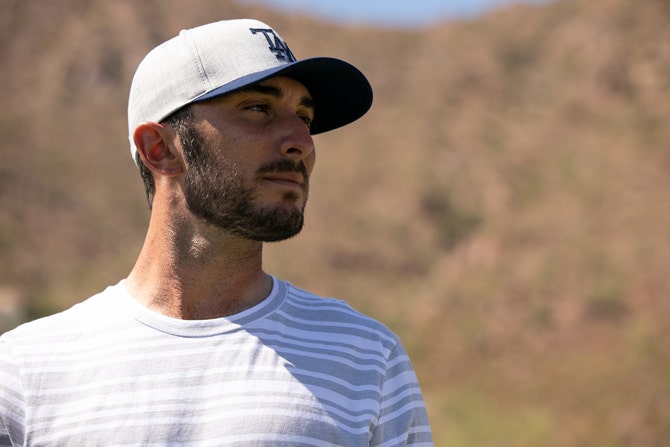 GP: For us, one of the great things about TravisMathew is how often they introduce new styles throughout the year...
How often do you get sent fresh drops from TravisMathew and does this make it easier or more difficult to choose what to wear?
MH: They send so much stuff! It's awesome, but that also makes it very hard to choose what cool stuff to wear every day. It's a good problem to have though.
GP: You hail from Southern California which continues to provide much of the inspiration for TravisMathew as a brand with their performance/lifestyle crossover…
Do you wear a lot of TravisMathew away from the golf course?
MH: Yeah it's pretty much 90% of my wardrobe. I love how it's all so versatile and doesn't scream "golf" - you know? My friends joke around about how nice it must be that I never need to go to the mall to shop.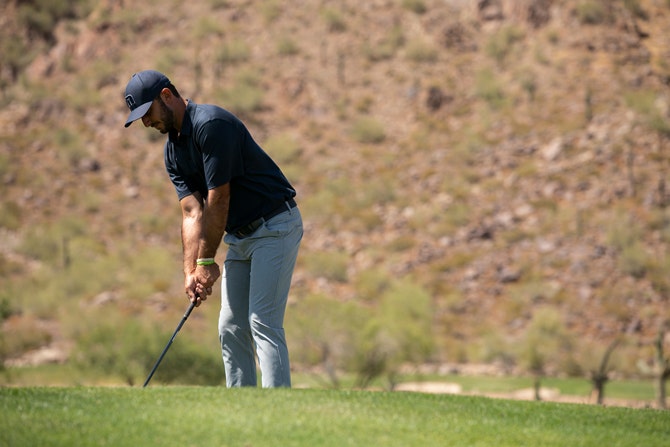 GP: We notice that you like to change it up a little bit, wearing everything from the more eye catching all over prints to some more classic looks…
Is that deliberate or is it because you choose what you wear (twitter quote) "like 5 mins before I leave my hotel room"?!
MH: Mostly it's just a spur of the moment thing but when I pack for a tourney I try to bring some stuff that's a bit more plain along with some other stuff that is a bit more eye popping. I do enjoy changing it up a little bit.
GP: If we aren't mistaken, you're due to get married pretty soon…
Your suit is something that you definitely can't decide on just five minutes before you leave!
MH: Ha, no! I will definitely be taking a bit more time in planning that one out or else it may be a short marriage...
GP: Another Twitter quote from @maxhoma23:
I read that in order to be successful I need to work on my weaknesses even when I'm not at the golf course, so I went shopping with my girlfriend to work on my patience and positive attitude. Leaving no stone unturned #offseason

— max homa (@maxhoma23) November 20, 2018
Does having a brand like TravisMathew on board mean that you don't have to do any clothes shopping like…ever?
MH: I shop as infrequently as humanly possible. I don't like malls and I don't like trying on clothes. Fortunately TM has my sizes and my address - so life's good.
GP: Back to the golf - we need to offer belated congratulations for winning your first PGA Tour title at Wells Fargo back in May!
Did you know that the TravisMathew shirt you wore that day was named the "Can't Fail" polo?
MH: I didn't know that but now it all makes a lot of sense!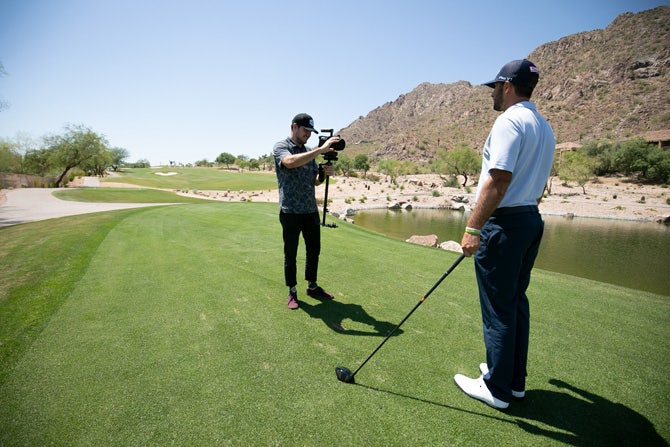 GP: You played with Rory McIlroy on the Saturday of that tournament which, of all the days, was May 4th (his birthday)...
What did you make of his Star Wars "May the Fourth be With You" Storm Trooper footwear that day? Would you ever put something like that into play?
MH: Ya I always love Rory's shoe game. He keeps it creative and the style is spot on. But he could play in socks and still make it seem cool...
GP: Now that it's the end of the season and it's never really too early to think about The Masters…
We would love it if we could "script" you for your first ever appearance at Augusta next year? It's what we do best!
MH: I am always open for help when it comes to styling myself!
GP: And finally, it's been said that you have something of a "cult following" on Twitter and we think we have found the most "TravisMathew" tweet ever posted by anyone, ever…
The golf offseason is an interesting time cuz I wanna get my game as sharp as possible and get prepared to win some tournaments but also tequila sounds pretty good

— max homa (@maxhoma23) December 5, 2018
It sounds like you are a perfect fit for the TravisMathew brand?!
MH: I would like to say we're a great fit! I love what they do and how they continue having fun doing it.
GP: Thanks again for your time today & wishing you all the best for your second tournament of the season later this week!
Read Next: About TravisMathew Golf
Shop Next: TravisMathew Golf 2019