We take a look at the latest trends in golf fashion and more specifically, the brands leading the way and pushing the boundaries - Puma and Nike Golf.
Trends in Golf Fashion - 2016
The Phoenix Open is well known for golf, but the event is a hub for showcasing the latest fashion trends: https://t.co/as7Y0lnv9X

— 12 News (@12News) February 6, 2016
For many seasons, designer golf fashion has remained reasonably constant with only a few real talking points worthy of a mention in from previous years, whether that's been Billy Horschel's printed pants, Rickie Fowler's bright pink footwear or Martin Kaymer's striking landscape print shirts by Hugo Boss. Only a handful of instances which really stick in the memory, however even these touch points were very much in-keeping with the traditions of golf as we know it. "Golf as we know it" is changing though - and changing fast.
Trends in Golf Fashion - A Paradigm Shift
Golf fashion is a very strange, very unique entity. We all like to look stylish, we all like to feel comfortable - but we've never really fused our every day fashion with our golf clothing. The trends in golf fashion don't particularly follow our every day fashion trends, either. But that's all set to change for 2016.
Rory on shorts: "It's a good idea - once you've been on the range & figured out who's a player and who's a caddie!" pic.twitter.com/MNDie8gPpa

— The European Tour (@EuropeanTour) February 3, 2016
It's changing because of effectors such as Rickie Fowler and Puma Golf, such as Rory McIlroy and Nike, such as the European Tour, such as a new generation of sartorial golfers and also thanks to wider public opinion. Rickie's new high tops and joggers look might not necessarily be one we all adopt on the course next weekend, certainly not in the British winter, but it's a look which has stirred up such frenzied discussion and an incredible spectrum of opinion which we've never really seen in golf before.
Picking Rickie Fowler to win today. High tops are for closers! #WasteManagementPhoenixOpen pic.twitter.com/2B7xFbAsvJ

— Rusty Cage (@citizencage) February 7, 2016
Is it allowed? Is it stylish? Is it breaking tradition? The answers to each of those questions are yes, yes and yes - and it's been one of the greatest introductions in golf fashion whether you like the aesthetic appeal of the look or not.
Trends in Golf Fashion - Nike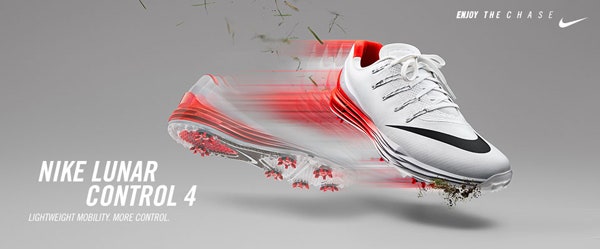 As for Nike Golf - one could argue that they planted the seed for this revolution in golf fashion. Having launched the "football boot" inspired Lunar Control 4 golf shoes late last year, the stepping stones were firmly in place for other brands to make the next move. It's also very interesting to watch from a branding perspective; it would seem that these two brands in particular are really trying to one-up each other with new, fresh, innovative and thought-provoking designs, all in a bid to push the boundaries of golf fashion.
How much has golf footwear changed? We certainly embrace it. We don't stock @FootJoy but hats off to you! #FJrunners https://t.co/WNFJNKoN4O

— Golfposer.com (@Golfposer) January 23, 2016
The hoodie.

Essential on a chilly morning in Scottsdale. https://t.co/Zo7sf6EVVx

— PGA TOUR (@PGATOUR) February 5, 2016
Other brands are attempting to break the mould, too. Nobody would recognise the new FJ Runners as a traditional Footjoy golf shoe and even just this week we saw Morgan Hoffman wearing a hooded sweatshirt on the course. Let us ask, when was the last time you saw a hoodie on the course, never mind on the PGA Tour? We're not sure, either, but we like it. The stylish 26 year old Hoffman actually wears his own new "athleisure" inspired brand, named Greyson Clothiers, launched in association with the former Ralph Lauren designer, Charlie Schaefer - and we like their thinking already.
New Trends in Golf - TPC Scottsdale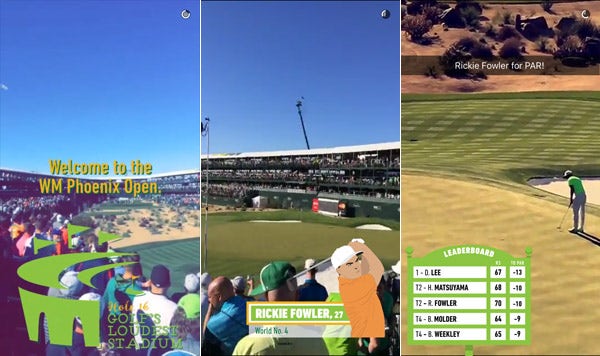 Quite appropriately, the PGA Tour is visiting TPC Scottsdale this week for the Waste Management Phoenix Open. "The loudest tournament in golf"; "The greatest show on grass"; "An ampitheatre atmosphere"; "A cauldron of noise" - the WM Phoenix Open has been enjoying record-breaking crowds this week and also featured on the live event feed on snapchat for the second year in a row. It's generated an incredible, social-driven buzz and sparked a renewed interest in golf that only the Ryder Cup can rival. It's one of a kind but, for us, it's the way modern golf tournaments should be.
The tee up, turn up on snapchat shows golf can be freaking awesome to watch

— Doc (@Doc_Schulte) February 7, 2016
"It's one of my favorite events having the loud crowd out there." -@RickieFowler https://t.co/CUQ8zzaAro pic.twitter.com/XAm8zIjEpp

— PGA TOUR (@PGATOUR) February 6, 2016
At the time of writing - the final group are just heading off for their final round at TPC Scottsdale. Rickie Fowler is in the mix at the top of the leaderboard once again and, inevitably, has donned the Puma high tops and joggers look in his traditional Sunday Orange. His personality and passion for the game is endearing, his energy and popularity is captivating; Rickie Fowler and TPC Scottsdale are a match made and we sincerely hope he can bring home his second victory of the year this evening.
What do you think? Are the new trends in golf fashion good for the game? Do you like the new direction? Let us know!