We take a look at the best styles of spikeless golf shoes currently available for purchase online at Golfposer.
Spikeless Golf Shoes - Trending on Tour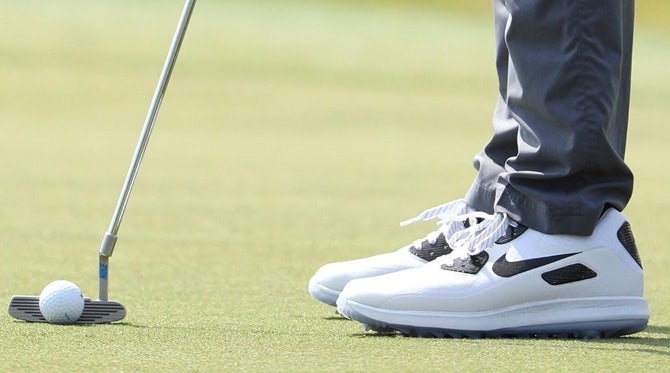 All year, we have documented how golf fashion is changing and moving forward at an exceptional rate with the introduction of athletic inspired trends. Regardless of what any one thinks about modern golf fashion with cuffed pants, high top golf shoes and new collar designs - we would like to confirm that the athleisure trend is certainly here to stay for the foreseeable future.
The key to it all is the players on tour who are wearing the edgy and sometimes controversial apparel and golf shoes at the biggest events. Rory McIlroy, Rickie Fowler & co. are golf fashion leaders and their follower base is growing with the aid of their respective brands. Golf fashion is one of the hottest topics in the game and spikeless golf shoes have had a lot to do with that; both Nike and Puma have launched some innovative and pioneering styles for 2016 which are inspired by some of the most popular lifestyle trainer designs.
Spikeless Golf Shoes - Online at Golfposer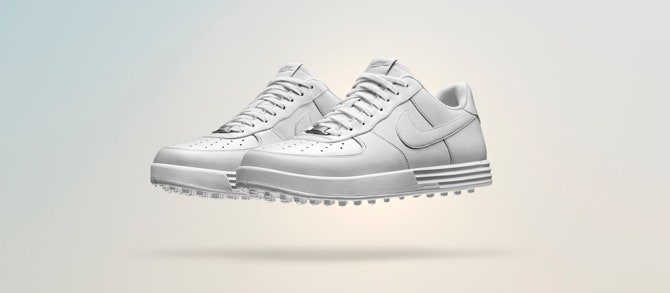 This year, our team made a very conscious decision to only stock Nike and Puma spikeless golf shoes online at Golfposer. We like innovation, we like excitement and hence, we like to provide only the latest and greatest styles of footwear for our loyal customers. Only Nike and Puma could meet our high standards with their lines of 2016 spikeless golf footwear and here are some of our favourite styles of the year so far.
Nike Air Zoom 90 IT - Air Max Design
We featured these golf shoes back in May after Rory was wearing the white/black version way ahead of schedule and inevitably sold out of our advanced quota within a matter of days. More are on their way in the coming months with additional colour options; read all about the Air Max 90 golf shoes right here.
Nike Lunar Force 1 G - Air Force 1
The new head of Nike footwear had promised some exciting releases inspired by classic Nike trainer silhouettes and the Air Force 1 certainly lives up to that classic billing. An iconic look with two colour options, a one year waterproof guarantee and certified comfort on and off the golf course.
Nike Flyknit Chukka
The shoe which really started the Nike revolution in spikeless footwear at the start of the year and the first ever Nike golf shoe which features a flyknit weave upper. Unveiled as part of an "enemies of the course" collection earlier in the season, the Flyknit Chukka adopt a mid-top silhouette and have received some rave reviews from both professional golfers and amateurs like you and me.
Puma Ignite Spikeless Golf Shoes
Now for Puma's offering of spikeless golf shoes for 2016 with the signature Ignite cushioning technology. A favourite of Bryson DeChambeau, this all-new design looks incredibly clean and stylish with a sleek performance last which has been used - whilst a two year waterproof guarantee features with complete reliability.
Our team actually own a couple of pairs of these in the office and the key design element for us is the comfort collar around ankle; this is made with a soft material which provides enough support yet an exceptional feel from the very first time of trying.
.@b_dechambeau showing Monday how it's done pic.twitter.com/bmPd6Kq1nJ

— PUMA GOLF (@PUMAGolf) May 16, 2016
Puma Monolite Golf Shoes
The other style from puma is the Monolite spikeless golf shoe. Remember when we said we like innovation? Well, this particular style has been around for a few seasons now but still provides a solid value-option in an all-white colour way for the purists among us.
There you have it - the entire selection of spikeless golf shoes for 2016. It may also be worth noting that other styles have come and gone due to our team's exacting standards - more specifically with the Nike FI Premiere which we thought was too restrictive at the ankle area. With that in mind, you can trust that every style we feature online at www.golfposer.com is well worth considering for your next outfit.