Team GP were invited to the Nike Golf Cub LDN event earlier this week and it was a pleasure to spend some time with Rory McIlroy on location at N1 Golf, Greenwich Peninsula. Scroll on below to read our full chat with Rory as we get his thoughts on the #NikeGolfClub, the progression of golf fashion and which Nike sneakers he would love to see transformed into a golf shoe.
Rory McIlroy Interview Exclusive | #NikeGolfClub
GP: Hi Rory, just to thank you, first of all, for your time today. It's wonderful that Nike Golf have invited us down to this amazing event and it has already been an exciting morning of activity at NikeTown London, followed by the underground journey on the way here to the Nike Golf Club at N1 Golf, Greenwich Peninsula.
So now, we would love to ask you a series of questions just to get more of your insight on Nike Golf apparel & footwear, since that's what we specialise in at Golfposer.com?
RM: Yeah, of course!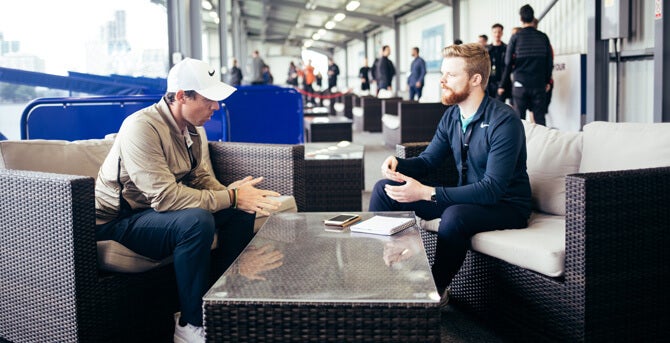 GP: So, today has been all focused around the new Nike "Aeroreact" story and how versatile that can be. Do you feel like it's their best creation yet, in terms of polo shirt performance and the adaptability which comes along with that?
RM: I think so yeah, I mean I think with the introduction of Aero and then the introduction of the blade collar as well…blade collar is obviously a lot more progressive for the golf course. It's not something that we've really seen in golf before and I think that lends itself to being able to wear it off the course, too.
Like this, I'm wearing a lifestyle sort-of jacket but if you put this Aeroreact polo underneath - this doesn't look like I've been out on the golf course, you know? So you can go from playing golf…to meeting your mates in the pub…to whatever.
So it is, it's very versatile and that's the way our game is going. It's becoming more of a - not so much of a "lifestyle" - but people don't want to have to go home to change after playing a round of golf to go on and do something else. You want to be able to do both things.
So even these shoes for example, the Course Classics, I mean underneath - yes you can see that they're a little different and you can tell that they're a golf shoe - but if you just saw them from the side then they're no different from just any other Nike street shoe, you know? So that's been great.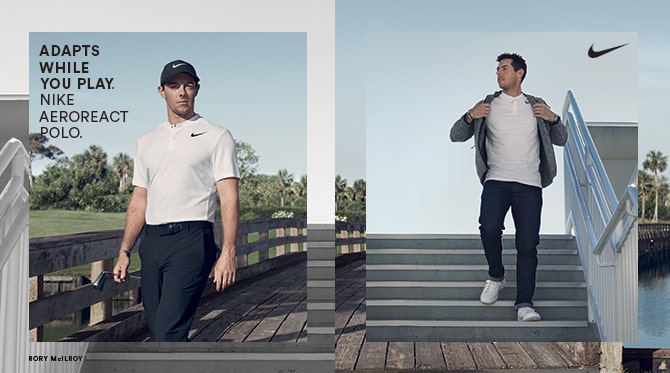 GP: On that note of adaptability, Nike have had great success with bringing iconic sneaker styles into golf, such as the Air Max. Can you pick out a favourite golf shoe style (spikeless or otherwise) which Nike have ever produced?
RM: Yeah, for me…I like a very sleek looking golf shoe. I'm quite progressive in terms of what I like to see on the course and guys wearing but at the same time, there are some traditions in the game which we sort of have to respect. So for me, a golf shoe has always been a "golf shoe" and sometimes just putting a few spikes on the bottom of an Air Max might look good, but might not perform as well as a proper golf shoe. It has to perform. So obviously, you see an Air Max golf shoe but it's not really Air Max because they put things into it that make it a proper golf shoe, you know?
But I say my favourite Nike golf shoe of all time…my favourite Nike shoe that I've worn? In terms of the look, I like the Lunar Control 2. Yeah, the 2. It's a very narrow, very sleek golf shoe but it's still…it highlights the technical aspects of it. The Lunarlon, the Flywire…it sort of embodies all of that but it still looks like a golf shoe. But, obviously you can't wear that golf shoe off the course…so it's a hard one to decide.
I think we're going more and more into spikeless as well. I mean, I've transitioned from metal spikes when I first started with Nike - a proper traditional golf shoe - and now I'm in Integrated Traction which is great with the Vapor. It works well and I really do like it.
When I'm practicing I'd wear things like this (the course classic) or the dunks or whatever. So yeah, it is changing but as a pure golf shoe? It's the Lunar Control 2 for me. I had success in that as well - I won a bunch of tournaments and a couple of majors so maybe I'm a little bit biased!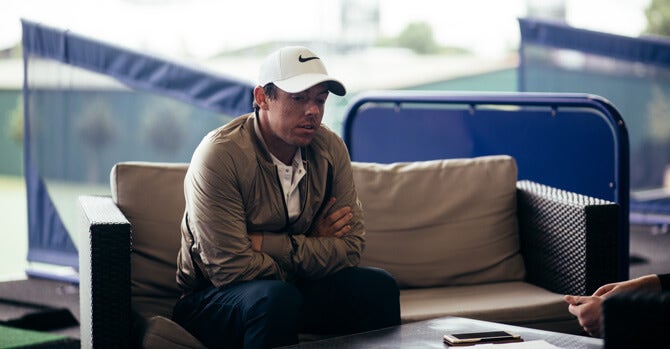 GP: So on that point then, are there any other Nike sneaker styles that you would like to see transformed into a golf shoe?
RM: Yeah, I guess…I mean I've always been a fan of the Air Max. The Air Max has always been my favourite. A couple of those skateboarding shoes - the SBs and the Janowskis - they would look cool as a golf shoe, too.
Obviously we saw Jason wearing the Air Jordan 1 last week at The Open and that caused a bit of a stir. It seemed like all I read about on that first day was either about his shoes or Justin Thomas' tie! But I've never been a big fan of basketball shoes; I would never wear them off the course any way, so I wouldn't wear them on it either. I've worn Air Max before though, so it's something that has to resonate with you as well.
Air Max would always be the ones for me but I guess like, Nike Roshe maybe as well? That would be quite cool. Again, it's all about trying to make them look good but at the same time, they have to function as a proper golf shoe as well.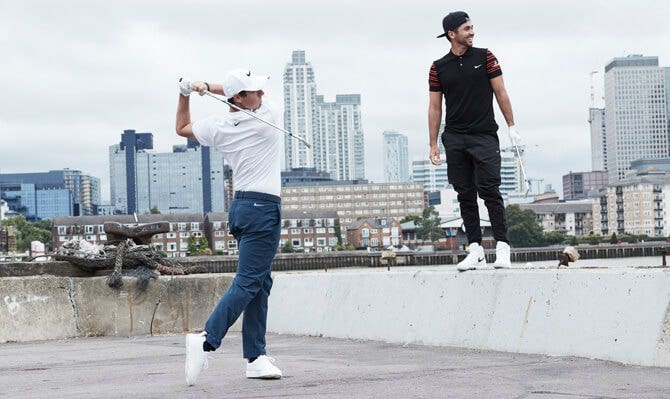 GP: Since the brand retracted from hardware, have you noticed the heightened focus on apparel & footwear filtering through to the products you actually wear today?
RM: Yeah, definitely. The great thing about Nike is that we are involved in the process from start to finish. I mean, I've already seen golf shoes that they're working on for '18 and '19, so you're involved from the very start and they get your feedback on it.
I've definitely seen a new focus. I mean, Nike produce footwear and apparel but footwear is their "thing", you know? Nike are trying to become the number one in golf footwear - the number one shoe in golf basically - that's their goal and I don't think they're that far away from it.
I think getting away from the hard goods and being able to focus on that…it's letting them go down a few different avenues. Not everyone in golf is like us and likes the progressive side - some people are more traditional and you need to cater for them and you need to cater for the people who want to be a little more modern…and then you need to cater for the people who are somewhere in the middle. But it's let them do that because they've got a bit more time to do that now.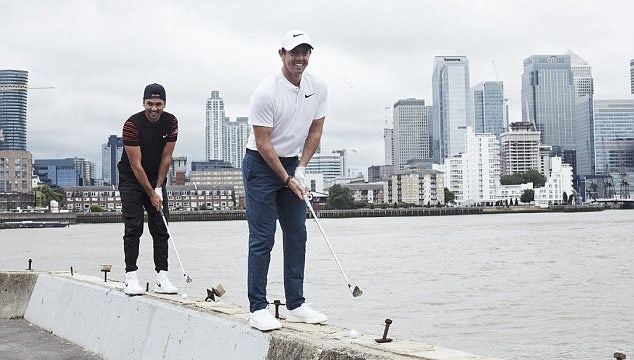 GP: So on that point then, you say that you work quite closely with the product team…do you enjoy that? Do you enjoy being asked for your input?
RM: Yeah, I like to learn! It's an educational process for me because I don't…I mean I can go and tell people what I think looks good and what doesn't look good, but whenever they talk you through what they're actually doing and "this is the idea behind it", you know. I think the great thing about Nike is that they can say: "well this has worked really well in a football boot" or "this has worked really well in a different shoe"…taking ideas from different sports. That can only help as well.
GP: A great example here with these Course Classics, then, which came from Tennis!
RM: Yeah, exactly! There are so many examples. You know: "the stability in that basketball shoe because of this part which really made a difference and we think this could help with stability in a golf shoe". There are so many different areas which they can draw upon.
So I do, I do enjoy being a part of the process. It's a bit of an education for me because the guys in the room know what they're talking about and I don't. But at least I can tell them what does and doesn't look good.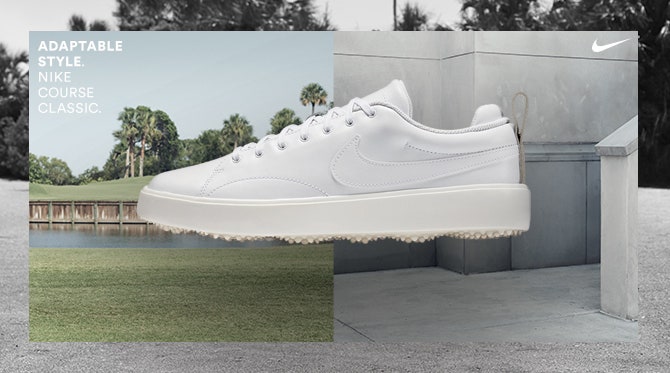 GP: So, we at Golfposer document what you wear on tour every week and notice you mix it up in terms of classic collar, blade collar - regular fit and slim fit. Do you like that Nike Golf offer such a diverse range of apparel for the modern golf consumer without having "just one look"?
RM: Exactly, I don't think we can ever lose focus of the fact of where golf has come from. You know, obviously we want it to go a certain way but you have to keep the traditionalists engaged as well. So I do like that there's a slim fit or a more normal, classic fit. You've got trousers like this Flex pant or you've got trousers like the more chino-type of trouser. Yeah, blade collar and normal collar…I do like to mix it up.
Some weeks I'll feel like I've worn a blade collar enough and I want to go back to something a bit more traditional - or some weeks I'm like no, you know what? I want to be a bit more different.
I think, as well, it depends on the event. For example, the Open Championship, it's probably known as the most traditional golf tournament in the world and so to be able to put a blade collar on and be like "OK this is a traditional tournament but golf isn't always going to be this way". It's good to be able to put that image of golf on a platform such as The Open Championship.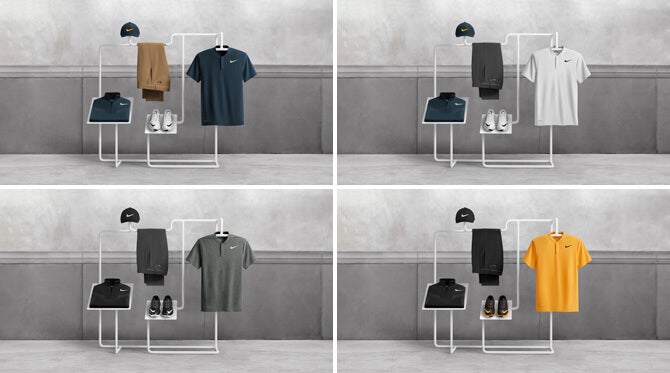 GP: So, have you ever been pulled up for what you wear on the course at all? For some people, that's where the concern lies when it comes to blade collars and other more progressive styles…
Well, I haven't. It still has something resembling a "collar" you know, it's not as if it's a round neck T-Shirt. I think it looks great - you see it going to tennis and you see how Roger Federer wears it on the court…I like it. I've never really been pulled at all. Maybe once when I was younger about my shirt being untucked or something? But never since then.
GP: ...and finally. Can you pick a favourite shirt from this year's collection?
RM: Yeah, so I'm a big fan of technical fabrics - I really feel like they do help. So I would say… well these Aeroreact polos, see for warm weather, this thing is so light and so breathable. I'm sure you felt that on the London tube this morning, too!
I'm trying to think of which other shirts I've worn that stand out…obviously these ones are all in solid colours but there's a couple of blade collar polos that I've worn recently at the Travelers Championship which had more of a pattern on them. They would be some of my favourites as well. It's good to mix them up every once in a while and I think I'm wearing all Aeroreact collared polo shirts at the USPGA - so that's a little bit different again. I'm looking forward to that.
GP: Well Rory, we just want to thank you again for your valuable time and we really do appreciate your insights. All the best from the team at Golfposer and we'll hopefully see you again sometime soon!
RM: My pleasure!
Click here to view the entire Nike Golf apparel and footwear collection for 2017.