Earlier this week, Puma unveiled the Rickie Fowler Masters scripts in an official capacity - but the announcement raised more questions rather than answers. Which Puma footwear styles will Rickie Fowler be wearing?
Rickie Fowler Masters Shoes - The Styles
Officially, it's the Puma TitanTour Ignite golf shoes for all four days. However, as you may have noticed with the "Abbey Road" image which surfaced on social media through the week - it looks like there might just be something special on the horizon for Masters Friday. A bare-footed Rickie Fowler walking 18 holes on the harrowed turf of Augusta? There's some things we would never rule out when it comes to Rickie Fowler and Puma Golf - but this is certainly one of them.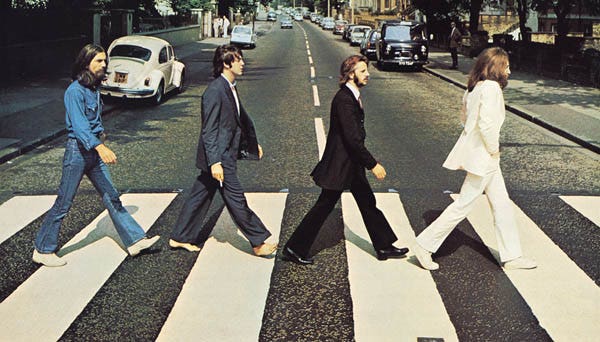 And for good reason. For those of you haven't clicked yet - the lack of footwear on Friday is just an extra play on the Abbey Road album cover from the Beatles. Paul McCartney, second from the left, never wore shoes whilst walking across the most famous pedestrian crossing in the world. Hear that? That's the sound of pennies dropping around the world.
Rickie Fowler Masters Shoes - Puma High Tops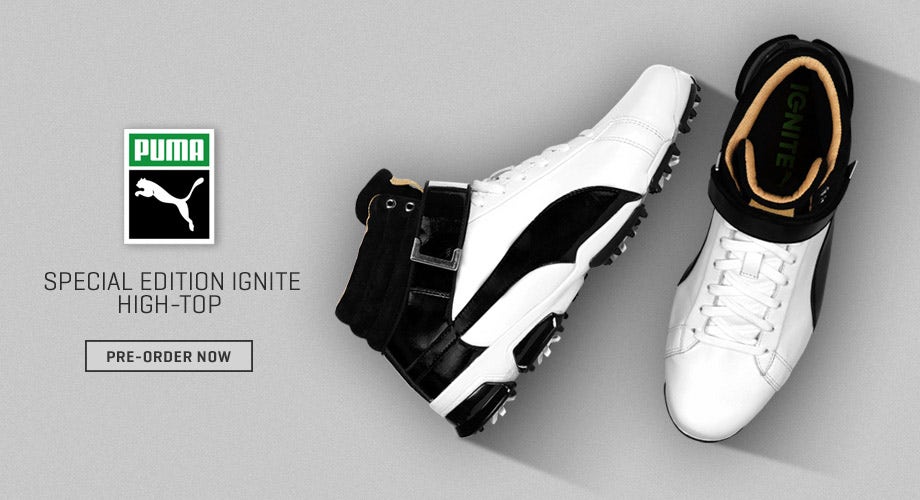 Rickie's high tops look likely to make an appearance, in one form or another. If we look closely, Rickie is wearing high tops and joggers on the first day - according to the Abbey Road shot - a style which has already provoked many a conversation/debate amongst prominent golf commentators, loyal Puma followers and armchair critics alike.
So reason would suggest that Friday at the Masters will see Rickie Fowler wear the white/black Puma Golf High Tops - now confirmed to be available in a full retain capacity this Summer. The Rickie Fowler x Puma Golf Ignite high tops would definitely get some air-time and much more exposure for being that different, especially on a cherished course such as Augusta.
King LTD #SentThatOne RT @PGATOUR: Good morning.

Here's a 410-yard drive to start your day. #PGATOUR https://t.co/Ztplmag3SQ

— Rickie Fowler (@RickieFowler) March 24, 2016
The shoes themselves are clearly a great product. If they were only intended as a marketing gimmick, then Rickie Fowler would not be wearing them quite as often on the PGA Tour. Heck, he's even worn them without the cuffed pants - a fundamental component of the "High Tops and Joggers" look. Without the joggers, it's actually quite difficult to see precisely what's on Rickie's feet and hence, why would Rickie wear them if they weren't super comfortable and performance driven?
So, will Rickie be bold at Augusta? Will Puma capitalise on such an opportunity with the Rickie Fowler Masters Shoes? What will the colour scheme be? Will the cuffed pants really make an appearance? Will the Rickie Fowler Masters Shoes all be high tops? So many questions and for now, so few answers. Only time will tell.