Introducing the New Nike Golf collection in its entirety - with fresh new colour combinations set to be worn at the PGA Championship next month.
New Nike Golf - The Story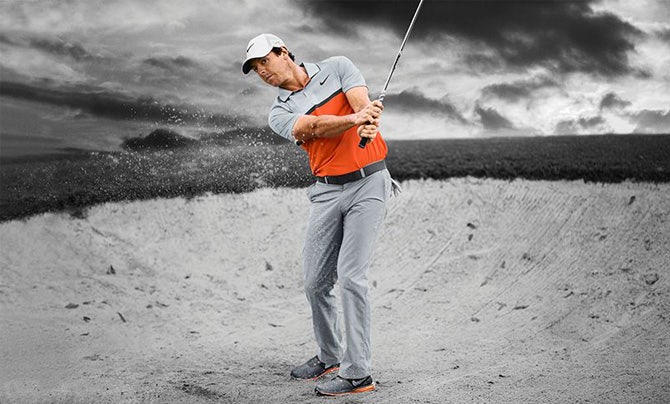 As a brand, it seems as if Nike can do no wrong at present. An entirely new strategy was implemented with respect to their golf apparel production and refocused on particular colour stories, or collection 'flows', rather than the traditional two-season calendar adopted for so many years previous. We first witnessed the change with the Masters at the start of the year when almost every Nike athlete wore Volt yellow in some form - an approach which certainly won over any remaining critics.
'Volt' was very much the theme for the Masters and 'Electro Orange' was very much supposed to be the theme for the Open Championship - but unfortunate circumstances meant Nike missed something of an open goal with that plan. The Electro orange colour way still looks great as a stand-alone range as we'll soon discover, but the season now moves on to the next two colour flows which are set to feature at the PGA Championship. The new Photo Blue/Deep Royal and Sport Fuchsia/Black colour stories arrived online this week and here are some of the best styles on offer.
New Nike Golf - Photo Blue/Deep Royal
'Photo blue' is fresh. A really sharp looking, vibrant shade of blue which marries perfectly with the Deep Royal accents to produce some of the best shirts we've seen from Nike this year. The Momentum Fly Stripe shirt is perhaps the most iconic and has featured throughout Nike campaign imagery this summer, whilst the Momentum 26 shirt is another which has been prominent on tour already. The Mobility Camo Jacquard and Modern Fit Momentum Camo shirt options introduce some trend-led prints into the collection, whilst golf trousers which will match in with the range include the Modern pants in Deep Royal or Wolf Grey.
Key styles of Nike golf knitwear are also featured within the Photo Blue/Deep Royal flow and will help to build outfits as we approach the Autumn/Winter season. The basic sleeveless pullover or regular quarter zip sweater use Dri-Fit technology and will continue with their popularity, meanwhile our favourite knitwear item from the range is the Nike Therma-Fit sweater with a brushed-back interior for supreme warmth and comfort. A new, much-hyped Nike golf jacket is also available in Photo Blue; it features a padded front to encapture current trends once again and will also soon be available in black for the more conservative golfer.
New Nike Golf - Sport Fuchsia/Black
The second key colour flow of the new Nike golf collection is 'Sport Fuchsia' - a fresh pink look which might just leave some commentators with a slight headache (it is spelled fuchsia - just to confirm). As we know, pink can often polarize opinion but we think Nike have managed to pull it off in typical Nike fashion with eye-catching yet very wearable styles on offer. The same key shirts feature as with the previous blue story, but we can also add in the MDRN Fit Transition Block shirt to our list of favourites.
The Dri-Fit and Therma-Fit sweaters in black provide layering options once more, whilst a new Platinum/Pink colour option of the acclaimed Lunar Control III is also featured within this colour flow. New Nike Golf trousers also feature in Sport Fuchsia, for the more daring among us.
New Nike Golf - Electro Orange/Wolf Grey
The truth is - Rory McIlroy's absence was felt at the Open Championship and not just by the thousands of spectators in St Andrews. Nike endured a long week without the world number one appearing on our television screens and the Electro Orange/Wolf Grey promotional campaign was torn apart in one swift motion, a bit like an ankle ligament. There is still no denying, though, that this colour flow is actually one of the most impressive capsule collections from any new Nike golf range in recent memory. At least Nike athletes Russell Henley, Ross Fisher and Paul Casey still looked good on the Old Course...
New Nike Golf Shoes
As you may have expected, with new Nike golf clothing comes new Nike golf shoes. The Lunar Control III remains as the lead style of the range and is now featured in three new colour options, whilst the FI Impact II is a brand new Nike golf spikeless style and offers superb flex and comfort for wearing on and off the course. The Nike Lunar Mont Royal is the final shoe style and is currently available in white or wolf grey, with an all-black option arriving in the near future.
New Nike Golf - PGA Championship Scripts
We don't wish to tempt fate, but should Rory McIlroy recover in time then the sport fuchsia pink colour way will most definitely feature at the PGA Championship at Whistling Straits next month. The key styles he will wear include two camo options, whilst the colour block Transition shirt will also be worn in black/grey. Rory McIlroy's scripts for the PGA Championship look undoubtedly sharp - but will Rory McIlroy wear Rory McIlroy's scripts at the PGA Championship? Only time will tell.