Martin Kaymer has been wearing the new Hugo Boss collection for Fall 2015 and one shirt in particular has stood out so far - the Paddy MK 1.
Martin Kaymer Landscape Print Shirts - USPGA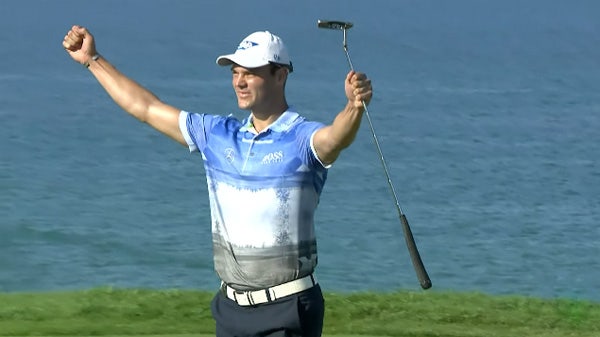 We first saw Martin Kaymer wearing these rather unique Hugo Boss shirts at the USPGA Championship earlier this year, a time when there was no lack of media attention on the German as the last man to win around Whistling Straits. It was the Rhubarb red worn on Friday for round two, whilst the Olympian blue colour was the choice for Saturday - but both equally stood out as much as the other. There's a brand new Asphalt grey also available, yet to be worn on tour by Kaymer however.
Martin Kaymer Landscape Print Shirts - On Social
NEW ARRIVALS More of 'that' #HugoBoss Martin Kaymer shirt from the USPGA + a new colour! http://t.co/1i1Pl5bywO pic.twitter.com/4zJKpYidvS

— Golfposer.com (@Golfposer) September 16, 2015
It was rather entertaining to see the social media reaction as soon as the Martin Kaymer landscape shirts landed on our screens. It wasn't all glowing - some wondered if old MK had been in a bar brawl the night before; others wondered if a red sock had been left in the wash. But the majority loved the look and we definitely thought it was refreshing to see Hugo Boss trying something a little bit different.
Martin Kaymer Landscape Print Shirts - Blue
We love the Olympian blue option and it would appear you do, too. We've already had to restock this style - twice.
Martin Kaymer Landscape Print Shirts - Red
And the Rhubarb red which caused such a stir on Friday at the USPGA. It's eye-catching for sure, so we understand if this is a bit too much for some of you loyal Hugo Boss customers.
Martin Kaymer Landscape Print Shirts - Grey
And finally the Asphalt grey. We haven't actually seen this worn by Martin Kaymer as of yet. It's a very new arrival online at Golfposer but we think this might be the best of the lot, given the recent tour trend which has seen grey become the in 'colour' of the season.
One more thing that's been debated in our office all week. Can any one identify the landscape image used in the Paddy MK 1 shirt? We would hazard a guess at Whistling Straits...answers on a postcard if you know any better!