We caught up with our latest Galvin Green competition winner who recently joined us to play the Machrie Golf Links on the Isle of Islay, Scotland.
Name: Rich Preen
Golf Club: Broadway GC
Handicap: 5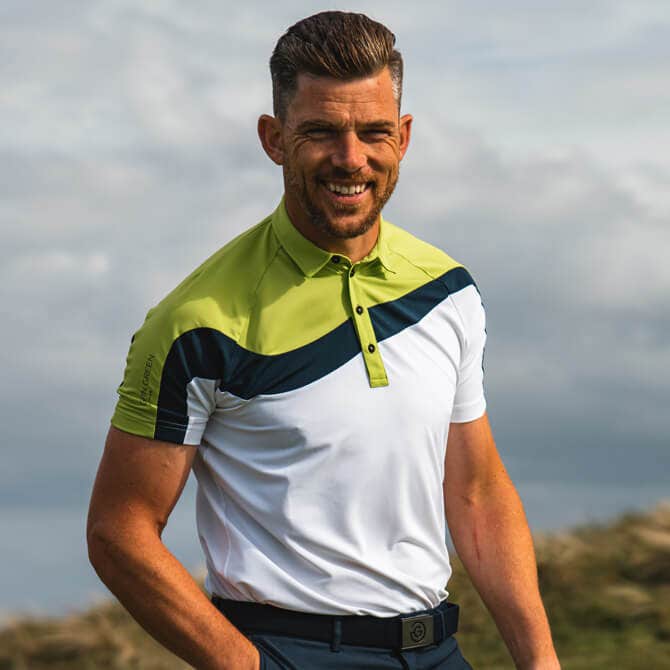 So Rich, how did it feel to be the lucky winner of this amazing competition which had nearly a thousand entries on Instagram?
I was absolutely thrilled to have won. You enter these comps with the mindset that you'll never win - but that proved to be wrong this time. When I phoned my wife to tell her the news - I said, "Guess what?" and (because I sounded so happy) she replied, "Have we won the lottery?!" - my reply to that was "No, its better than that!"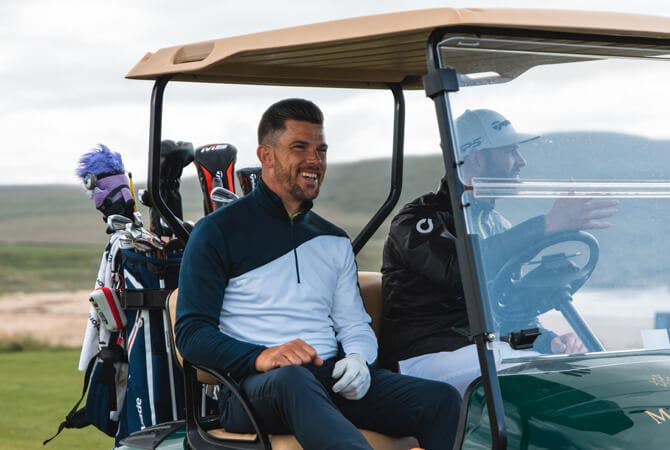 What were your initial impressions of The Machrie Golf Links upon arrival?
The hotel is a beautiful, modern building but still with a traditional feel to it, situated in an untouched countryside location. The scenery around the whole venue is just surreal and the staff were all so welcoming. Special mention for the head pro, David Foley, who gave us some friendly insight on which holes to look out for and how best to play them. His enthusiasm is refreshing to see!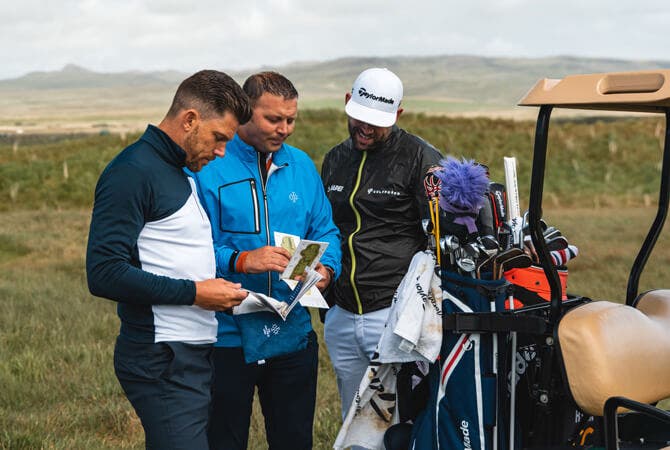 Your outfit included some brand new Galvin Green styles which will be launched online at Golfposer later this Summer; what did you make of the outfit we gave you in terms of styling?
Well, I'm a big fan of combining navy with white - so you came up trumps with the colour choices for me. I've got quite an extensive wardrobe of golf clothing from various brands and the Galvin Green items certainly knock the socks off them. The styling is great as the brand doesn't put itself into a particular age category - unlike some other brands out there. In terms of fit, they are all perfect and I felt super sharp in the outfit. It's great to wear clothing which makes you feel good on the golf course.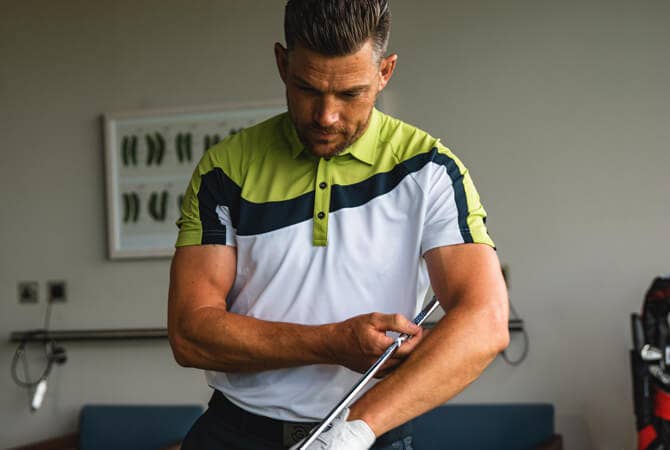 Had you ever worn any Galvin Green clothing before and what were your thoughts on its performance after the round?
Yes I had worn a couple of pieces of Galvin Green items before the Machrie experience. Performance wise it felt great from the beginning to the end of the round, as I expected it to. I didn't notice any perspiration building up on the inside at all and I always felt free swinging the clubs too.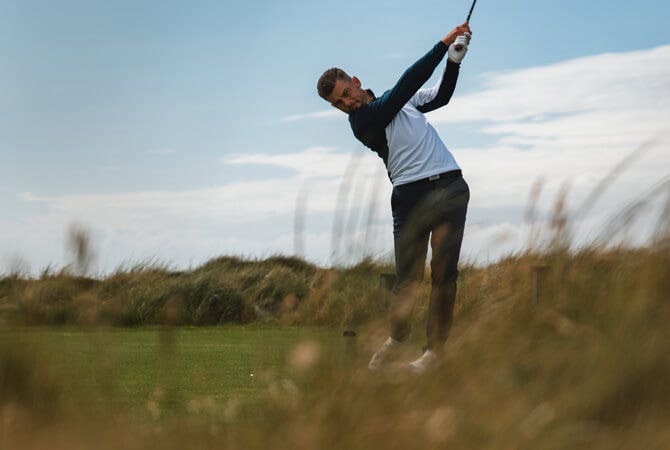 We enjoyed such a beautiful day on Islay, but have you since had a chance to try out the Galvin Green Shakedry jacket we included for you?
Funnily enough, I played today and there was quite a heavy shower for perhaps 10 minutes. Naturally, the Shakedry jacket came straight out and was very quick and easy to throw on, unlike other waterproof tops I have. Normally, I would hate to wear waterproofs as you feel like you're restricted when swinging, but I played a couple of shots in it and you don't even notice it's on because it's so lightweight. Once the rain stopped, all it took was a quick shake and then it's good to go back in the bag nice and dry. I couldn't ask for a better performing jacket!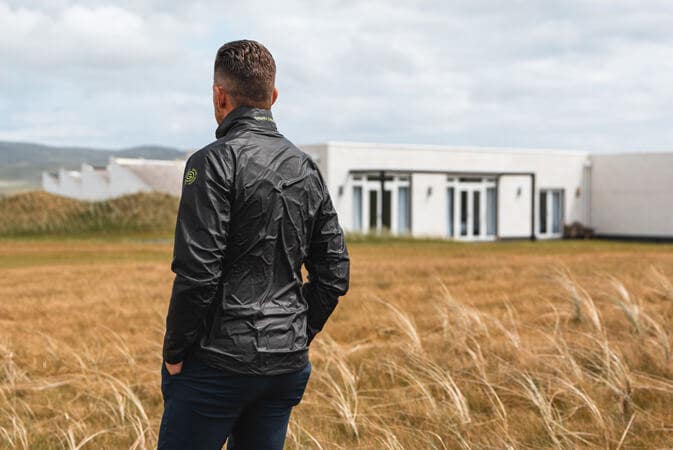 Did you learn a lot through your time with GP ambassador Chris Ryan in the teaching studio and on the course?
Straight away, it was quite clear to see how good Chris is at teaching and why he has built such a fantastic reputation. He asked what I'm currently working on with my coach and gave me some simple drills to get the swing path more towards where it needs to be. The great thing is, he didn't try to get me where it needs to be straight away - as that could have made my game worse. He explained that it's best to get where we want to be by progressing in stages and I couldn't agree more.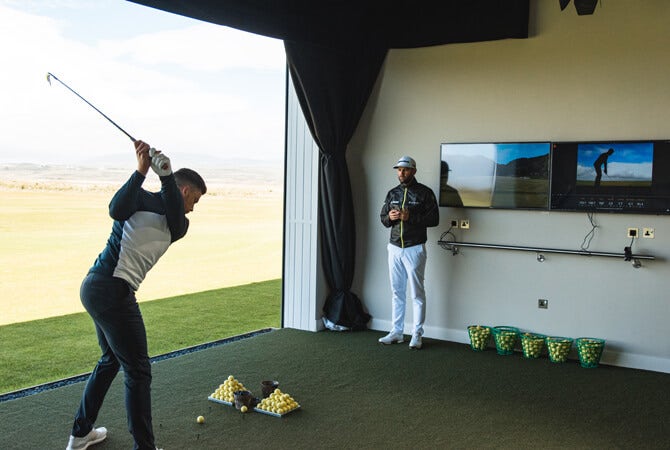 What were your post-round impressions of The Machrie Golf Links, would you say that it is a course which others should be adding to their bucket lists?
I was really impressed with the course; the condition is as good as any other course I've played and it was a good test. It had interesting holes all the way round and I would love to return to play again one day. The Machrie Golf Links is definitely a destination that people should be adding to their bucket list. Not only is the course beautifully designed and maintained, but the surrounding scenery is just mind blowing.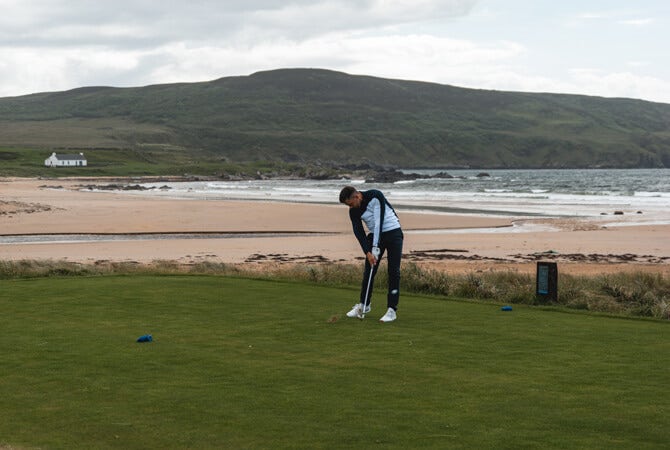 Did you enjoy the hospitality and overnight stay in the hotel?
I don't think I have ever been to a golf club where all the staff are so welcoming, not only upon arrival but right the way through our stay. It was fantastic to see that not only have they achieved an incredible club house and hotel, but they have also delivered with the golf course, practice facilities and the teaching studio too.
On top of that, my bedroom was immaculate, beautifully designed, comfortable and spacious. Everything you need and more for a vacation. The best part was the view from the bedroom doors over the 18th green and looking down the fairway out to the coastline – WOW.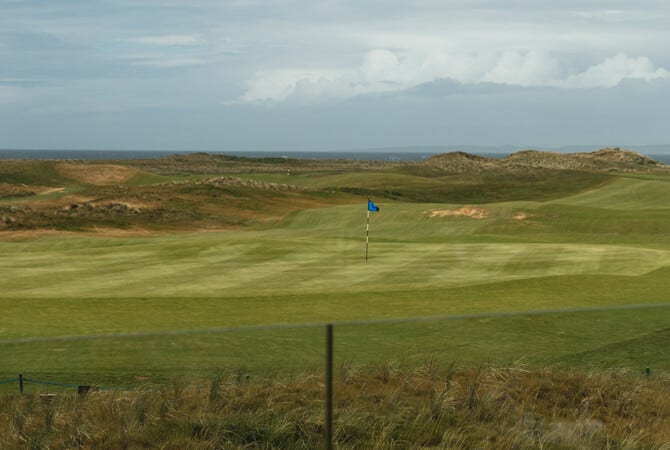 How about the Whisky Tasting experience, trying the finest whiskies which Islay had to offer?
Unfortunately, whisky and I don't mix. It's a real shame because the barman who was hosting it had a very knowledgeable background on whisky - he was really impressive to listen to. If you're a fan of whisky than I can imagine it would be a splendid experience - as it was for almost all of the others!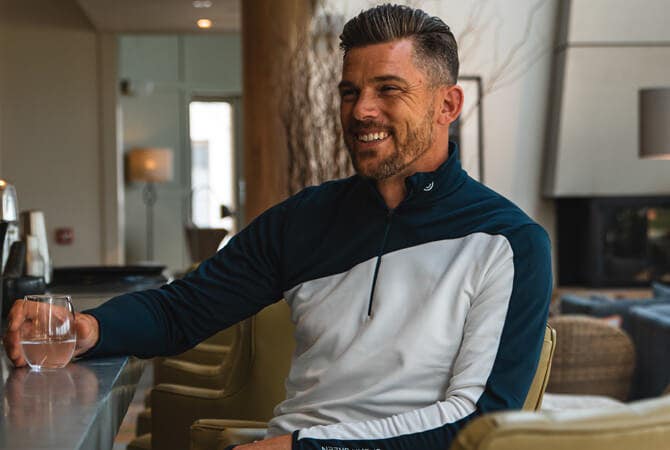 And finally, can you pick one favourite thing which you will always remember about your Galvin Green VIP experience competition?
Apart from beating Chris 2&1 in the match play and topping the leaderboard on his 143 yard challenge (video linked below) - it has to be spending time with five other people who I'd never met before. It's quite daunting knowing that you'll be spending 24 hours with a group you've never met before, but it was honestly superb.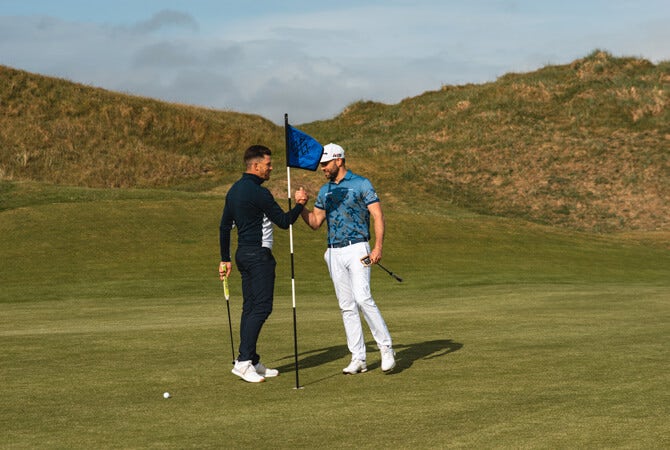 Anything more to add?
Just a huge thank you to Golfposer, Galvin Green, Chris Ryan & The Machrie Golf Links for an unforgettable experience!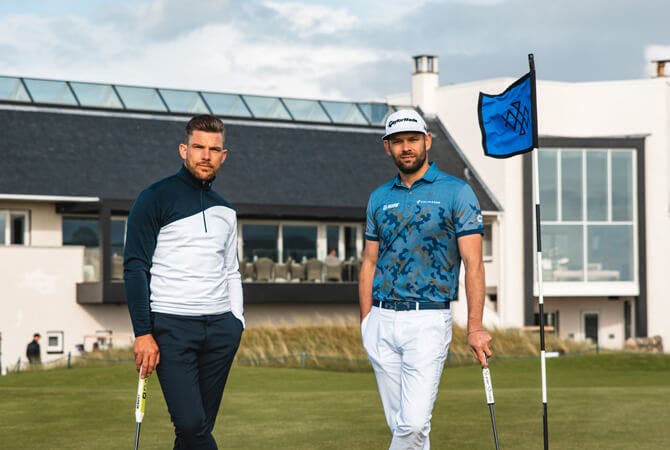 Photography: Craig Salter
143 Yard Challenge:
Visit Next: Machrie Golf Links
Read Next: Chris Ryan Interview
Shop Next: Galvin Green 2019