Our chief style editor offers an honest view on the partnership between team Europe and Loro Piana as new outfitters for their Ryder Cup appearance at Hazeltine this month.
An Open Letter to Team Europe...

We're delighted to welcome Loro Piana as our official team clothing supplier. #bestdressedhttps://t.co/qLHoXGNPf4 pic.twitter.com/vCUjEUnFim

— Ryder Cup Team EUR (@RyderCupEurope) June 30, 2016
"Founded in 1924, Loro Piana is one of the world's leading manufacturers of fine fabrics, later adding luxurious clothing and quality accessories to its offering. The brand is committed to quality, high-performance textile innovation and imbuing each of its designs with timeless Italian elegance."
The above description comes directly from the Mr. Porter website and clearly identifies Loro Piana as a luxury brand with strong Italian heritage and a history in fabric manufacture. Now part of the LVMH group, who acquired 80% of the company for a mere $2billion in 2013, Loro Piana is a very well established and respected name in the world of luxury fashion. However, very few ordinary fashion consumers will have heard of the name and even fewer golfers will have been aware of their existence...until now.
Loro Piana were announced as the successors to Glenmuir as Team Europe outfitters for the Ryder Cup this year and again in France, 2018. The unprecedented move to implement a non-golf brand as team outfitters certainly raised eyebrows and (for those who explored a little further) the bewilderment would have reached its peak when you learned that a standard, woollen polo shirt will set you back a modest £545. The description of which is as follows:
Short-sleeved polo-shirt in wool piqué fabric. Light-weight, comfortable and fully breathable, specially designed for golfers. Fitted cut. Ideal teamed with the apparel and accessories in the "My Golf" collection.
Delving deeper, let's team this plain polo shirt with apparel and accessories from the new "My Golf" collection as recommended:
375 trousers | 1225 jacket | 935 sunglasses | 215 cap | 265 glove
For a completed golf outfit, Loro Piana demand a grand total of £3560.
As a fashion graduate and long-serving creative director here at Golfposer, I can fully appreciate quality. I can appreciate the time and effort that goes into fashion design, into fashion production, into fashion marketing and I can wholly appreciate the degree of exclusivity that a luxury fashion brand wishes to offer to its loyal consumers around the world. But, to me, that's not what the Ryder Cup should be about.
A quote, directly from the Ryder Cup Team Europe "About Us" page:
Ryder Cup Europe, which comprises representatives of The European Tour (60%), of the PGA of Great Britain and Ireland (20%) and The Ryder Cup European Development Trust (RCEDT) (20%), owns the rights of The Ryder Cup when the competition is held in Europe. The European Tour is the Managing Partner and has prime responsibility for all matters concerning The European Team; the PGA of Great Britain and Ireland is the Founding Partner; and The Ryder Cup European Development Trust is responsible for the management of the Trust.
Yes, the very same Ryder Cup European Development Trust which was "set up in order to support golf at grass roots level throughout Europe, aiming to get more people starting to play golf, continuing to play and ultimately succeeding in the game."
At grass roots level.
Now, a little disclaimer. I do not wish to question the Loro Piana brand in any way, shape or form. I admire their success and I can understand the appeal of luxury fashion for those who can afford it. Credit to them and LVMH as a global fashion conglomerate; they are the very best at what they do.
The issue I have is with the powers-that-be within team Europe and the European Tour. I simply cannot fathom how the tour can justify the decision to outfit their entire team in Loro Piana as a luxury fashion brand, previously unknown in golf. Granted, it is a prestigious event, but sometimes you cannot defend the indefensible.
Maybe it was part of the deal to award the 2022 event to Italy. Maybe it was Darren Clarke's choice as the team captain. Maybe it was a democratic vote behind the scenes. Maybe the apparel provides exceptional value for money, however unlikely that may be. The truth is, nobody knows why the tour came to such a perplexing decision at this moment in time and I wonder if the real reasons will ever come to light in the public domain.
As for plausible alternatives, Chervò are an established Italian golf brand. Galvin Green are already outerwear suppliers for the next two events. Hugo Boss were quiet favourites to succeed Glenmuir and, while they aren't quite the cheapest in the game, an entire outfit for golf would cost around a quarter of the Loro Piana equivalent. Remember, too, that Hugo Boss is widely regarded as the best in the game and, while a £129 top-of-the-range shirt is out of reach for some, it could still be an affordable yearly treat for the average earner. £545 for a Loro Piana polo shirt is simply out of reach for 99.9% of the golfing population - and it would appear the European Tour is equally out of touch.
Looking across the pond, Ralph Lauren are continuing in their endeavour to sponsor almost every sports team the US have to offer. The home favourites will wear the RLX line of golf wear once again and, whilst the garments are in the same price bracket as Hugo Boss, the average golfer could easily afford a £75 polo shirt at the beginning of every season. Whether they choose to spend that or not, is a different question altogether.
Loro Piana - Ryder Cup Outfitters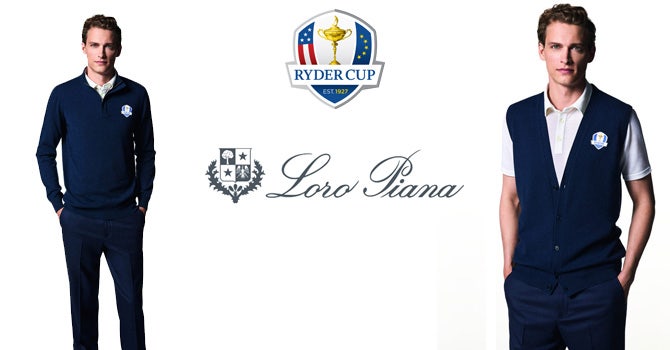 The Ryder Cup is one of the greatest sporting occasions which we all look forward to; which we all aspire to play in as young golfers; which we all watch together with our friends and family in awe of the team spirit and camaraderie which comes along with it. Amateur golfers are transfixed in watching the best competitors from two continents battle it out over three days - while the rest of the sporting world watches on from a distance, quietly admiring the spectacle.
The Ryder Cup is one of the true phenomena of sport - arguably the greatest biennial event in the world. It's the absolute pinnacle of our game and is sure to be one of the key motivators for new prospective participants.
These golfing hopefuls would then explore where their most local golf club is located. They would then check the cost of a membership. They would check the cost of lessons and then they might check out discount deals on a set of clubs. None of these elements are especially cheap, but they are reasonable enough for what you would receive in return.
They might then check what you have to wear for golf and, quite feasibly, they might check out the Loro Piana website - being the first brand of golf clothing they've potentially ever come across. They would then see the charge of £545 for a plain, woollen golf shirt and that could well be the final deterrent. Yet another prospective young golfer would be lost because their motivation to "get into golf" just evaporated faster than you can say "Loro Piana".
Now, I am not suggesting that we employ value brands such as Dunlop or Slazenger as the next Ryder Cup team outfitters - and I am in no way suggesting that Team Europe clad themselves head-to-toe in PUMA Golf high tops and joggers in a bid to inspire a new generation. I am simply asking for some common sense to be applied, for less hypocrisy amongst our game's influentials and for the European Tour to have a serious reality check. They must realise that attracting new golfers is a hard enough task without introducing new deterrents, regardless of how luxurious and prestigious they may be.
Trying to grow the game at grass roots level?
You could have fooled me - as I sit here proudly wearing my £55 Nike Golf shirt, £90 Boss chinos and £99 Puma golf shoes.
#GoTeamEurope ...even if I can't afford what you're wearing at Hazeltine this week.