We take a look at the Jason Day Masters 2018 scripts which includes brand new Nike Golf polo shirts, Tour Premiere golf shoes & Nike Golf Rope Caps.
Jason Day Masters 2018 | Nike Golf Shirts
Nike Golf and Jason Day are the perfect match when it comes to golf apparel and footwear. The Australian loves to showcase his relaxed personality through his edgy looks; something which Nike Golf have prided themselves upon over recent seasons. At the Masters 2018, Jason Day will wear a mixture of brand new styles which come from the very latest Nike Golf collection.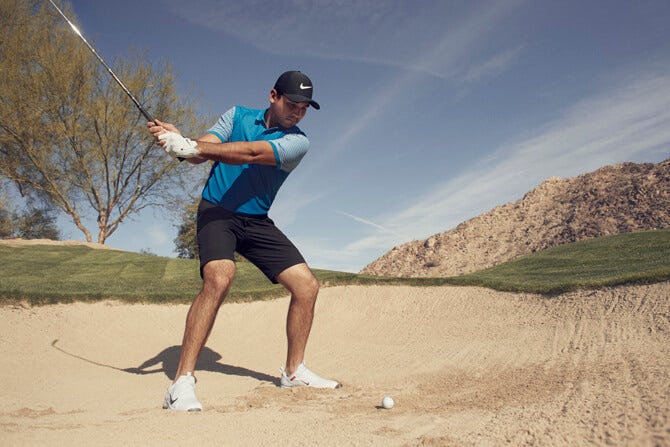 First of all, the polo shirts which Jason Day will be wearing all throughout the week are brand new online at Golfposer. The NK Dry Pique features a similar aesthetic to that of the recent "Made in Italy" collection which was launched, though available for a fraction of that premium price.
We love the striped sleeves on this particular style, offering a look which lends itself to wearing off the course just as much as on the fairways of Augusta. A soft performance cotton fabric offers a soft handle and supreme comfort, while the iconic Nike Swoosh is located at the left sleeve. The relaxed styling is so fresh and easy on the eye, while many colours in this style will soon become available online at Golfposer.
Jason Day will wear Black (Thursday), Light Bone (Friday), Blue Nebula (Saturday) and Thunder Blue (Sunday) - while two other colours are available to shop here & now. Keep an eye out for the four Jason Day Masters 2018 polo shirts coming online very soon indeed.
Jason Day Masters 2018 | Nike Golf Hats
Jason Day will champion the Nike Golf Rope Cap throughout the Masters 2018. This unique style has been in-demand for quite some time now with a variety of tour athletes and caddies spotted wearing the style already - so we are very pleased to be able to finally bring you the Nike Golf rope cap in a full retail capacity.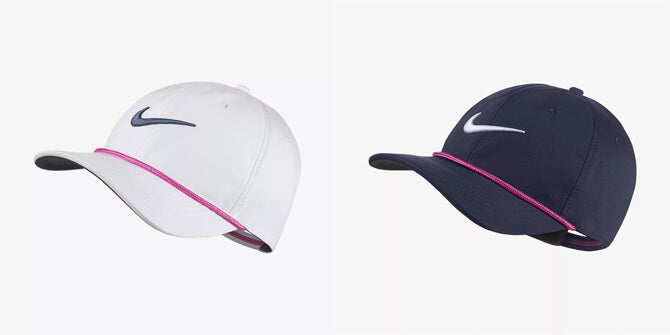 Jason Day will also wear the Nike Magnolia floral golf cap on several days of the Masters at Augusta. This particular style is part of a limited edition pack which will soon become available online at Golfposer.
Jason Day Masters 2018 | Nike Golf Shoes
The Nike Magnolia Pack also extends to a selection of footwear styles, the Lunar Control Vapor 2 and Roshe G shoes. Jason Day, meanwhile, will wear specially made Magnolia versions of his Nike "Tour Premiere" golf shoes - with much more information on that particular style featured below.

The Nike Tour Premiere is a brand new style which will be available to purchase later this season. The main feature is the brand's proprietary "seamless integrated lacing system" which provides fast & easy fastening. This locked down fit is quite incredible and is assured to never become untied, providing a great alternative to other laceless systems on the market. A synthetic leather upper comes with a 2-year waterproof warranty, with multiple colour options coming later this year.
Jason Day has already proven that he has regained his form in 2018 and will be many people's fanciable choice ahead of the Masters this week. We can't wait to see Jason wearing all of the above styles at Augusta and might well have his own Green Jacket to add into the wardrobe come Sunday night.
The Masters 2018 gets under way at Augusta National on the 5th April and our style editors will continue to keep you abreast of the very latest looks from every day of the tournament.