Major winner Henrik Stenson will enter the Masters 2018 as one of the most in form golfers in the world today. Below, our style editors take a look at the Henrik Stenson Masters Scripts which have been outlined by Hugo Boss, all scheduled to be worn at Augusta this April.
Henrik Stenson may have a torrid Masters record but we really do believe he can turn it around and make a move at Augusta National in 2018. After an outstanding performance earlier in the season at Bay Hill, Henrik Stenson has really proven that his game is in great shape as the first major of the season arrives - especially in the putting department.
As always, Henrik Stenson will be looking super sharp wearing Hugo Boss golf apparel at the Masters 2018. Such stylish threads also demand even more stylish eyewear, a fact which prompted the Iceman to launch his very own brand of golf sunglasses last year.
As you might suspect, Henrik Stenson now wears his eponymous brand "Henrik Stenson Eyewear" both on and off the golf course. You should also keep an eye out (pardon the pun) on our social media channels for a special edition HS Eyewear giveaway coming later in Masters Week itself.
Scroll on below to discover the four scripted Hugo Boss outfits which will be worn by Henrik Stenson at the Masters 2018. The exact order from Thursday-Sunday may change, but these outfits have all been selected by the brand and are all scheduled to make an appearance at Augusta National next week.
Henrik Stenson Masters Scripts | Thursday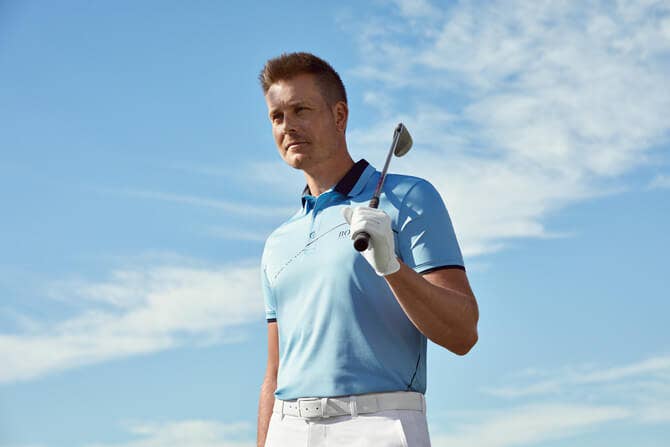 Henrik Stenson will be looking as stylish as ever on day one of the Masters wearing this light blue Paddy Pro 2 golf shirt by Hugo Boss. The dark navy detail is a nice touch, while the bright colour lends itself to wearing this shirt with white or navy Hugo Boss golf trousers - such as the Hakan 9-1 pant.
Henrik Stenson Masters Scripts | Friday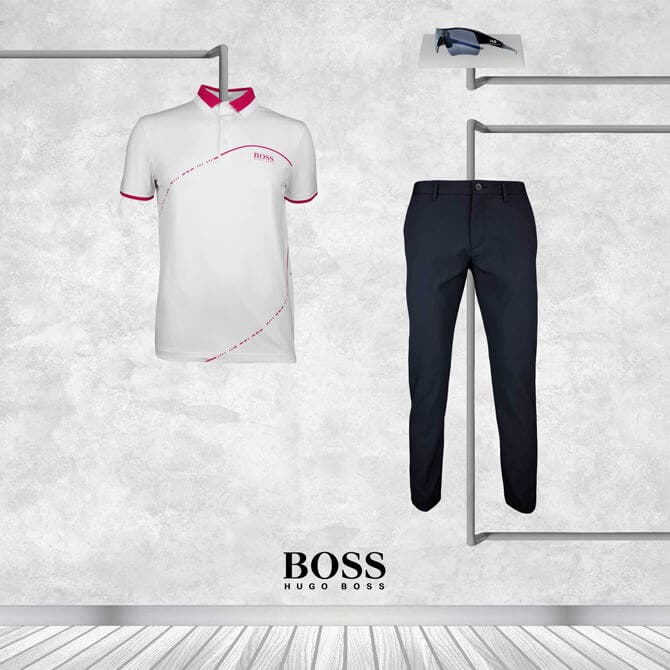 For round two of the Masters, Henrik Stenson will wear the same BOSS polo shirt as round, but in a different colour option. The "Virtual Pink" accents works so incredibly well with white, while the graphic detail is tastefully unique. This polo shirt has already proven popular online at Golfposer this season, so act fast if you wish to get your hands on the same style.
Henrik Stenson Masters Scripts | Saturday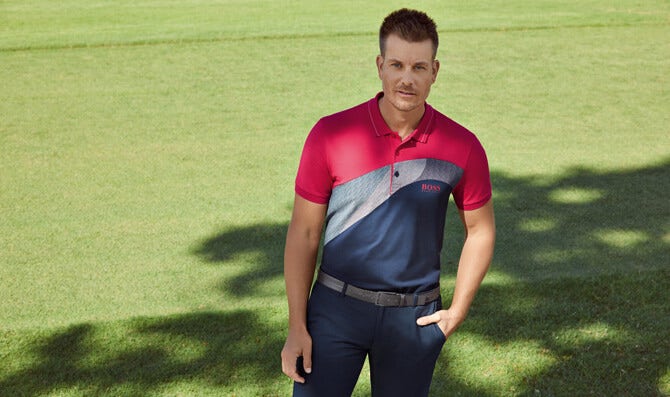 This is another very stylish combination which is scripted to feature on Saturday at the Masters. Henrik Stenson will wear a classic Paddy Pro golf shirt in Nightwatch navy, but the real talking point is the colour of pants he will wear. This "Alaskan Blue" hue is vivid, bright and super fresh for Spring - yet still very wearable and easy on the eye.
Henrik Stenson Masters Scripts | Sunday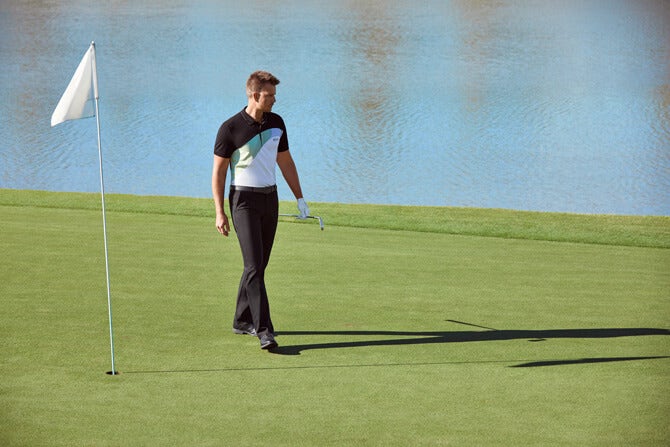 Henrik Stenson has already worn this particular shirt on one Championship Sunday this season and inevitably caused the demand to spike drastically. Should Henrik Stenson be up there & competing come Masters Sunday, you can be sure that this shirt won't be around for much longer online at Golfposer. Maybe the best possible shirt choice to marry up with a Green Jacket?
As mentioned, Henrik Stenson will also be wearing his own brand of eyewear at the Masters 2018. The "Iceman" frame is typically the style he chooses to wear, though there are many others available for you to discover. Click here to shop both the "Performance" and "Street" styles from Henrik Stenson Eyewear, Sweden.
The Masters 2018 gets under way at Augusta National on the 5th April and our style editors will continue to keep you abreast of the very latest looks from every day of the tournament.