The Galvin Green C-Knit golf waterproofs collection for 2017 has now arrived online. Click here to find out more about the C-Knit golf jackets and trousers available.
Galvin Green have unveiled the exciting line of Ryder Cup waterproofs for team Europe at Hazeltine which showcases an all new Gore Tex fabric, never seen in golf wear before.
Galvin Green Ryder Cup - C-Knit Fabric
Becoming the official outerwear suppliers at the Ryder Cup calls for something special and Galvin Green have duly delivered for team Europe. In collaboration with their trusted fabric developers at Gore - Galvin Green have utilised a brand new technology which has never been seen in golf before and is sure to elevate the reputation of the brand to new esteemed heights.
The new waterproof fabric adopts a three-layer structure (as opposed to a two-layer membrane) with a revolutionary "C-Knit Backer". The same levels of extreme waterproof protection and super breathability remain, but this C-Knit backer now offers a "slide and glide" feel atop any garments worn beneath. The fabric is more lightweight than ever before, more durable and softer to the touch - all combining to offer a quite exceptional wear.
This pioneering Japanese technology has been six years in the making and is undeniably the best of the best, eclipsing anything which has come and gone before from both Galvin Green and W.L Gore. Fitting, then, that the best of the best golfers in Europe will be wearing these waterproofs for the 2016 Ryder Cup at Hazeltine this month.
Galvin Green Ryder Cup - Team Europe
3 layer fabric, 0.099 kg/m2 and 31 people in the production. It's the making of 1 #GalvinGreen #RyderCupTeam Jacket pic.twitter.com/Eq3rpNiWdm

— Galvin Green (@galvingreen) September 16, 2016
@galvingreen will provide the European Team's outerwear at Hazeltine; new issue tells the story of how they did it pic.twitter.com/Hs5dEWULqY

— Today's Golfer (@TheTodaysGolfer) September 1, 2016
In discussion with Today's Golfer, head designer Mats Lundqvist explained how the process of becoming the official suppliers for Team Europe played out, with some very interesting insights. Initial samples of the new Galvin Green Ryder Cup jacket styles were shown to Darren Clarke & his team way back in May 2015 with the finalised designs only confirmed in January, eight months later. Compound these lead times with the fitting sessions which were required with every prospective Ryder Cup golfer for team Europe and we only just begin to understand the complexity of what Galvin Green had to endure to fulfil this important brief.
The styles simply had to be perfect and, having already got our hands on the new fabric here at Golfposer, we can confirm that the new technology is quite outstanding in its field. We love it and we love the styling on the waterproof jackets and windstoppers - so now we just need to hope that the heavens open up on Hazeltine at some point around the end of September!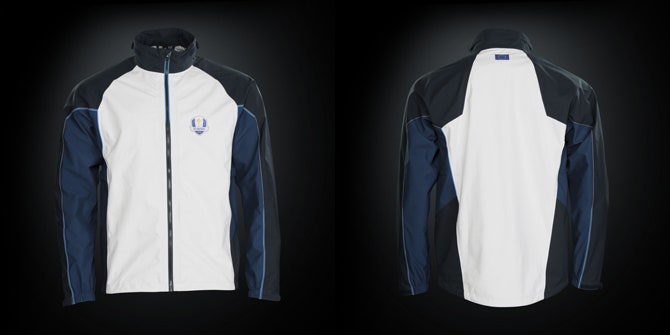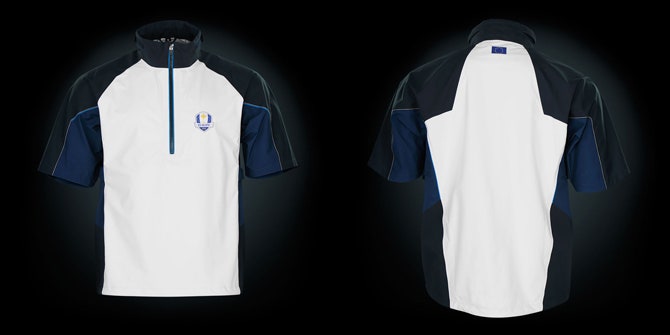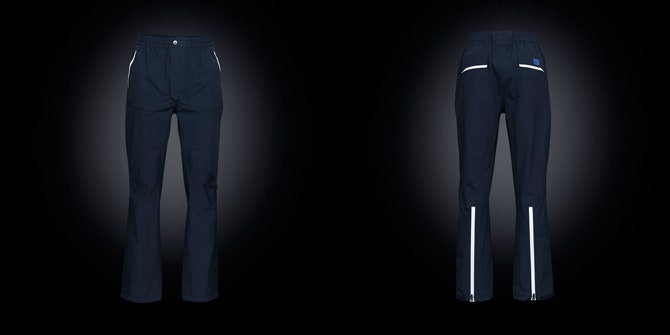 Galvin Green Ryder Cup - On the Course
Peter Finch, brand ambassador, was one of the first to get into the new Galvin Green Ryder Cup styles and give them a try out on the golf course. Featured above is one of his latest videos from the Belfry where he plays & teaches how to play some of the most iconic shots from the 2002 Ryder Cup on the Brabazon course. Keep an eye out for many more of these arriving online in the coming days!
The Galvin Green Ryder Cup collection is only available in selected (former host) club shops and the official website, but you can shop the current collection of Galvin Green golf waterproofs online at Golfposer here.