The Galvin Green Carbon Series is a premium capsule collection of golf clothing for 2019. It consists of nine key products and showcases the very latest technologies which the brand has to offer.
Galvin Green Carbon Series | 2019
Galvin Green are at the very forefront of the game when it comes to innovative golf clothing and their latest capsule is proof of their superiority once again. Appropriately named the "Carbon Series" - this brand new collection of golf clothing blends carbon fibre inspired aesthetics with some of the most advanced fabric technologies ever introduced to the golf wear market.
The nine-piece capsule is the perfect fusion of high fashion with performance. It boasts three outerwear styles, an Insula mid layer, two polo shirts and three accessories to help you complete the look. Scroll on below to discover everything you need to know about each individual product from the Galvin Green Carbon Series; available to purchase in its entirety here at Golfposer.com on Friday 7th December 2018.
Galvin Green Carbon | GORE Superstretch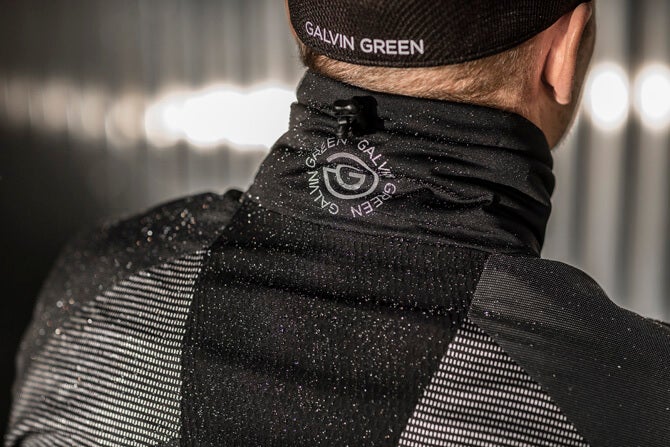 The hero product from the Carbon Series is probably the most outstanding waterproof golf jacket that we've ever seen. The "Archie" is a collaboration between Galvin Green & GORE-TEX which boasts the use of a newly developed "Superstretch" inserts at the centre of the reverse and at the elbows - designed for even more comfort without compromising on performance.
In essence, these Superstretch inserts are designed to improve your freedom of movement when wearing a waterproof golf jacket like never before. This textured fabric has an unbelievably high stretch capacity and is positioned in key areas for ergonomic benefit, all while retaining the same level of waterproof protection which we have grown to expect from a Galvin Green golf jacket.
This new tech combines perfectly with the acclaimed C-Knit fabrication; another pioneering design from GORE which features a super smooth interior to "slide and glide" across any garments worn beneath. Away from all the technology, the Archie waterproof golf jacket incredibly easy on the eye - while the style was also adopted by Team Europe for wearing at the Ryder Cup this year. A fine example of the prestige which it has already amassed.
Galvin Green Carbon | Reflective Print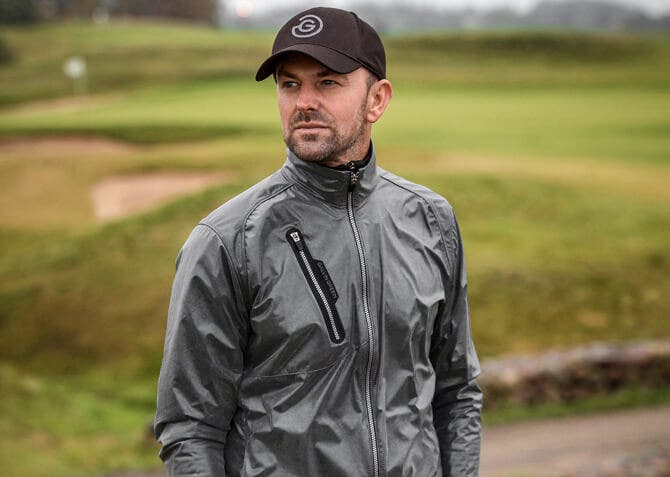 At the beginning of the year, Galvin Green introduced a completely new category in the golf outerwear market. Their Interface-1 (IFC-1) range of jackets make use of a proprietary fabric which is highly water repellent, softer and quieter to wear - all while still offering the same protection against wind chill as a conventional Galvin Green "Windstopper" jacket.
From the Galvin Green Carbon Series now comes the most fashionable, most eye-catching and most daring IFC-1 golf jacket to date. The "Lloyd" full zip features an all over metallic print effect which will reflect light, complete with an angled, zipped chest pocket in black.
It's tastefully unique and will turn heads for all the right reasons, while still retaining those important performance benefits which will protect you during 95 bad weather rounds out of 100. It's one for those who dare to be a little bit different on the golf course; the true Golfposers among us.
Galvin Green Carbon | IFC-1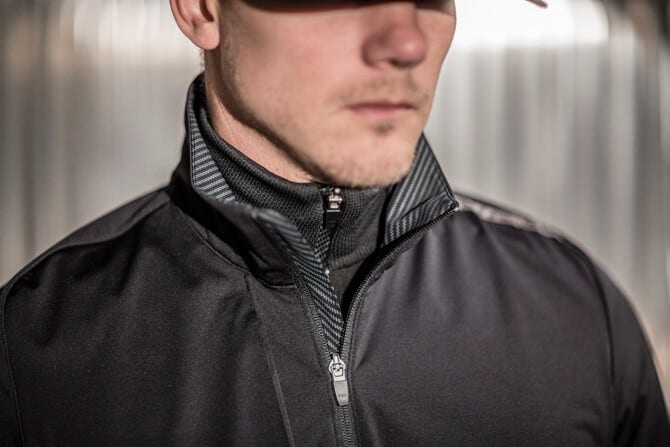 For those stylish Golfposers who are looking for something a little more understated, the Galvin Green Carbon Series still has you covered. This "Lancelot" IFC-1 jacket makes use of the same soft shell wind & water resistant fabrication but boasts a predominantly black colour story, complete with carbon fibre accents for a premium, designer aesthetic.
Galvin Green Carbon | Insula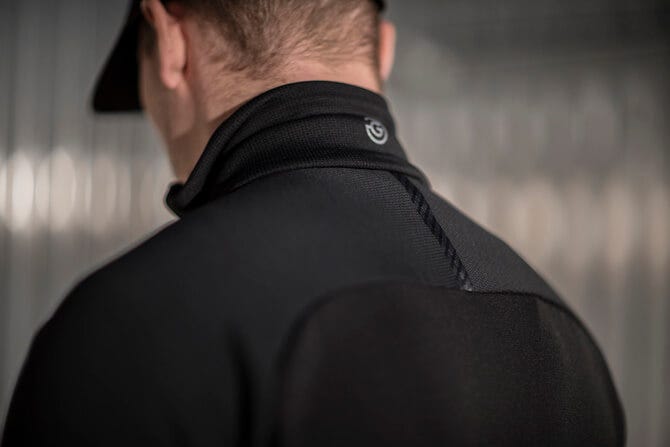 Galvin Green Insula golf wear is renowned the world over for being one of the most reliable performance fabrics in cold weather. The lightweight, soft and stretchy material features air pockets to effectively retain body heat, while the waffle interior also increases the surface area for even more thermal insulation without adding bulk to the fabric.
The "Dave" full zip jacket is the mid layer Insula piece to look out for from the Galvin Green Carbon Series - finished in black with some carbon fibre accents featured once more.
Galvin Green Carbon | Polo Shirt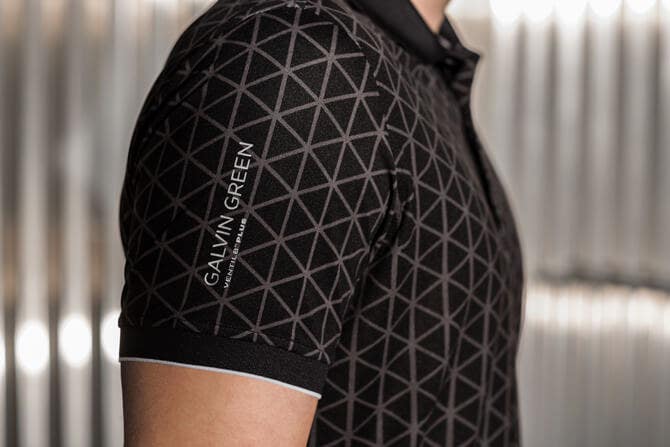 The Galvin Green Carbon Series also extends into golf shirts with two options to choose from. Above, we have the "Matt" polo with an all over geometric gradient print; below is the "Mylo" polo with a black/silver micro stripe print.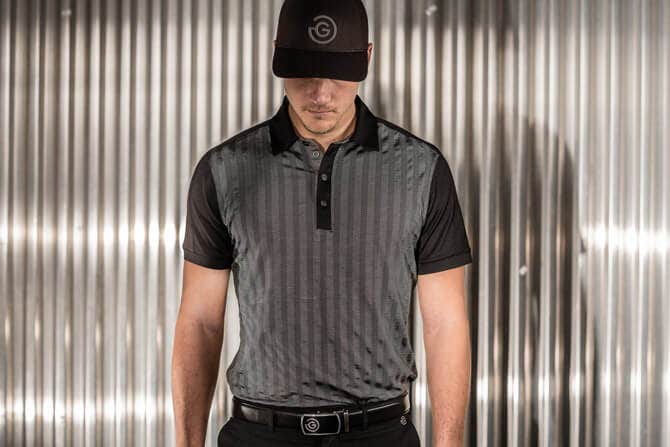 Both of these polo shirts also make good use of the Ventil8+ fabrication for lightweight comfort in performance. Galvin Green are becoming ever more popular when it comes to golf shirts and this new Carbon offering only raises their warm weather game once more.
Galvin Green Carbon | Accessories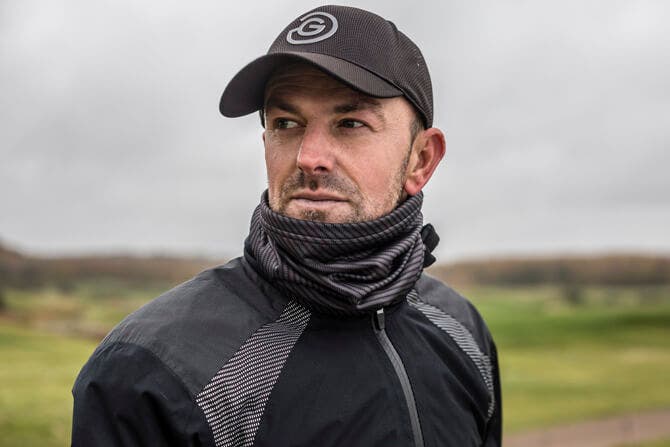 Rounding off the Galvin Green Carbon Series are three golf accessories: the "Seth" baseball cap, the "Donny" snood and the "Wayne" leather belt. All three are perfectly designed to blend into the collection with ease, helping you complete any Carbon look on the golf course in 2019.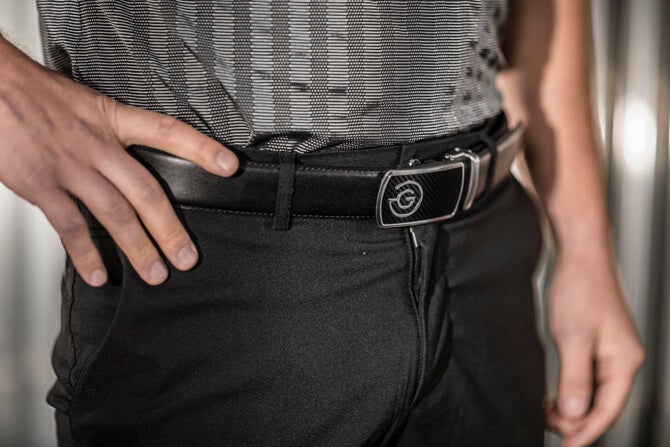 These accessories and the rest of the Galvin Green Carbon Series will become available to purchase online at www.golfposer.com on Friday 7th December 2018. It's a whole new design concept when it comes to style, but it's still unmistakably Galvin Green when it comes to performance.