We flew out to Sweden to meet with the lead designer of the exciting new Galvin Green EDGE golf collection, Batur. Scroll on below to read our in-depth interview with this talented young man & find out what inspired the camouflage designs within EDGE by Galvin Green.
EDGE by Galvin Green | Lead Designer
Hi Batur, thank you for taking time out of your busy schedule to talk to us about the all new Galvin Green EDGE collection today. We're very excited to introduce the range online at Golfposer this August.
The pleasure is all mine. Thank you very much.
First of all, could you give us a brief introduction to the EDGE collection by Galvin Green?
EDGE is a daring collection designed to push the boundaries in technical golf wear. The designs are trendy with extreme comfort and striking fresh looks where tech-fashion marries with function. There is only one guiding principle – golf first. With this collection, you will meet the next generation of high performance golf wear developed for those golfers looking for something with an extra edge.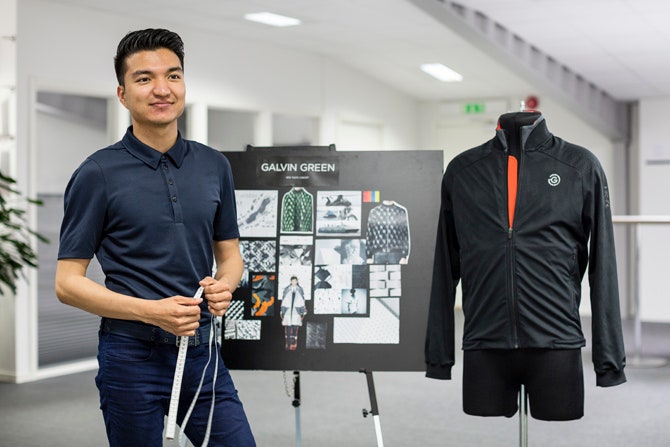 We understand that Galvin Green brought you into the team specifically to design the EDGE collection. Can you tell us a bit about yourself and how that came about?
I am a small-town guy who belongs to a minority group called 'Hazara' in Quetta, Pakistan. It has been over a decade now that I have been working in the fashion industry. In 2007, I started studying fashion design in my homeland, followed by Paris. At the same time, I began working for some Pakistani luxury and high-street clothing brands.
After moving to Sweden in late 2014, I got to know about Galvin Green through a friend. Golf fashion somehow always excited me, because it is the only game where you can wear clothes that are not only functional but also fashionable. I made a special golf wear portfolio for Galvin Green and showcased it to our brand manager, Nicholai Stein. He wanted an edgy golf wear capsule collection for the brand and saw that I had the potential to bring this to life. And now - here I am!
What was the design brief and where did your inspiration for the collection come from?
When I first met Nicholai, he showed me a couple of stealth images to give me an idea about the mood of the collection. After a short concept and design discussion, we were pretty much on the same page aesthetically, and everything clicked immediately!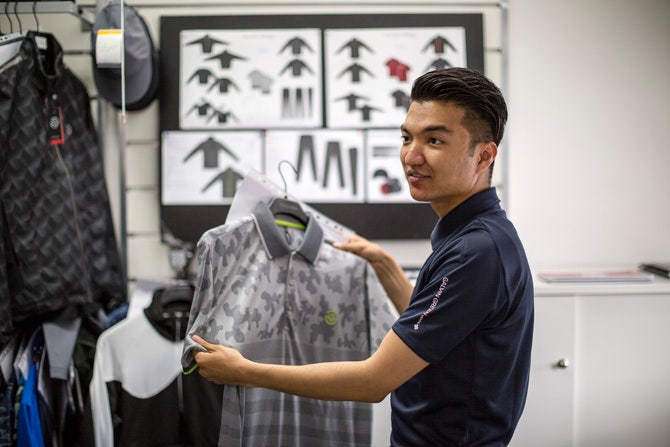 EDGE is designed in distinct, seasonal looks; can you talk us through the colour palettes used and also the timing of the drops?
Since this is our debut collection for EDGE by Galvin Green - we have relied on a more commercial palette like black, grey, white and red with a pinch of reddish orange and lime green. It was not possible to use any more colours because there are fewer garments in the collection, compared to a normal range. It's more difficult to create a comprehensive colour story within such a small capsule range, but the vibrant green and red are used as accent colours to bring some freshness to the collection. The timing of the drops was decided keeping weather in mind across the globe.
Do you have a favourite item from this season's collection?
That's too hard, I can't choose! Every item has its own character.
We know that the technologies & fabrics remain the same, so how else can the consumer differentiate EDGE versus the existing mainline?
I think EDGE indulges more in terms of aesthetic pleasure. The design ideology is different from the main line. The source of inspiration is different and there are new team members working with me in this project. You will notice that the collection has a major influence from current trends in high fashion. All these factors make the EDGE line look completely different from the existing mainline. The pieces are still made especially for golf - but each can also be worn off the course. It is going to pleasantly surprise our consumers, I'm sure.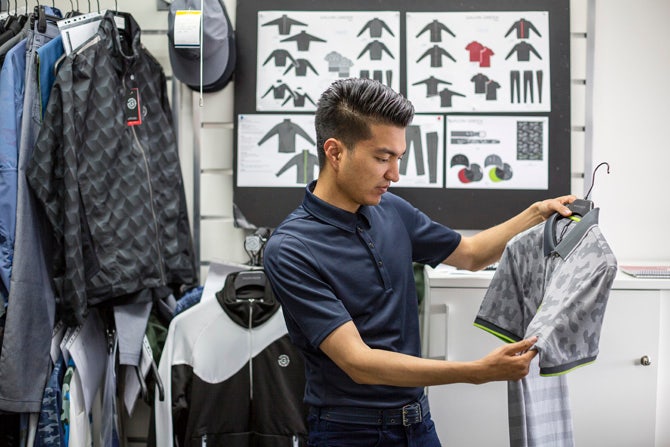 What direction can we expect to see EDGE heading?
EDGE is about breaking the boundaries of golf fashion. With our EDGE line, the creative process is very organic - which makes it impossible to say how it will be in the upcoming seasons. One thing that I can surely promise is that it will be different, quirky and most importantly - high-tech functional clothing.
We love the new logo design for EDGE - where did the inspiration for that come from?
Thank you for that. We wanted the range to have stealth and military undertones - which is the reason why you will see camouflage print patterns on most of the items. The new logo is also the result of my rough sketches. I love playing with patterns and textures - so I thought that our 'Double-G' symbol logo would look perfect with a camouflage pattern.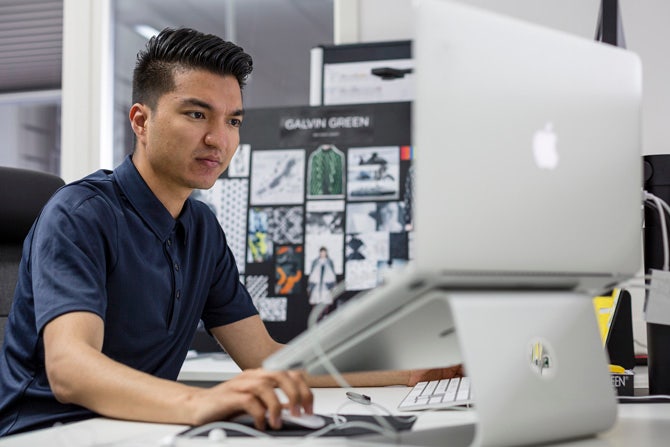 What collection/season are you currently working on with Galvin Green?
I have just started working with the main line teams for both menswear and womenswear as well. We're currently working on the Spring/Summer 2020 collection.
Are you enjoying life in Sweden & working for the team here at Galvin Green?
I am enjoying life in Sweden and, after learning the Swedish language, I have started to enjoy Swedish humour as well. Working for this brand is amazing; it is almost like working with family. Every member is extremely thoughtful and considerate. Dream Team!
How do you see golf fashion evolving in the next five years?
I see golf fashion becoming even more inspired by street fashion in the next five years. Soon, the majority of the golf lovers will want high-tech clothing that fits their golf and street lifestyles at the same time. It's progressing, for sure!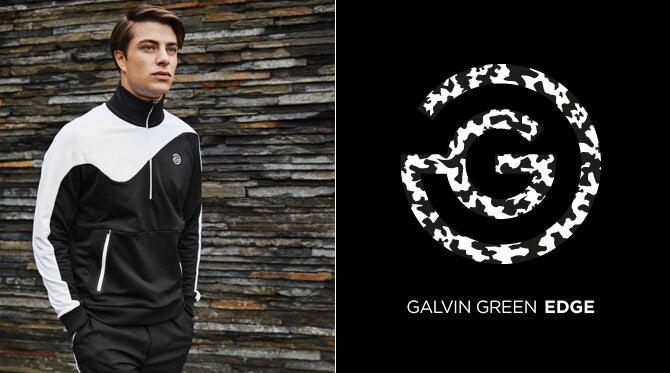 Many thanks to you again Batur, we hope you enjoy seeing the Edge by Galvin Green golf collection coming to life this August!