Ahead of the Dunhill Links Championship this week, we went inside the ropes with European Tour professional Daniel Im while he practiced on the Old Course, St. Andrews.
One of our favourite Galvin Green ambassadors, Daniel Im hails from Wayne, New Jersey and has had some impressive finishes in 2017 including T4 at the Irish Open back in July. More recently, Daniel hit the headlines thanks to a hole in one at the Omega European Masters, eventually finishing in a tie for fourteenth in the mountains of Switzerland.
Scroll down to read our interview with Daniel as we talk all things Dunhill, Galvin Green and BOA shoes - while our style team also make an offer he can't refuse!
Daniel Im Interview Exclusive | Galvin Green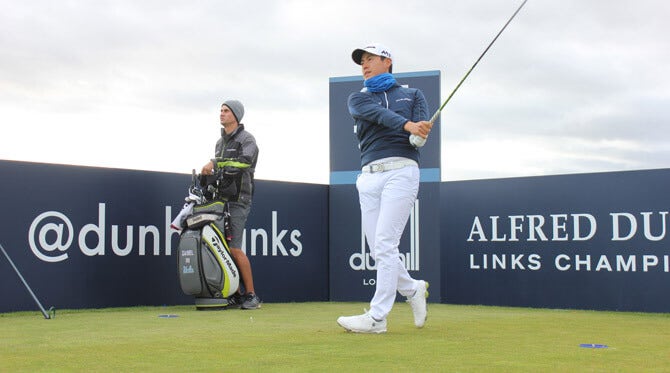 GP: Hi Daniel, thank you for allowing us to join you in your valuable practice time today! When did you arrive in St. Andrews?
DI: We got a chartered bus from Newcastle last night (Sunday), it wasn't so bad.
GP: And when was the last time you played the Old Course?
DI: I was here last year - that was for the Dunhill Links as well.
GP: Do you ever come to play/visit Scotland outside of the tour, just for leisure purposes?
DI: No, not really. I played Spey Valley on the Challenge Tour a few years ago along with the two past Scottish Opens. Castle Stuart was a long drive North!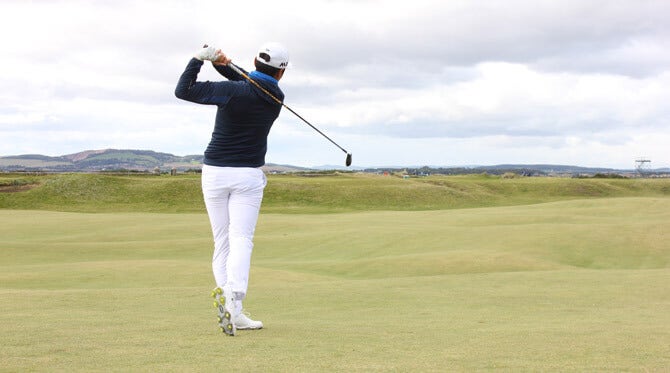 GP: Can you pick a favourite Scottish course that you've played?
DI: Glasgow Gailes (Links) - that was really nice, I like that course. I would also choose Carnoustie so I look forward to playing there again this week. Hopefully I can make the Open Championship there next year, too!
GP: I notice that you have been trying out two different drivers in the bag today, is that two different shafts?
DI: Yeah! So the green one that I'm playing with, that was fitted in the Czech Republic and it worked really well there - but it's been a bit inconsistent since then. It gives me a lower ball spin, so that means it will always go a little further. The other one I just used on this hole has a higher spin rate, hence more control. It usually goes straighter - so I think I'll use that this week.
GP: And what else are you particularly working on today?
DI: Putting, for sure. I'm just trying to gauge the pace of the greens, figure out some of the key areas. You'll notice that Jonas (Daniel's caddy) has been placing discs on certain areas for me to putt towards - those spots are likely pin positions this week. Putting is so important - that's what really makes the difference between a pro and a good amateur most of the time.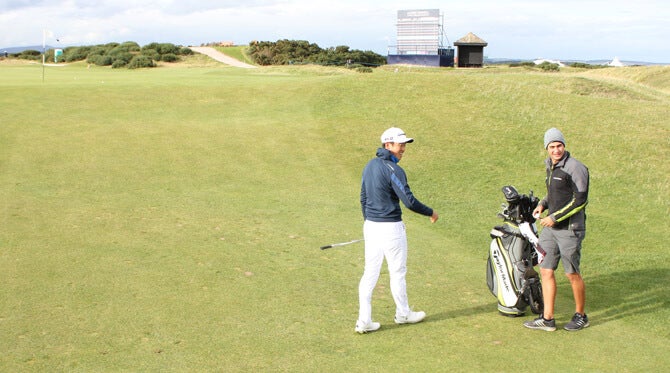 GP: With the Dunhill Links taking place over three courses, will you manage to practice at either of the other two this week?
DI: This is the first practice we've had today and I might go to Kingsbarns tomorrow, then we'll have a bit of a rest on Wednesday. It's always quite a long week here and it's been a long season already. I need to be as fresh as possible on the tournament days this week.
GP: So, let's talk fashion. How long have you been wearing Galvin Green for?
DI: For around three years now, it was around this time in 2014. I was very excited - I have always been a fan of the Galvin Green brand. I find the quality to be better than most - but they also offer consistentcy across all of the categories. That's an important thing for me.
GP: Do you wear Galvin Green off the golf course, too?
DI: Yeah I actually do, a lot! I wear that new jacket, you know the one with the padding? I get a lot of nice comments whenever I wear that (the Bruce Quilted Windstopper). I even wear it with jeans and it still looks good. I tend to wear the new hoodies a lot, too.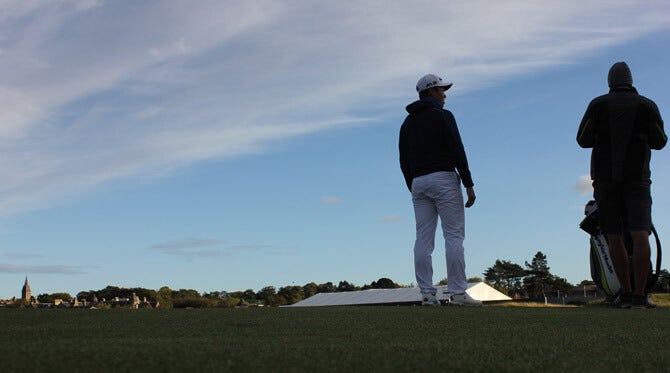 GP: Is that Duke Insula Hoodie one of your favourite pieces to wear, then? I notice you have it on again today!
DI: Yeah, it's great. I love it. I've already worn them in tournament play this season - it gets a nice reaction. I wore the black one to travel here last night, too. I wish the brand did a little more of this kind of thing!
GP: A lot of our customers have started wearing Galvin Green to the gym and outside for activities such as running and walking. Do you do the same?
DI: Yeah, definitely! The shirts are so breathable, you know? They're so comfortable. I'll wear them to physio straight after a round and then to the gym later on.
GP: So do you manage to get to the gym often?
DI: Around three times a week. Can't you tell?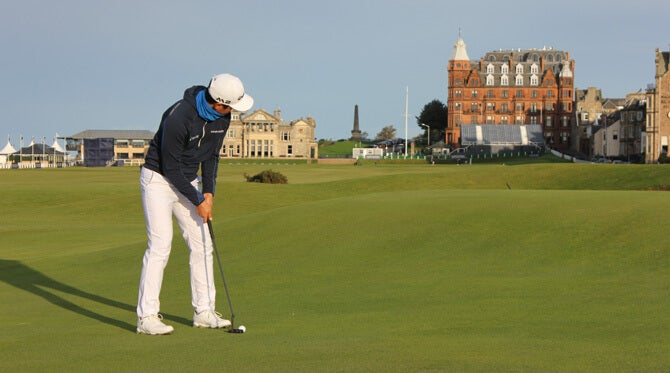 GP: And how do you normally pack for tournaments, do you have to change what you bring to tournaments like this?
DI: I normally pack for around one to two months at a time. For this European stint, it's actually quite easy; you just need as many layering options as possible. Obviously rain gear for anywhere Europe as well, that's essential. I'm lucky that Galvin Green have the best waterproofs around - it really does help. I've given some jackets to Jonas, my caddy - he loves them as well.
GP: So, you mentioned rain gear as an essential for packing, are there any other "essentials" in your bag?
DI: Obviously for a week like this I'll need to pack warmer layers, especially in October. It can get real cold when you're up here for 18 holes of tournament play. I find these Insula snoods to be really useful - they're so effective for stopping the cold getting into your body.
GP: We document what you wear on tour every week and we have noticed you tend to wear BOA shoes a lot?
DI: Yeah I wear them all the time, actually. The shoes I am wearing today aren't in BOA yet and I really miss them. They make so much sense, it's so easy man! Enough of this traditional lace up at the front - BOA feels like it wraps all around your foot and feels so much more locked down for support. It's like a custom fit and it's so easy. You just screw it!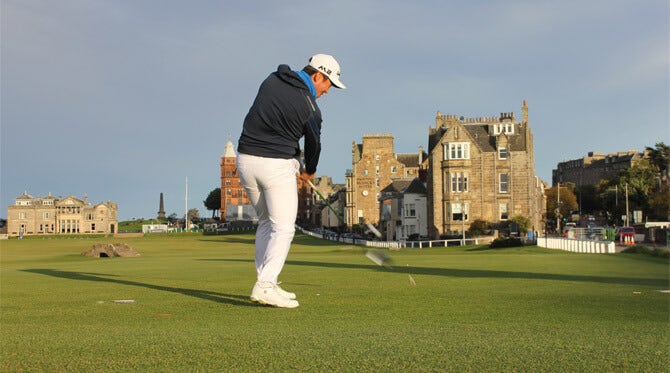 GP: So how do you normally pick your outfits for tournament days? Do you plan them out days in advance?
DI: To be honest, most of the time I'll just wake up and see what I feel like wearing. Galvin Green is quite easy to style, so it's reasonably straight forward to choose an outfit.
GP: So, you haven't picked out any outfits for the Dunhill Links this week then? Would you be up for letting the GP style team script you for the first three days this week?!
DI: Sure, that's a great idea!
GP: Brilliant, we'll have a sit down with you later today to pick them out. What better location than on the famous Swilcan Bridge?
DI: Cool, I'll look forward to seeing what you have in store for me.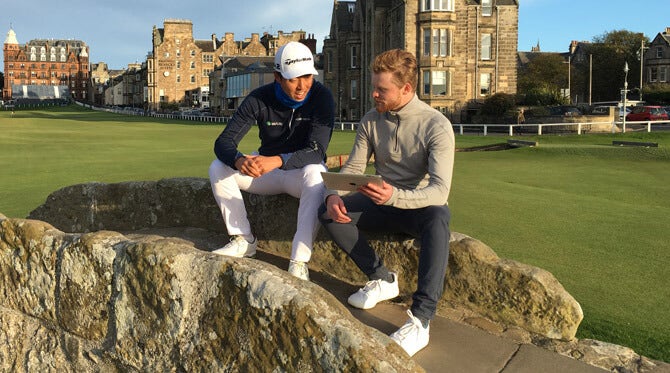 GP: Thanks once again for your time today, you are a gentleman.
DI: No problem at all!
Look out for Daniel Im playing at the Old Course, St Andrews along with Kingsbarns and Carnoustie for the Dunhill Links Championship on the European Tour this week. You can now scroll below to view what Galvin Green apparel we have scripted him in for the first three days of the tournament on the cold links of Scotland.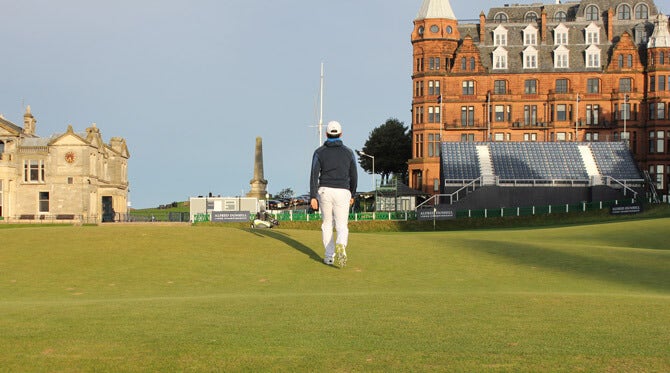 Daniel Im Interview | Dunhill Scripts Thursday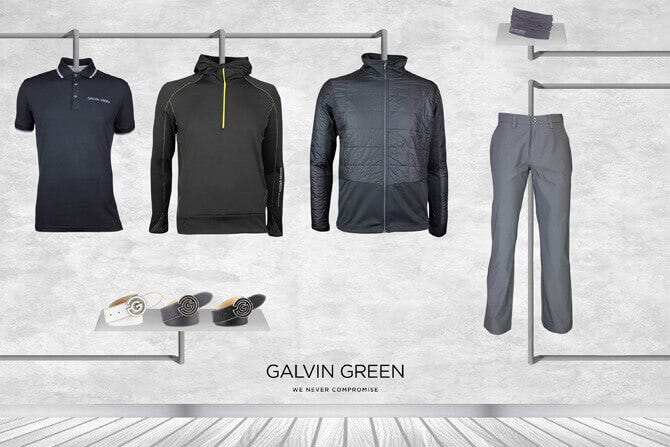 Daniel Im Interview | Dunhill Scripts Friday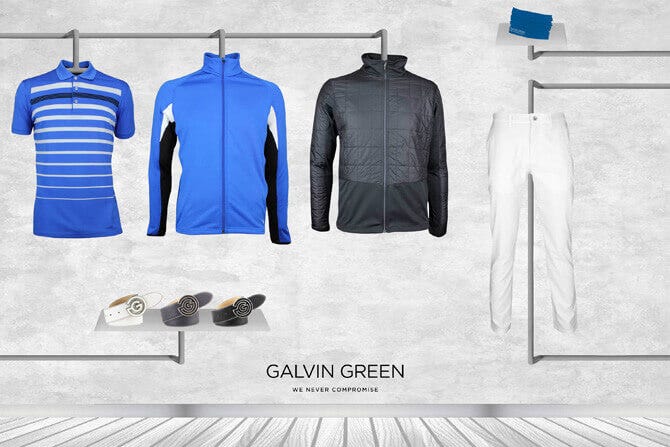 Daniel Im Interview | Dunhill Scripts Saturday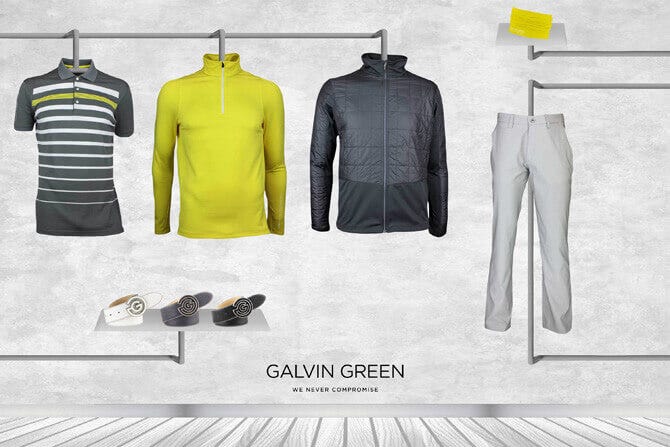 Click here to shop the entire range of Galvin Green golf apparel online at Golfposer.