Here's what happened when we took some time out with PUMA Golf brand ambassador & acclaimed PGA Tour instructor, Claude Harmon III, ahead of The Open Championship at Carnoustie 2018.
Claude Harmon III | Exclusive Interview
GP: Hi Claude, it's a pleasure to meet you & thanks for taking the time out to speak with us today. Whether it's teaching on the course, travelling the world or putting the glad rags on for Wimbledon - your style is always on point. Have you always had an interest and a keen eye for fashion?
CH3: Yeah I would say I've always been very interested in clothes and very interested in the way I look. That was one of the reasons why I wanted to be involved with a company like PUMA - just to have that sense of feeling like you're wearing something a little different and wearing something that can look good both on and off the golf course.
GP: You've been in partnership with Cobra PUMA Golf for over 18 months now - how important do you find their ideology on blending the elements of performance and fashion in golf?
CH3: Yeah I mean I love that! I love the fact that I can look good on the course but not feel like I'm wearing a costume, you know? I think a lot of golf clothes out there can look 'costume-y' - which stops you going from the golf course to almost anywhere else. Take these new Suede G shoes, for example; I could wear these to work in, to go out to meet my wife & even go out to dinner without feeling like a golf clown!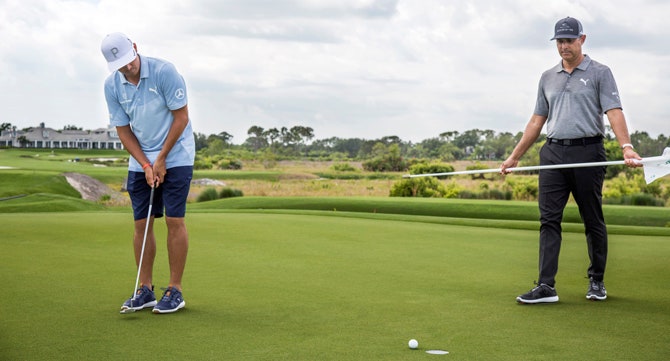 GP: In recent seasons, we've seen a lot of lifestyle inspiration coming into the collections. What do you think of new PUMA items like the track jackets, bomber silhouettes & performance joggers?
CH3: Yeah I think it's in keeping with what's going on in golf right now. I love the fact that they're bringing some non-golf elements into the collections. I think we're starting to see an evolution through blending the way Rickie dresses off the golf course with what he wears on the golf course - and that's great.
PUMA actually take a lot of information from us as ambassadors, too. They ask us what we like, what we don't like and I personally think you could mix golf pieces with a lot of other items that PUMA produce - not for golf. It's a really cool thing for me, being able to wear items from the golf collection with other lifestyle PUMA products.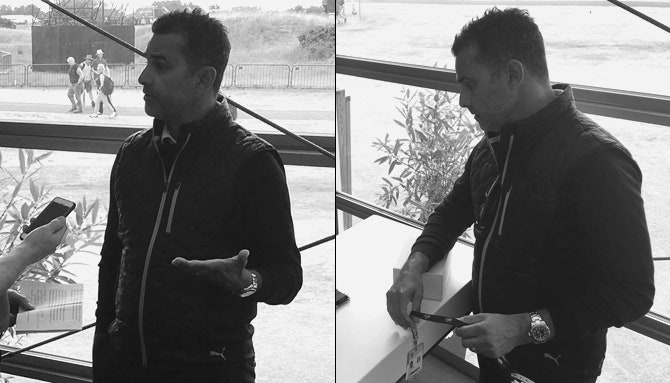 GP: And the 50th anniversary PUMA Suede G shoes that we've seen you rocking at Carnoustie this week - just how good are they?
CH3: I love them! I've had a lot of comments about them. I had shoes like this as a kid and even though I'm 49 now, I still remember wearing PUMA sneakers like the Vilas all those years ago. I've always been a fan of the brand and all of the retro stuff they do, I just love it. The number of times people ask me "dude, where did you get those shoes" and I tell them PUMA - they're like "really??!".
It's a lot of fun working with PUMA and I especially can't wait to see the direction in which the brand go with Jay-Z on board as the president of PUMA Basketball.
Shoe game on point from @claudeharmonIII ??https://t.co/9riOBflygK #pumasuede #OpenChampionship pic.twitter.com/w5vZNULEe0

— Golfposer (@Golfposer) July 16, 2018
GP: And finally…your hot tip for this week…who's going home with that Claret Jug come Sunday evening at Carnoustie?
CH3: I think it's going to come down to putting which will separate the good ball strikers. I think DJ will have a chance; I certainly think Brooks will have a chance. You would think somebody like Francesco Molinari with the way he's been playing and how good a ball striker he is - he would be a good choice. Another good ball striker is Jon Rahm. I also think Tiger will play well this week! As for Rickie Fowler - well Rickie always has a chance in majors tournaments, doesn't he?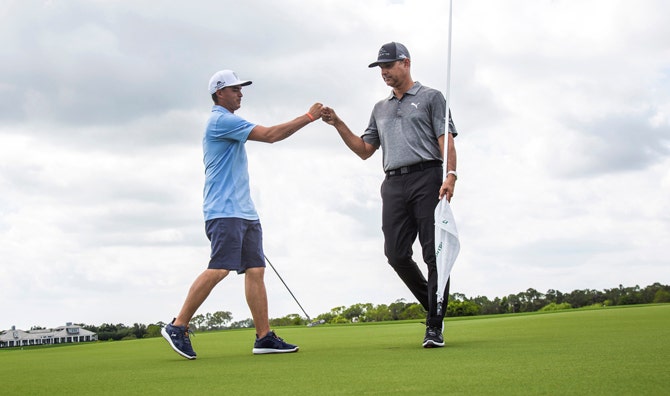 GP: Well, we'll find out soon enough! Thanks again for your valuable time today, CH3 - hopefully we'll see you again soon!