Get your hands on one of the most iconic hats in golf - the PUMA Tour Driver flat cap made famous by Bryson DeChambeau.
Bryson DeChambeau Caps | PUMA Golf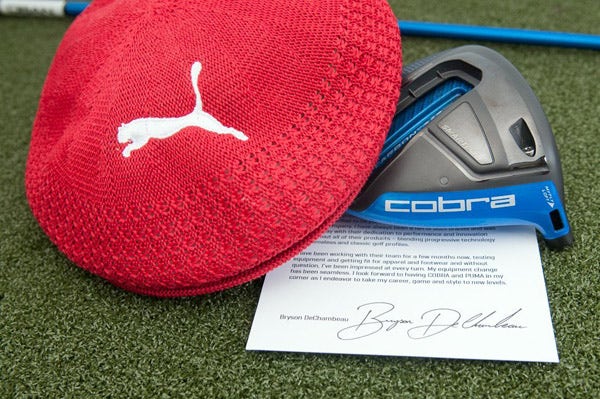 Bryson DeChambeau was one of the hottest topics in golf this year. Whether it was because of his unique one length golf clubs, his exceptional run at the Masters or his unique sense of style on the golf course - almost everyone who frequently watches the game will know his name by now.
Channeling a look made famous by Ben Hogan and Payne Stewart, Bryson DeChambeau has re-introduced the traditional golf flat cap to the masses. After much hype and anticipation, PUMA Golf announced they would produce performance flat caps especially for Bryson and now they're here in a full retail capacity.
Three fashionable colour options are available with our Bryson DeChambeau caps; choose from black, white or the iconic High Risk Red. This latter option is a firm favourite for Bryson DeChambeau - often worn on Championship Sundays to pay homage time studying at the Southern Methodist University.
Bryson DeChambeau Caps | On Tour
Side-saddle ... center pocket. ????#QuickHits https://t.co/6G8fPmkged

— PGA TOUR (@PGATOUR) December 8, 2016
Affectionately known as "the scientist" because of his methodical approach to the game, Bryson DeChambeau has no fear when it comes to golf. Even after securing his PGA Tour card just months ago, DeChambeau has generated even more intrigue once again through testing out a side-saddle putting grip during the Franklin Templeton Shootout.
Bryson DeChambeau is such an extremely unique entity but a talented one none-the-less. His style tastes match that of his game and we can't wait to see much more of Bryson in the seasons to come.