Galvin Green is one of the best known brands in golf apparel best known for their innovative golf waterproof products. Established in 1997, this Scandinavian brand continues to produce award winning designs to meet the needs of every golfer, always keeping the modern day golfer in mind.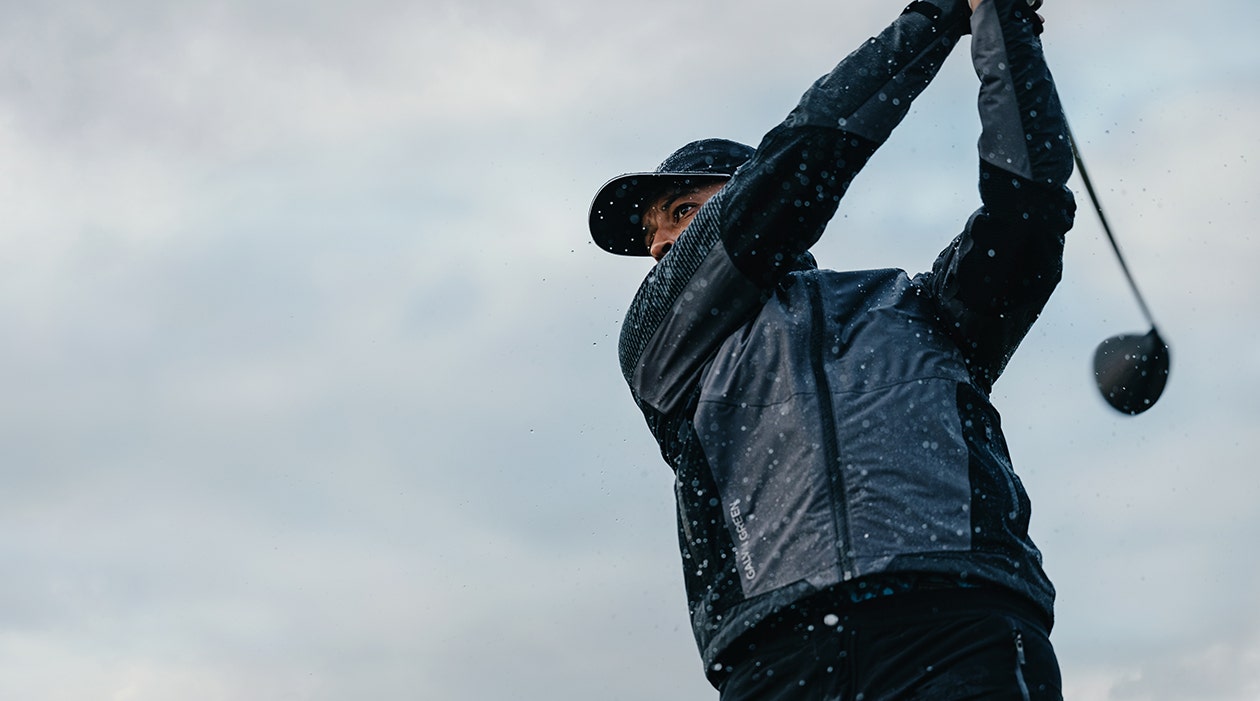 Why Choose Galvin Green?
Being market leaders in golf wear design and development, Galvin 'never compromise' with the quality of their products. At the core of every item is a focus on comfort and suppleness to compliment the golf swing as far as possible. The fabrics they use are especially developed to have significant stretch to allow for freedom of movement, whilst taking nothing away from specific priorities - such as waterproofing or insulating.
Galvin Green's latest golf collection is centred around their 'multi-layer' concept. Essentially, the design team have created the ideal range of garments which allows for mixing and matching to protect against a variety of weather conditions to provide optimum performance on the golf course. There are four categories of products in the multi-layer concept: dry, warm, cool and base layers. Every piece has been designed for a specific function and Golfposer will now explain how Galvin Green achieve their goals.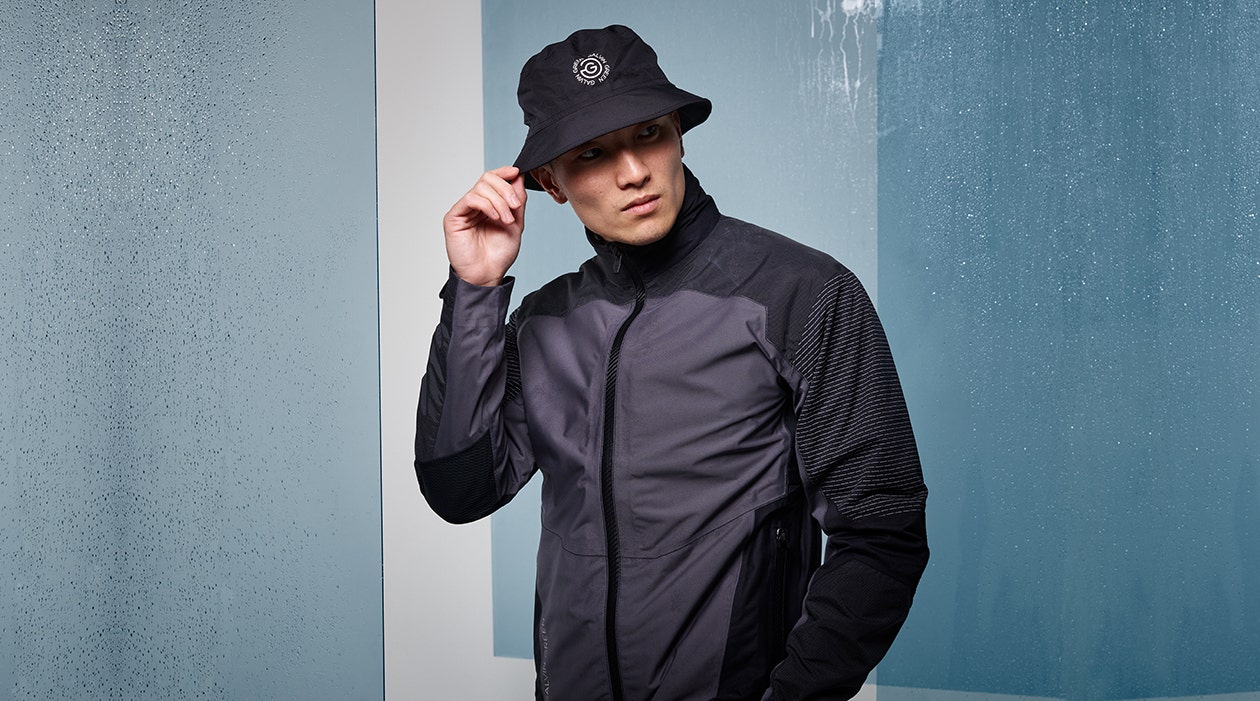 Galvin Green - Gore Tex Waterproofs
The fabric used in both the Gore-Tex® Performance and Paclite shells is all about moisture transportation and breathability.
Both shells are guaranteed to keep your body dry, even if you are in direct contact with wet surfaces.
The secret is in the fabric; there are 1.4 billion microscopic pores per square centimetre of fabric.
This then means that the pores are 20,000 times smaller than a water droplet – yet 700 times bigger than water vapour molecules.
It takes no great mathematician to work out that body heat will therefore be released whilst water cannot leak through the jacket.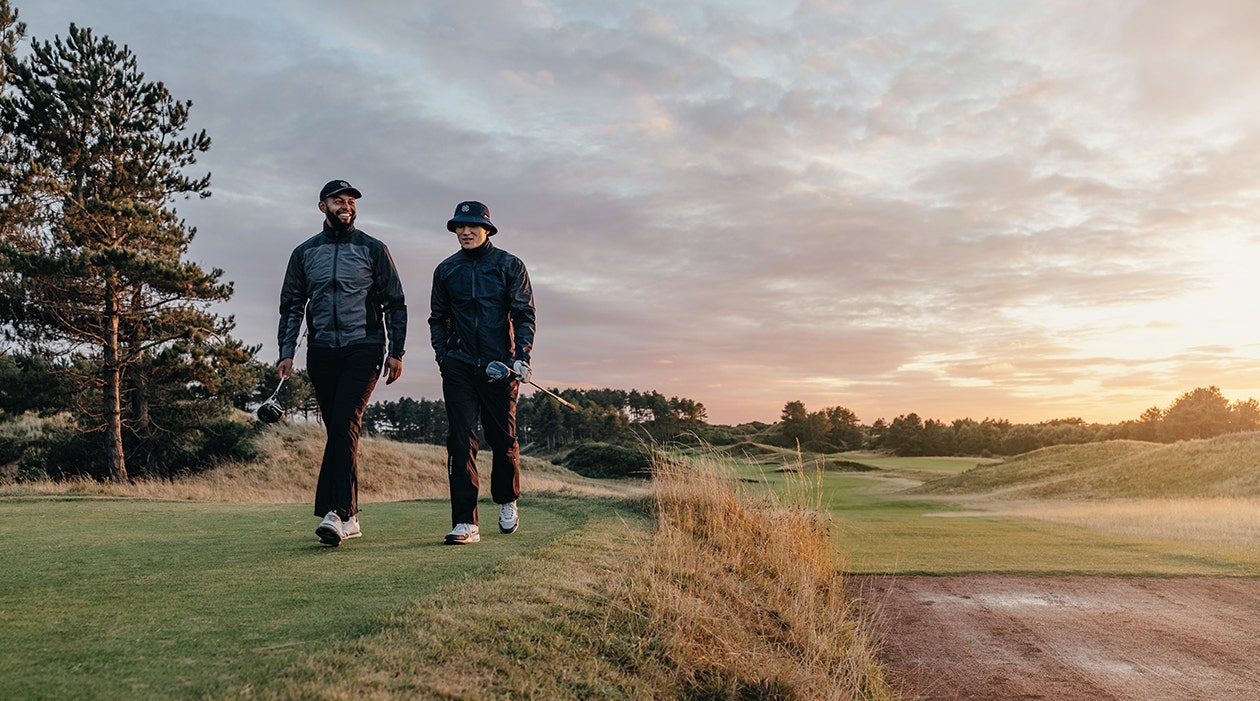 There are also air columns within the Gore-Tex® jackets which allow for optimum breathability and comfort.
Both types of jacket are easy to maintain and can be washed normally at 40 degrees – but it is advisable not to use any fabric softeners.
Included in many of the jackets are extra features for adjustments so that your personal comfort is maximised.
The only difference between the two Galvin Green Waterproof jackets is that the Paclite version is designed to be lightweight and incredibly easy to pack away – saving space in your golf bag if the rain stops.
Latest Galvin Green Waterproofs

Galvin Green - Interface-1
The warm layer category includes both the Interface-1 jackets and Insula mid-layer pieces.
As for the IFC-1 range, these jackets are designed so that they're fully windproof and maintain the body at an optimum performance temperature.
Galvin Green Interface-1 golf jackets are incredibly breathable and protect against wind-chill without fail.
Latest Galvin Green Outerwear

Galvin Green - Insula
Golf Insula layer tops are fantastically warm jumpers.
They are developed with an ultra-stretchy fabric which is lightweight and allows for a snug fit for added comfort.
Galvin Green Insula mid-layers have internal air chambers which hold the heat produced naturally from the body and insulate the wearer – making these the ideal pieces for winter golfing.
Latest Galvin Green Insula

Galvin Green - Ventil8+
The cool layers are all about comfort and staying cool. Galvin Green accomplish this by integrating Ventil8+ technology into their golf polo shirts.
Ventil8+ works by spreading body perspiration and moisture over a wider area which allows for twice as quick evaporation.
We all know that sweating can make everyone smell a little less fresh than they would like – so Galvin Green created a fabric with anti-bacterial properties.
Ventil8+ polo shirts prevent any odours and keep the wearer feeling fresh for longer.
Latest Galvin Green Shirts
Sale

Sale
Galvin Green - Trousers
The Ventil8+ offering also extends to include a range of stylish golf trousers. All of the styles you find online at Golfposer are slim fit silhouettes, with some fabrications being a touch lighter than others.
Latest Galvin Green Trousers