Get the low down on the eye catching Waste Management golf shoes which have been revealed by Nike Golf ahead of the Phoenix Open 2020 at TPC Scottsdale.
Waste Management Golf Shoes | Nike
Nike Golf is a brand who like to inject some fun and humour into the sport once in a while. Where better to do that at the Waste Management Phoenix Open - the "Greatest Show on Grass"?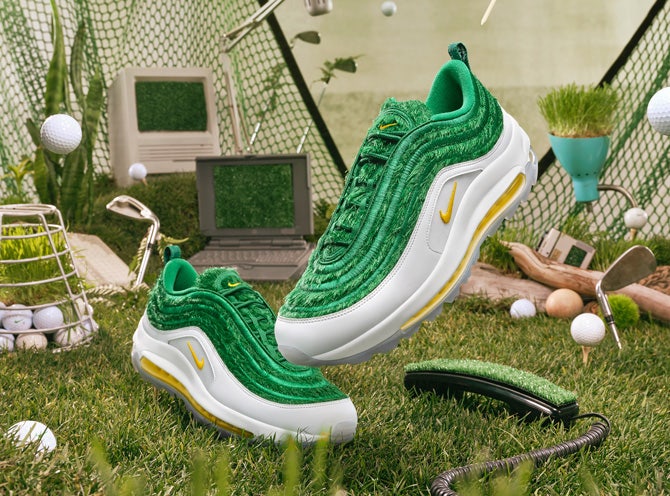 It's one of the loudest, most vibrant and best received golf tournaments in the world where players & spectators interact to create one of the best sporting atmospheres in the world. On top of that, there is that iconic 16th hole with its amphitheater layout - sure to create a raucous yet jovial atmosphere for the players attempting to hit the par three green.
It's a very special occasion which deserves very special attention - which is exactly what Nike Golf have done with a VERY special edition pair of Air Max 97 Golf Shoes.
Waste Management Golf Shoes | Green Grass
In a similar fashion to last year, Nike Golf are bringing a green grass, turf inspired pair of Air Max shoes into play for 202. You may have already seen these incredibly unique golf shoes doing the rounds on social media after the story was picked up by many different trending news & influencer accounts.
View this post on Instagram
A twist on the newly introduced Air Max 97 G silhouette, these spikeless golf shoes have been designed with a partial 3D grass effect on the upper and are scripted to be worn by some of Nike's many golfing athletes on "Green Out Saturday" this week. The third round of the Waste Management Phoenix Open is when both players and fans are encouraged to wear green at TPC Scottsdale - thus raising money for charities in the process.
These wildly eccentric but tastefully unique golf shoes are sure to catch the eye and we're pleased to announce that they will become available online at Golfposer with a release date confirmed very soon.
Waste Management Golf Shoes | Buy Online
The "Green Grass" shoes will become available to shop online at 08:00 GMT on Monday, 27th January 2020. Visit the link below and make sure you're ready to make your purchase as soon as this style drops as we expect it to be very hot indeed.