Get to know the TravisMathew golf brand ambassadors who will be wearing the TM Icon logo on the professional golf tours around the world.
Team TravisMathew
TravisMathew is one of the newest brands online at Golfposer and there are many top TravisMathew Golf Ambassadors who play on the PGA, Web.com & European Tours today.
Below is a definitive list of the golfers you should be looking out for wearing the TravisMathew golf clothing in the coming weeks & months.
Jon Rahm
Jon Rahm is one of the most talented golfers around and now wears TravisMathew golf apparel & footwear on the PGA Tour.
Nicknamed "Rahmbo", Jon Rahm is right up there with the best in the game when he's on peak form, hotly tipped to add some major championship titles to his impressive tally of regular PGA Tour events.
He has previously reached the summit of the world golf rankings and is no stranger to success.
Rahm became the first collegiate player to win the Ben Hogan Award twice, while he also won 11 individual golf titles during his time at Arizona State University.
Jon Rahm is one of the newest brand ambassadors for TravisMathew and we can't wait to see him wearing the new collection this season.
Adrian Otaegui
Adrian Otaegui wears TravisMathew golf apparel on the European Tour and he is fast becoming one of the more established players on the circuit.
We always enjoy looking out for what Adrian is wearing on tour and our style team have also partnered up with TravisMathew to choose his four day scripting for previous tournaments, including his first appearance at the US Open.
You might also find Adrian Otaegui wearing Nike Golf shoes on tour, along with the most recent threads on offer from TravisMathew.
Adrian Otaegui goes by the nickname "El Pirata" - the explanation for which can be found within our exclusive interview right here.
Keegan Bradley
Keegan Bradley is one of the most established players on the PGA Tour who has worn TravisMathew apparel since 2017.
KB was awarded with the 2011 PGA Tour Rookie of the year and has since gone on to secure multiple PGA Tour titles to his name, including a FedExCup event and that famous win at the 2011 PGA Championship in his debut season.
Keegan has twice competed in the Ryder Cup and loves to rock Air Jordan shoes along with his TravisMathew threads both on and off the golf course.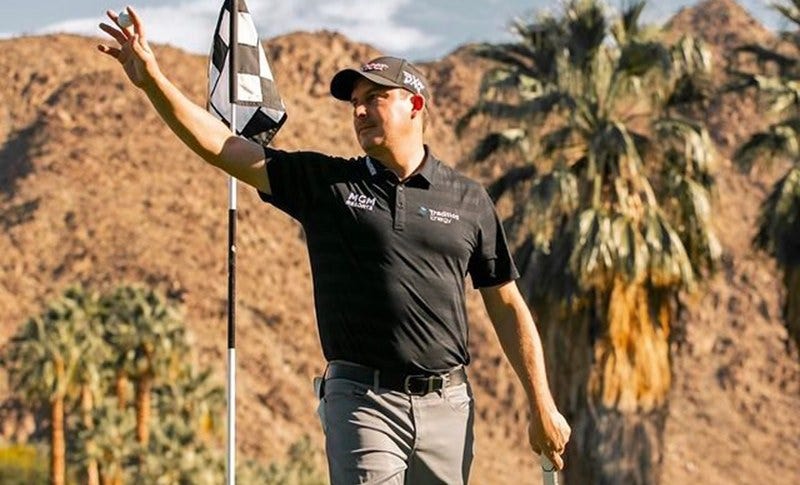 Joel Dahmen
Joel Dahmen has one of the most interesting back stories in the game of golf - having beaten cancer early on in his professional career.
He was born in Clarkston, Washington, and attended college at the University of Washington - eventually playing on the PGA Tour Canada and Web.com tours.
In 2017, Joel joined the PGA Tour and quickly stacked up two second place victories and 12 top ten finishes on the Tour.
He recently claimed his first PGA Tour title and further bolstered his reputation as a real fan favorite.
Most of the time, you'll see him on the course wearing TravisMathew apparel along with his signature bucket hat.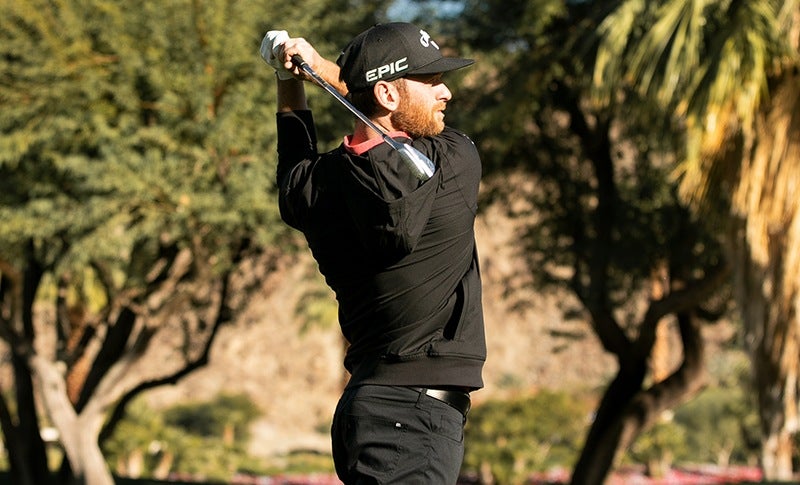 Tyler McCumber
As the son of 10-time PGA Tour Champion Mark McCumber, you could say that golf is in Tyler McCumber's blood.
An all-around athlete, Tyler played baseball, surfed, and rode BMX before focusing his attention on golf; definitely the right call considering he is now an established member of the PGA Tour.
One of our favourite stories about Tyler came during his appearance at the Genesis Invitational 2021 - a tournament in which he contended for the title.
As the story goes - he had accidentally ripped off half the fingernail on his left index finger, then opted for a procedure, then shoved his bandaged finger through a hole he made in his golf glove - and teed it up.
"If you're not living on the edge, you're taking up too much room."
Will Gordon
Will Gordon is now a fully fledged member of the PGA Tour and continues to wear TravisMathew apparel - having joined the brand in 2019.
He grew up in Davidson, North Carolina, and played golf a handful of times with multi-time NBA champion and MVP Stephen Curry while Curry was a student-athlete at Davidson University.
Will Gordon now has multiple top ten PGA Tour finishes to his name and will be looking to improve on that as the season progresses.
Joseph Bramlett
A graduate from Stanford University, Joseph Bramlett was a part of the winning the 2007 NCAA Men's Golf Championship Team. But Joseph's golf achievements began long before competing at Stanford.
At age 14, Joseph was the youngest player to ever qualify for the US Amateur. In 2010, Joseph turned professional, competing on the Korn Ferry and PGA Tours.
A few years after beginning his professional career, Joseph suffered a severe back injury that took him out of the game for over four years.
Instead of surgery, which would have ended his golf career, Joseph opted for a slow, painful healing process and therapy that redefined his swing and alleviated the pressure in his back.
Joseph's refusal to give up on his dream has earned him his PGA Tour card once again.
Seamus Power
Born in Waterford Ireland, Seamus Power joined the PGA Tour in 2017.
Before becoming a Tour member, Seamus played collegiate golf at Eastern Tennessee State where he won five events, including two Southern Conference titles and two Atlantic Sun Conference championships.
Notably, Seamus was a member of the 2016 Irish Olympic golf team and has clinched six top ten finishes and 17 top 25 finishes since joining the PGA Tour.
Norman Xiong
Norman Xiong may be one of the youngest members of the TravisMathew Team, but he's already one of the most accomplished.
A two-time All-American at the University of Oregon, Xiong won the '17-'18 Jack Nicklaus Award as the top Division 1 golfer.
He has crazy athletic ability (he continually registers a swing speed over 130+ mph) and a fun personality - two attributes which make him perfect for Team TravisMathew.