Ted Baker is the newest apparel brand to arrive online at Golfposer in 2017 and the collection features an array of clothing which really does catch the eye. Scroll below to view our selection of the best Ted Baker golf shirts from Spring/Summer 2017.
Ted Baker Golf | New Apparel Brand
The entire team at Golfposer were all very excited to see what Ted Baker Golf apparel would bring to the table this season - and not one of us were left disappointed by their first ever venture into golf clothing.
Having developed a solid reputation for their unique, playful and somewhat eccentric menswear offering, we were very pleased to see Ted's core values coming into golf wear without any dilution of the brand's ethos. Ted wants to inject some fun back into golf fashion in a stylish and tasteful manner and, in our opinion, Ted has achieved that already.
Ted Baker Golf Shirts | 2017 Collection
There is no underestimating the importance of a golf shirt. For many, it's the first thing they think about when planning an outfit, whilst it's also the first thing that anybody truly notices when you step onto the first tee. Aside from the aesthetic importance, golf shirts need to perform to our exacting standards and stylish golfers won't settle for any less - which we know all too well.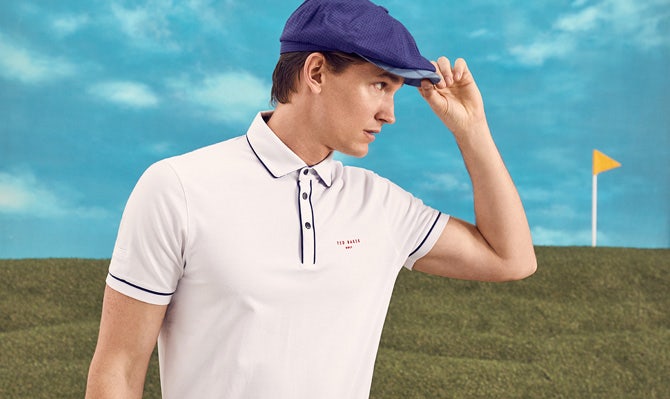 Ted clearly knows this, too. The range of Ted Baker Golf shirts for Spring offers up a plethora of eye-catching designs with funky print detailing, bright colour combinations and one of the most unique golf shirts we've ever seen.
Ted Baker Golf Shirts | Statement Polo
Said Ted Baker golf shirt is the one which features in all of the campaign imagery and is (quite aptly) named the "Statement Polo". We love the look but we also love the composition of this particular style, too. A touch of stretch offers complete comfort, whilst the fit of the shirt is very flattering indeed. Not loose, not slim - just nice.
Ted Baker Golf Shirts | Fit
The fit of Ted Baker golf shirts remains consistent across the range, which is actually quite pleasing. Too often, brands will attempt to offer a variety of fits and sometimes lack the consistency across the range of styles - changing season upon season. However, the beauty of the Ted Baker golf shirts collection is that - once you know your size - you can rest easy knowing that you will be the same size in every polo available.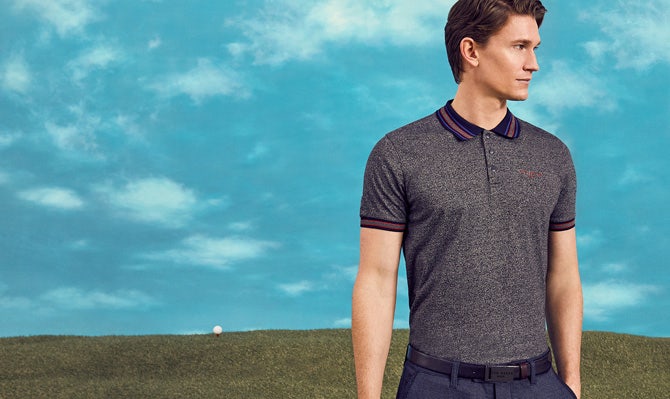 Ted Baker Golf Shirts | Print Styles
And once you pick up one Ted Baker golf shirt, you couldn't be blamed for picking up one in every colour. Two of our favourites for this season include the LeGolf print with the bright leaf pattern which really packs a punch, whilst the Balata features a more subtle print design.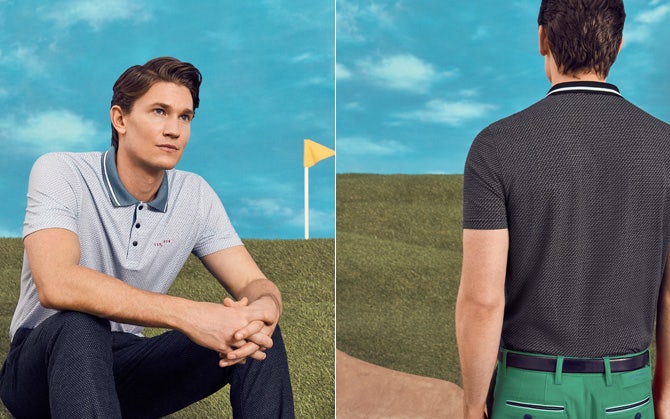 For the more reserved, the Fore polo shirt is a complete winner. The melange effect is enough to stand out without being overly in-your-face, available across three very commercial and very tasteful colour options.
Our final pick from the range is the most low-key of them all...but that could otherwise be known as an essential wardrobe staple. The Playgo solid polo shirt features fashionable pipe detail at the placket, collar and sleeve welts - whilst a hidden print pattern is located beneath the collar.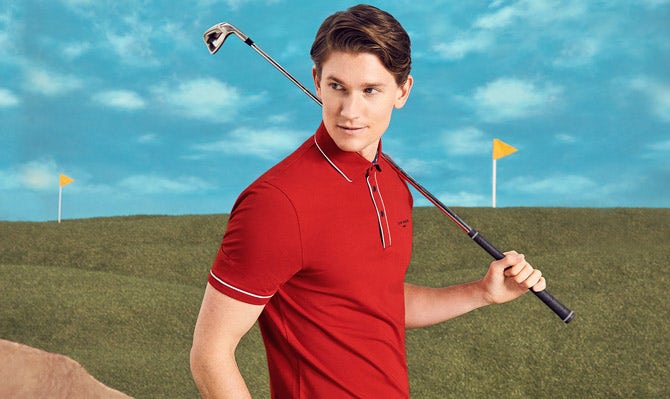 We have been thoroughly impressed with the new range of Ted Baker golf shirts and we're confident you will love the fit, comfort and performance of these all new styles this season too.
Click here to shop the entire Ted Baker Golf collection for 2017.