Tech golf mid layers are one of the biggest trends for the Fall 2017 season with more and more stylish golfers appreciating the benefits of lightweight, technical pullovers for performance. Below, our style editors have highlighted a selection of their favourite quarter zip sweaters and gilets from across our brands to help inspire your next wardrobe update.
Tech Golf Mid Layers | Key Style Trend 2017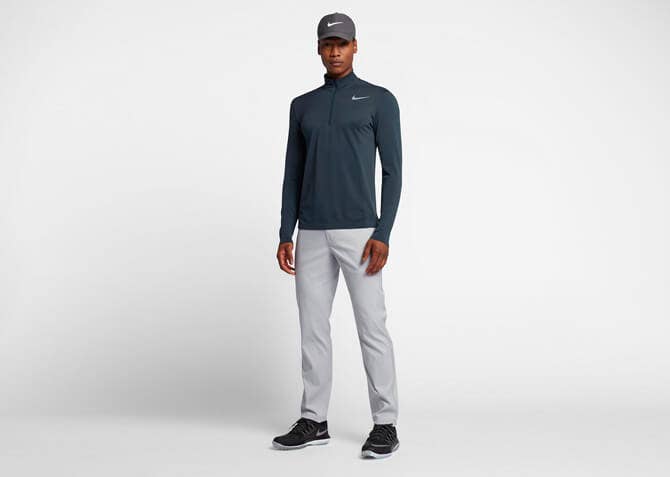 Technical golf apparel has long been embraced by the most stylish golfers but, this season, you will most definitely notice an increase in the number of tech golf mid layers on the fairways as we head into the cooler months of Autumn.
Replacing the traditional, knitted "golf jumper" as the go-to mid layer style, technical golf pullovers provide exceptional comfort and warmth without any bulk to allow for even better performance. An increased level of stretch within the fabrics helps to minimise restriction in the golf swing, while modern silhouettes are often contoured to the body without any excess fabric.
The advancement of warming technologies has certainly helped fuel this trend, though tech golf mid layers are often the most stylish options to choose from, too. Almost every brand has a strong selection of technical layering garments available for Fall 2017 and below, we have chosen some of our favourites for the season ahead.
Tech Golf Mid Layers | Nike Pullovers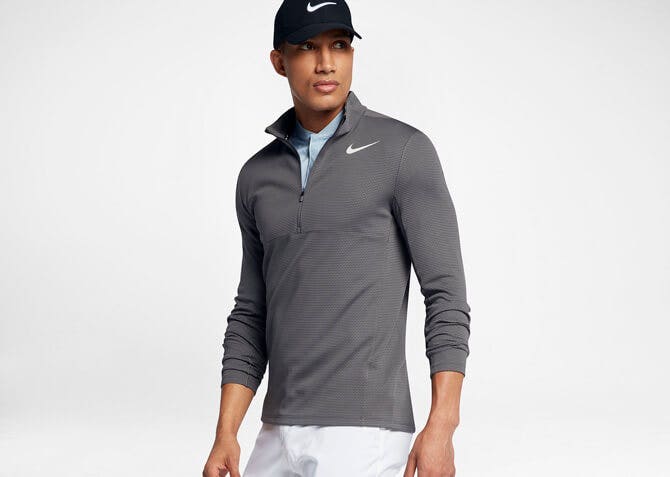 Nike Golf are leading the way in terms of technical golf apparel, for sure. Their flagship technology for this season is named "Aeroreact" and features intelligent fibres which open and close depending on your body temperature in performance. This means that the Aeroreact pullover will keep you warm when conditions are cool - yet also has the ability to cool you down quicker than any other when you sweat. This temperature regulation is a great feature to have and allows for the garment to be worn for the full 18 holes - rather than throwing it on and off at different points of your round.
Other mid layers to come from Nike Golf this season include the super lightweight NK Dry Knit seamless pullover; a style which continues to prove popular on tour when the conditions are just slightly on the cool side.
Tech Golf Mid Layers | Boss MK Pullover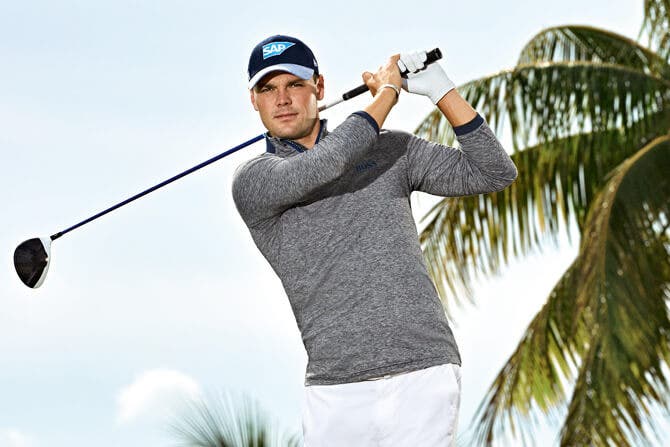 For Fall 2017, HUGO BOSS have unveiled a particular style of mid layer which has had a great deal of input from Martin Kaymer himself. Its name is the "Pekerum MK" quarter zip pullover and could also be worn on its own, with the soft nature of the fabric very comfortable on the skin. This technical Boss Green mid layer is a stunning garment to look at and features a high degree of stretch, moisture wicking capabilities and a really impressive fit.
Other golf pullovers from Hugo Boss for this season include the iconic Zadok Pro sweater which was showcased by Henrik Stenson at the Open, while the fresh new design for the Zelchior Pro and Zymor Pro jumpers are equally eye-catching. The "technical" element of these latter sweaters comes in the form of a DWR coating on the fabric and helps to increase their reliability and longevity.
Tech Golf Mid Layers | Galvin Green Insula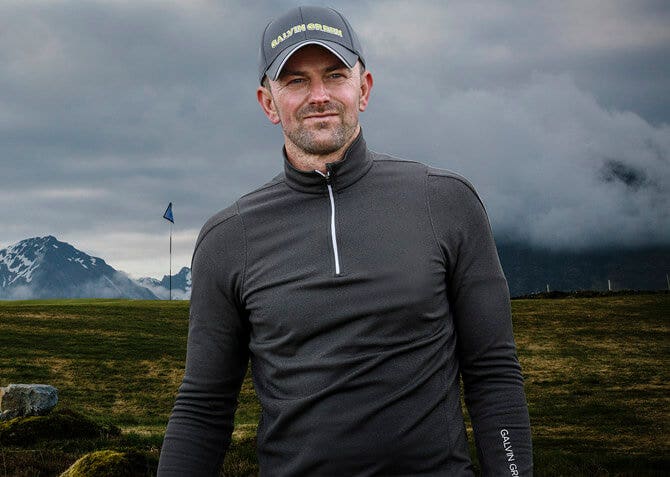 Galvin Green are experts at keeping you warm on the golf course and their latest range of Insula golf pullovers is well worth consideration. Their trademark Insula technology features light and airy chambers within the fabric which are designed to trap your body heat without increasing bulk - hence offering up some of the warmest sweaters in the game.
Galvin Green also launched a range of Insula LITE sweaters at the start of the year - providing all the same warmth and comfort but with an even thinner and more lightweight fabric. The DEAN quarter zip sweater is one of our favourite styles this year, for sure.
Tech Golf Mid Layers | Chest Pockets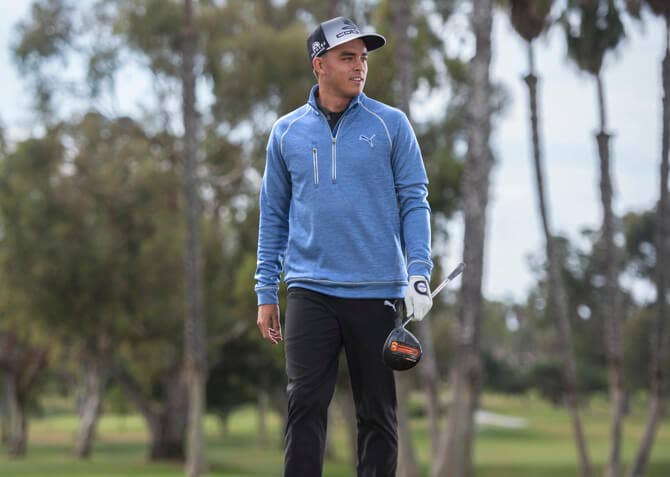 Lightweight tech golf mid layers have been designed to minimise swing restriction and chest pockets are another little style detail which helps reduce any impediment. Relocating pockets to the chest removes the risk of storage items getting in the way of your mid-riff area and, aside from the performance benefits, chest pockets actually look pretty stylish, too.
Key sweater styles with chest pockets to look out for include the new PWRWARM heather pullovers from Puma Golf and the Brushback Tech jersey pullovers from RLX Ralph Lauren, as featured below.
Tech Golf Mid Layers | Gilets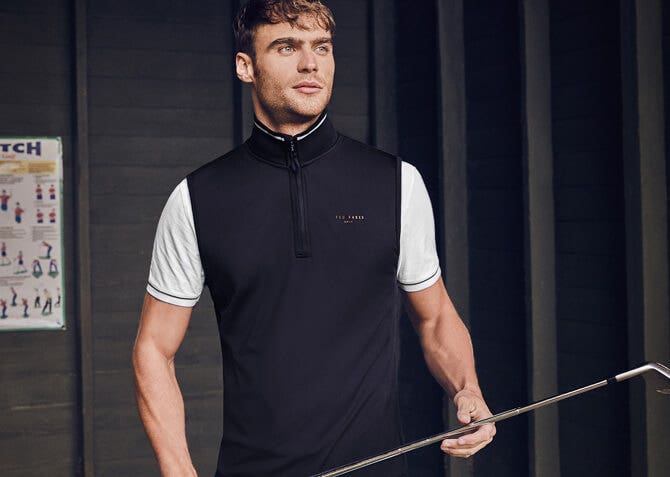 Technical golf gilets are a great way of keeping your core warm when the temperature drops on the golf course and are often preferred for freeing up the arms in the golf swing, keeping restriction to an absolute minimum. Golf gilets are stylish to wear and allow for a pop of colour with your polo shirt sleeves still on show; a great alternative mid layer choice for Fall 2017.