Please note - this competition has now closed. Thank you to all of the participants and congratulations to the four winners.
NIKEiD LC4 WINNERS ANNOUNCED!Thanks to everyone who entered the chance to WIN a pair of custom Nike ID golf shoes...

Posted by Golfposer on Monday, 11 April 2016
Rory McIlroy Masters Shoes - Nike Scripts
The Nike Lunar Control 4 golf shoes will make an appearance on every day at Augusta as part of Rory McIlroy's Masters scripts, but with a twist. Every pair of Nike golf shoes worn by Rory will have been customised using Nike ID - each with a unique look for every day.
Rory McIlroy Masters Shoes - Competition
More excitingly - we're giving you the chance to win one of four pairs which we have secured to give away! Rory's Masters shoes will not be available for retail and this exclusive opportunity to win a pair is already open with free entry available for all GP followers.
So, how can you enter to win the Rory McIlroy Masters shoes? Well, it's a points race to Masters Sunday with the top four entrants who have accumulated highest tallies each winning one of the four pairs on offer. The top points scorer will have first choice from the four colours on offer, second place will receive second choice and so forth.
You can easily gain points via three methods: ENTER (1pt) - SHARE (2pts) - REFER (3pts). Simply sign up with an email address or Facebook account to gain free entry; share the appropriate link across any social media channel as many times as you like; tell your golfing buddies and if any of them signs up, you will increase your chances of winning!
The competition will end at midnight on Masters Sunday with the winners notified and announced soon after. Please read all the appropriate terms and conditions here.
Rory McIlroy Masters Shoes - Custom ID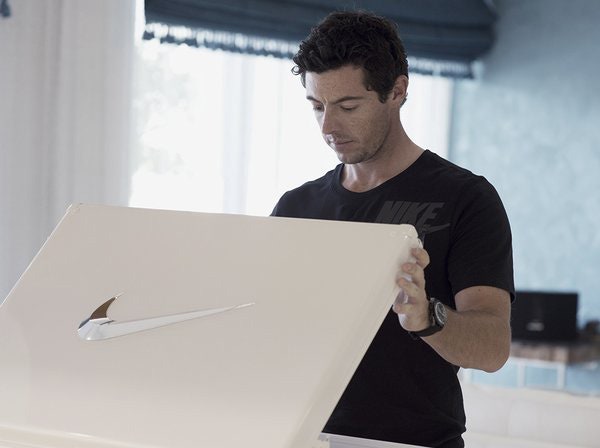 Nike Golf will only publicly unveil the line up of Rory McIlroy Masters Shoes on April 5th, 2016. So, despite our team already knowing what they look like (they look pretty amazing), you'll simply have to use your imagination until then.
Update: Nike Golf have now revealed the NIKEiD Lunar Control 4 golf shoes which will be worn by Rory McIlroy. Check them out below!
.@McIlroyRory unique NIKEiD Lunar Control 4 shoes revealed! #EnjoyTheChase pic.twitter.com/Wueykftua7

— Golfposer.com (@Golfposer) April 4, 2016
#EnjoyTheChase