Nike Golf have revealed the Rory McIlroy Masters Scripts for 2017 featuring a selection of athletic outfits ready for Augusta.
Rory McIlroy Masters Scripts 2017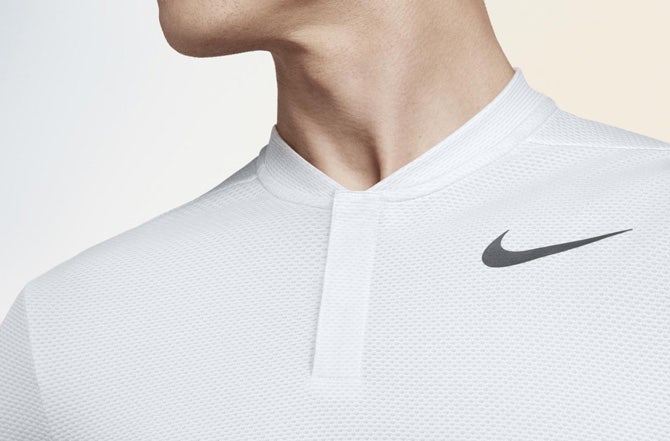 Nike Golf have fully justified their transition into becoming an apparel only golf brand with a seriously strong range of shirts, trousers and shoes for 2017. At the Masters, Rory McIlroy will champion one of the flagship styles of the season in the shape of the Nike MM Fly Aeroreact Blade collar polo shirt, wearing four different colours on all four days at Augusta National. Rory will also wear the Lunar Control Vapor shoes on all four days with a mixture of colour options worn.
Rory McIlroy Masters Scripts - Thursday
For day one at the Masters, Rory McIlroy will wear the Nike Aeroreact Blade collar shirt in "Max Orange". We love this outfit and Rory will look super sharp wearing the slim fit NK Flex Pants in black, completing the look with the flagship Lunar Control Vapor golf shoes in black/silver.
Rory McIlroy Masters Scripts - Friday
A brand new colour of the two-tone Nike Aeroreact golf shirt will be worn by Rory on Friday at the Masters and we fully expect this to be one of the most popular of the season so far. A white/platinum front contrasted by the light grey reverse, all finished with a pop of Lava Glow pink detail. Rory will complete the look with a "players edition" colour of the Lunar Control Vapor shoe - a one off custom style.
Rory McIlroy Masters Scripts - Saturday
Rory McIlroy will move back to the Max Orange on Moving Day at the Masters with the bright pants making a real statement. This is a look which has been prominent on the PGA Tour with many other Nike athletes already this season, but it will be the first time that we see Rory pair up the Aeroreact Blade polo shirt with the Max Orange pants. The matching Lunar Control Vapor shoes will complete the look once more and, good news, this particular colour is available to purchase.
Rory McIlroy Masters Scripts - Sunday
Championship Sunday at the Masters will see Rory wearing another new colour of the Nike Aeroreact Blade Collar polo shirt with this Lava Glow option having just arrived from Flow 3.1. A winning look, for sure, but can Rory McIlroy see off the competition and win the Masters for the first time in his career? Only time will tell...