Introducing the next limited edition footwear pack by PUMA Golf featuring an eye catching Fizzy Yellow x NRGY Peach colour combination.
[product ids="76715,76749"]
[product ids="76727,76738"]
RISE UP by PUMA | Limited Edition
We're excited to reveal the next limited edition line up of footwear by PUMA Golf - named the RISE UP pack.
All three silhouettes featured within the offering make great use of a Fizzy Yellow x NRGY Peach Pink x Black colour combination - catching the eye in true PUMA fashion.
All three of the top PUMA Golf ambassadors will be wearing the tour versions at the WGC FedEx St. Jude Invitational this week - while you can also get your hands on the pink/yellow RISE UP theme in the form of the immensely popular RS-G spikeless silhouette.
RISE UP by PUMA | RS-G
An additional point of difference with the PUMA RS-G from the RISE UP pack is the fact that the left & right shoes are alternating colours. That means the left shoe features a pink upper with a yellow sole, while the right shoe is the exact opposite.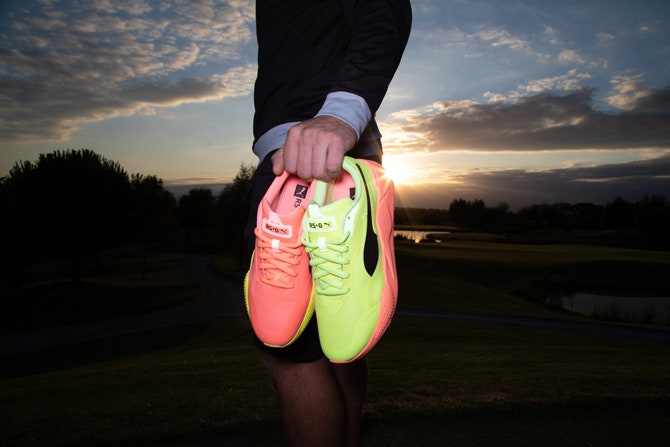 The bold left // right alternating look is one which was once championed by none other than Rickie Fowler back in 2016. The PUMA "Tricks" campaign proved a monumental success back then and introducing this same styling tactic into one of the hottest shoes of the Summer is simply outstanding.
Both left & right shoes also feature the iconic black formstripe, while you can click here to read so much more about the PUMA RS-G silhouette which launched earlier this Summer.
RISE UP by PUMA | WGC FedEx St Jude
The WGC FedEx St. Jude Invitational will see all three top PUMA athletes wearing the RISE UP pack of footwear on the 30th of July 2020.
Keep an eye out for Rickie Fowler wearing the Ignite Pro Adapt silhouette - while both Bryson DeChambeau & Gary Woodland will be wearing the Ignite PWRADAPT Caged silhouette.
All three of these footwear styles will drop online at Golfposer.com at 14:00 BST on Thursday 30th July 2020.
[product ids="76715,76749"]
[product ids="76727,76738"]
Shop Next: PUMA Golf Shoes
Read Next: PUMA RS-G Spikeless