We're giving you the chance to WIN an extremely rare PUMA Golf stand bag which will be in play with Rickie Fowler & caddie Joe Skovron at the US Open 2018. Scroll on below to discover how you can get involved with our Rickie Fowler US Open Stand Bag competition online at Golfposer.
Rickie Fowler & PUMA Golf often have special plans for the major championships and the first round of the US Open 2018 will be no different.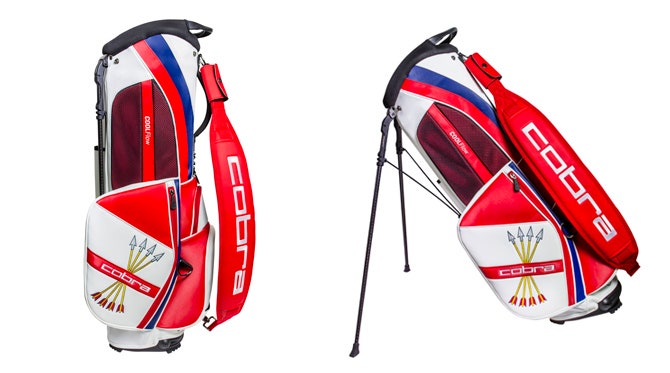 PUMA Golf recently unveiled what Rickie Fowler will be wearing throughout the week at Shinnecock Hills, which you can find out with the Golfposer eMAG right here. At the same time as the scripting announcement, PUMA revealed this stunningly unique and special edition stand bag - ready to be used by Rickie Fowler (or more specifically, his caddie Joe Skovron) across the entire US Open week.
The lightweight, stand bag design pays homage to Rickie's amateur days and also celebrates the successes of those who made it through US Open qualifying. It was the US Open where Rickie made his major debut as an amateur golfer, too ( Torrey Pines, 2008). A very nice touch indeed.
Rickie Fowler US Open Stand Bag | Joe Skovron
Of course, it won't be Rickie Fowler actually carrying the bag itself. That job falls to his long-term caddie, Joe Skovron.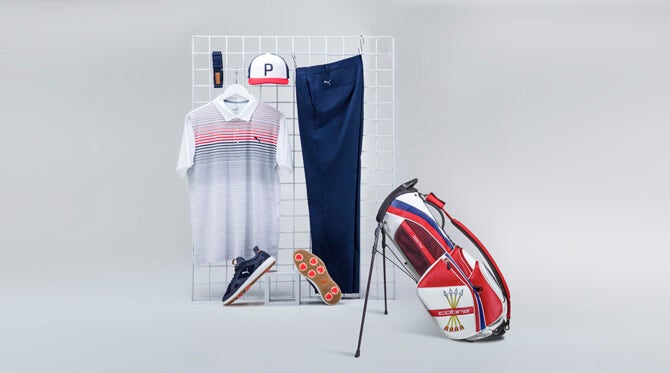 "You only see a staff bag at a professional tournament, or maybe in a mancave, but it's not what most golfers use. We thought it would be a cool idea to carry a bag that most juniors, college players, and weekend golfers use instead of a staff bag that you only see on Tour," said Skovron. "And selfishly, it's nice to carry something a little smaller and lighter for the trek that is Shinnecock Hills!"
Rickie Fowler US Open Stand Bag | Competition
The US Open gets under way at Shinnecock Hills this Thursday 14th June and we are very excited to give you the chance to win this seriously rare & limited edition golf bag, courtesy of PUMA Golf.

Visit the Facebook link above to get involved with the competition which ends at midnight BST on Sunday 17th of June. Terms & conditions apply, while the golf-bag-aficionados among us can discover much more specific details of the bag itself further below.
Rickie Fowler US Open Stand Bag | Spec
The US Open Tour Stand Bag incorporates all the necessary on-course features of a Tour Staff bag, including heavy-duty zippers, durable PU material and a single strap for easy carrying, but in a much lighter package.
In fact, the Stand bag weights in about 60% lighter than the bag Skovron typically carries each week on Tour. The US Open version was inspired by the USA's red, white and blue color story, and this week's host site, Shinnecock Hills and its legendary club logo. The bag features four arrows, a nod to the fourth time the US Open will be contested at this iconic location. Other key features include:
Four-way top with designated dividers and top grab handle
Carbon Fiber Stand Legs
Full-length Umbrella Sleeve
Seven pockets including an oversized apparel pocket, lockable valuables pocket and dual insulated cooler pockets
Single Carry Strap and hip pad with COOLFLOW foam
EASYFlex base allowing maximum turf contact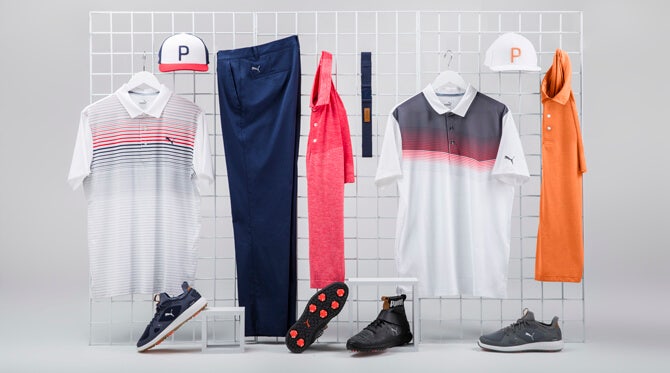 Rickie Fowler will tee off with Hideki Matsuyama & Marc Leishman for rounds one and two of the US Open 2018. Stay tuned for his progress throughout the week & click through the links below to shop his PUMA Golf scripts online at Golfposer.
Read Next: Rickie Fowler US Open Scripts 2018
Shop Next: PUMA Golf Apparel & Footwear