PUMA Golf have now revealed the Rickie Fowler US Open Scripts for Shinnecock Hills 2018. Scroll on below to view the break down of Rickie's four outfits featuring some seriously fresh PUMA looks.
Rickie Fowler US Open Scripts | PUMA 2018
Rickie Fowler will head into the US Open 2018 on the crest of a wave having just announced on Instagram that he & long term girlfriend Allison Stokke are now engaged. Matters on the golf course have been quite rosy for Rickie Fowler so far this year, too; a solo second place finish at the Masters being most notable among several other strong finishes.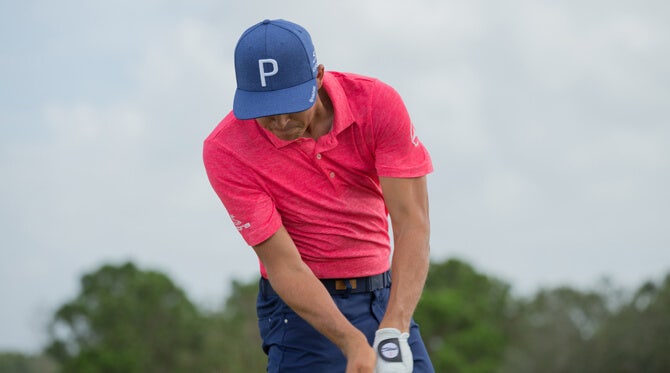 Rickie Fowler will also be looking rather rosy on the golf course at Shinnecock Hills this week. On two days of the US Open, Rickie has been scripted to wear "Paradise Pink" from PUMA - a fresh new colour way which recently dropped online at Golfposer.
A variety of popular polo shirt styles will feature, while some brand new PUMA accessories will also be showcased. Scroll down the page to view the exact details of what Rickie Fowler will be wearing for the second major championship of 2018.
Rickie Fowler US Open Scripts | Thursday
Thursday's US Open first round will see Rickie Fowler & PUMA Golf paying homage to the colours of the US Flag - red, white & navy blue.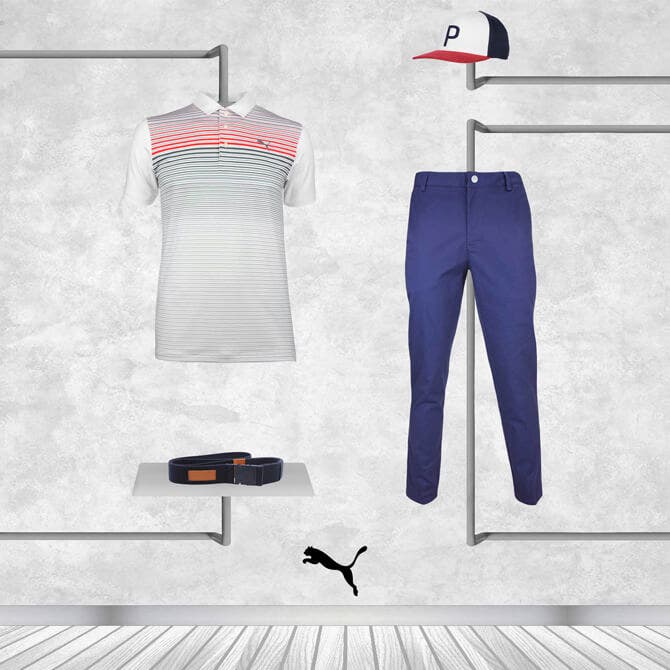 One of the key elements of this first round outfit will be the all new P Logo snapback cap - here finished in a tri-colour combination for the first time. One of the most popular accessories to have ever come from PUMA, the P logo caps have seen a variety of special editions selling out in double-quick time and we have no doubt that this USA inspired version will prove just as popular online this week.