Rickie Fowler is wearing an untucked PUMA Golf Shirt at the Farmers Insurance Open 2019. Click through the images below to shop his Torrey Pines look online at Golfposer.
Rickie Fowler Untucked Shirt | PUMA Golf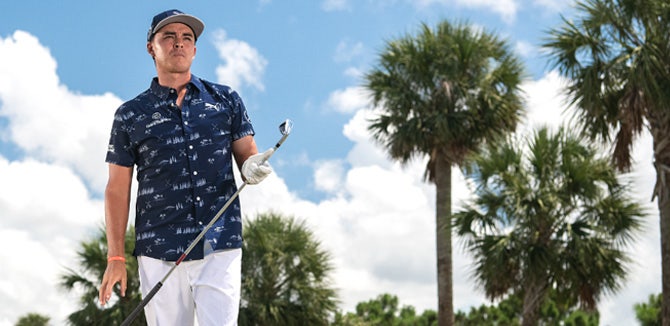 Rickie Fowler grabbed all the headlines back at the Tournament of Champions in Hawaii in January 2018 and he is sure to do so once again on Friday at the Farmers Insurance Open this year.
As announced today, Rickie is scripted to wear another untucked golf shirt from the new "Play Loose" collection by PUMA Golf. It's the perfect time to launch this exciting capsule which embraces a more relaxed approach to golf fashion, what with the Farmers Insurance Open being hosted on the coast of California. For sure, it's an outfit choice which will turn heads and divide opinion, but we don't think Rickie will care too much about that...
Leaving your shirt untucked in a PGA Tour event is relatively unheard of - but it certainly does not break any official rules. Yes, there is a dress code, but there is no written rule to state that you cannot wear your polo shirt untucked. That important detail won't stop the armchair critics from voicing their opinions, but we're super confident that the amazing crowd at Torrey Pines will love it.
Rickie Fowler Untucked Polo | Full Button
This particular button up is a product by PUMA Golf which has been specifically designed for wearing in this fashion; the curved hem and full button design still looks sophisticated and stylish when worn untucked.
This particular PUMA button-up shirt is one of our favourite styles from the latest Spring/Summer range for 2019. It marries up an outstanding performance fabric with a more relaxed, casual silhouette; a trend which is becoming ever more prevalent in the golf fashion scene.
The shirt is finished in a peacoat navy colour way with motif prints featured throughout the fabric; these include surf boards, crossed golf clubs, palm trees and (Torrey) Pine trees.
Rickie Fowler Untucked Outfit | GP Comment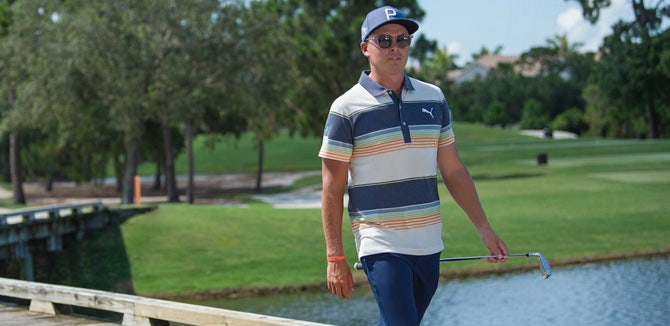 Back in Maui this time last year, the general consensus was that Rickie's Aloha shirt from round one was appropriate because of the Hawaiian aesthetic and the more relaxed feel of that particular tournament.
This time around, it feels equally (if not even more so) appropriate for Rickie Fowler to wear the untucked look once again. The Farmers Insurance Open has such incredible scenery with a crowd who really do help to make the tournament what it is. If anyone is going to embrace a more relaxed approach to golffashion, then it's each and every single one of those spectators.
The landscape of golf fashion is changing as more and more brands choose to blend performance and leisure wear, so we are fully on board with the untucked look that Rickie Fowler will wear at the Farmers Insurance Open later today. It's fresh and exciting - which is what golf should be about.