Puma Golf unveiled new colours of the Rickie Fowler Hi-Top golf shoes late last year and you can now pre-order your size for delivery in early February 2017.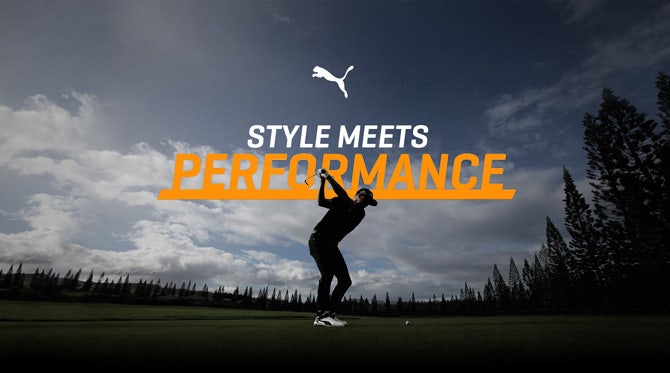 Any golf fan will be aware that high top golf shoes were something of a revelation last year. Bringing a renewed sense of individuality and eccentricity to the course, Rickie Fowler debuted the look around one year ago and swiftly became one of the hot topics in golf; praised for modernising the game but equally scrutinised for defying tradition.
Undeterred, Puma and Rickie Fowler continued to champion the look throughout the season and eventually launched the Rickie Fowler Hi-Top in a full retail capacity - with three colours now available for pre ordering online at Golfposer alongside the new Puma golf jogger pants.
Rickie Fowler Hi-Top | Shoe Features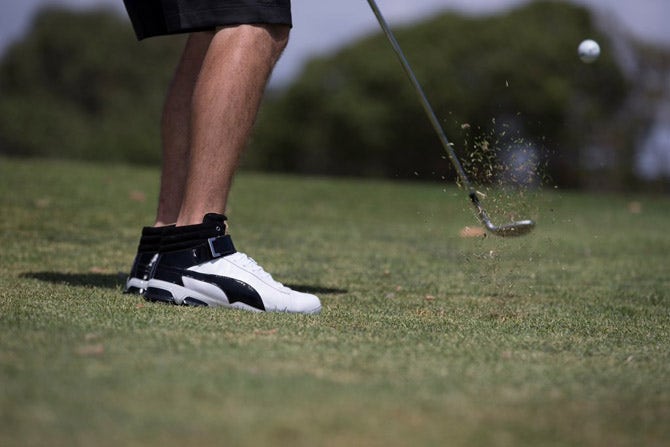 Not just intended as a fashion statement, the Puma Ignite Hi-Top Golf Shoes provide superior performance, too. The support offered by the soft leather/foam collar is exceptional - custom designed for Rickie Fowler and intended to hug the ankle for increased stability throughout the swing. Other key features include the unique Velcro strap for a lock-down feel, whilst the TitanTour Ignite outsole features across the entire Puma footwear line and received outstanding reviews last season.
As if these key features weren't enough, the Rickie Fowler Hi-Top golf shoes also offer a heightened level of comfort thanks to IGNITE cushioning - lightweight and responsive for step-in comfort. The premium leather features a two year waterproof guarantee, whilst the use of Puma's PWRFRAME offers flexibility and traction.
Despite all of the conversation and hype surrounding Rickie Fowler and his High Top golf shoes, not many viewers actually noticed the Puma star wearing the style when he wore regular cut pants. However, this is probably the most telling aspect of Rickie Fowler's endorsement; the TitanTour Ignite High Tops really must prove their worth as a functional golf shoe.
Rickie Fowler Hi-Top | New Colours
Three new colours have just been launched for 2017.
Rickie Fowler Hi-Top | Vibrant Orange
The White/Vibrant Orange is synonymous with Rickie Fowler thanks to his traditional Sunday attire and looks set to be incredibly popular once again this season. Check the link above to pre-order your pair and be the first in the UK to receive them in the first week of February, 2017.
Rickie Fowler Hi-Top | Black
Rickie's Puma Golf clothing is not just about bright and bold colours. He often likes to tone down his outfits with neutral shades of white, black or grey and we think his style game has seriously improved because of this. The second high top colour option for 2017 is Black/White and is also now available to pre-order for delivery anywhere in the world in early February.
Rickie Fowler Hi-Top | White/Black
Probably the most versatile colour option of the three, the classic white/black returns once again for the 2017 season. Many more sizes have been added and are now available to pre-order online, perfect if you missed out on this particular version last year.
Rickie Fowler Joggers | Get The Look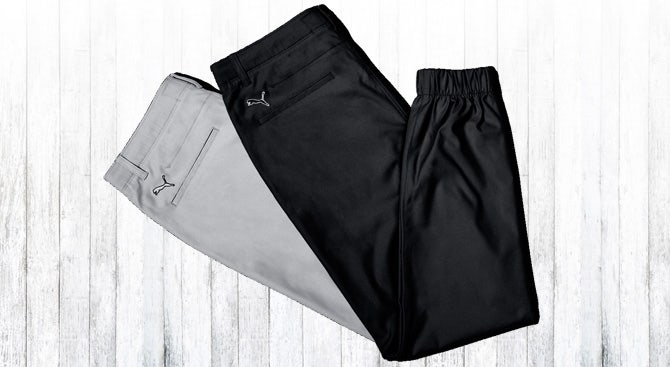 To complete the Rickie Fowler High Tops & Joggers look, we have also made the Puma cuffed pants available to pre-order ahead of anyone else. Given how swiftly the black version sold out late last year, we thought to give you the chance to secure your size in the new quarry colour way in order to avoid any disappointment!
The entire Puma Golf collection for 2017 will arrive next month. Stay tuned to the Golfposer New Arrivals page to be the first to shop the new range online.