We take a closer look at the current offering of Ralph Lauren Quilted Front golf jackets and explain just why they're so good.
Ralph Lauren Quilted Front - RLX
As one of the most distinctive, most stylish and most versatile jackets in the game - the RLX Quilted Coolwool jacket is the one that started the whole "Quilted Front" golf outerwear trend and continues to prove as a best seller, season after season.
Latest RLX Coolwool Jackets
Sale

Sale

Sale

Sale

Sale

Sale
One member of our style team has added no fewer than four variations into their own repertoire - so who better to explain what makes these jackets stand apart from an increasingly crowded market? Oh yeah, that would be me.
I think the obsession first started during the Ryder Cup of 2014 - hosted just up the road from me at Gleneagles. It was only the second time that Ralph Lauren outfitted Team USA and, while they should have been considered as the enemy from across the pond, I couldn't help but admire the navy quilted front jackets they wore with the bright red zips. They blew Team Europe out of the water in the fashion department; something they do quite regularly if we're all being honest.
The year later, Ralph Lauren brought out their first retail version of the jacket and, while it wasn't an exact match, I had to pick one up. It was black with a bright blue colour blocked panel on the front - but it also had the bright red zipper pockets which proved to be the clincher for me.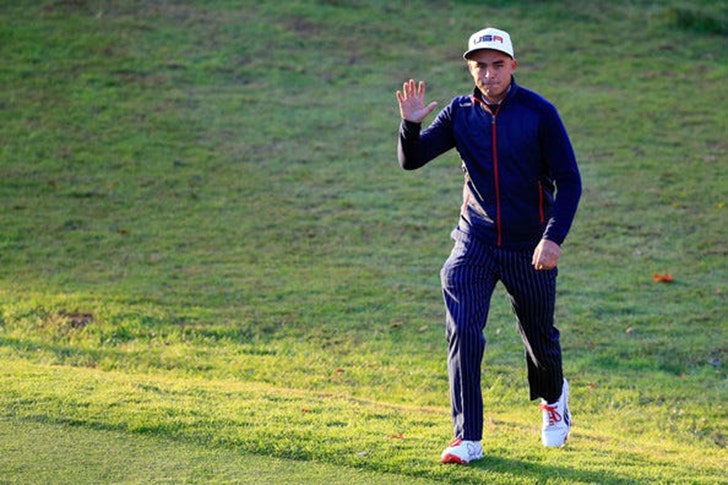 Once I got it, I wore it ALL the time. It wasn't just my favourite jacket for golfing in, I would wear it out and about quite literally anywhere. It had this "sporty" look but didn't make me look like a golfer wearing the dreaded golfer's uniform. It was something unique and cool and different. "Oh, that''s a golf jacket? That's quite surprising."
The brand soon brought out another version, then another two the season after that. Sometimes, for me, they're just too hard to resist - especially when they introduced a camouflage print within the front panel. The two newest styles for SS20 are the 21st and 22nd iterations respectively; that's a very rare thing in the world of golf fashion.
But it's not just the look that makes me happy; it wears incredibly well too. The sleeves & rear are made with this soft touch merino wool fabric with a tonne of stretch - while the quilted front definitely keeps you warmer than you might expect. It's so lightweight, but also feels quite substantial too.
Some subtle branding is often located at the right shoulder, while there are always two front hand pockets for convenience. I don't personally use the chest pocket, but I guess it's there if I need it for whatever reason.
I think the final thing to mention is the fit. It's not "baggy" in the slightest, sitting really quite nicely around the midriff. I think this partly comes down to the fabrics they use, it just sits comfortably in all the right places. The fact that these jackets have been worn by almost every past and present Ralph Lauren golfer speaks volumes in itself.
They're good to wear pretty much all year round - I suppose with the exception of the heady heights of a British Summer. I never feel like I overheat - but even if it does get a bit warm then just unzip the jacket to negate the quilting effect and hey, presto! You have a super comfortable fine knit mid layer without the warmth of a quilted front panel.
I currently own four of these jackets - the most of any one style in my wardrobe. My recent pick up was this season's "Haven Green" version because - well I didn't have a green version yet...