With the cooler months of Autumn/Winter closing in, our style editors have highlighted their third key style trend of the season - Hybrid Golf Jackets & Gilets.
Hybrid Golf Jackets| Trending Styles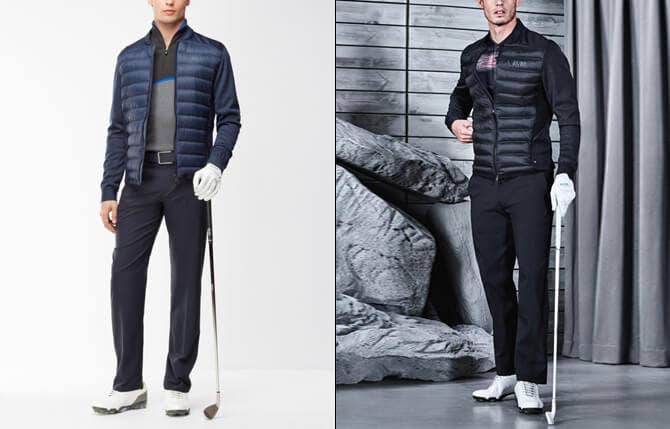 Style trends in golf typically take a slightly longer time to come to fruition in comparison to every day menswear trends - though this also means that they tend to stay in fashion for longer, too. This is a crucial detail to remember when updating your golfing wardrobe; with an elongated trend cycle comes an elongated period of time with which to wear any of our "trending" styles.
For Fall 2017, we believe that the hybrid golf jacket is going to be the must-have jacket style for this season (and maybe even for many seasons to come). Almost every apparel brand championed online at Golfposer has their own unique take on the style for AW17, offering up the most extensive range of quilted outerwear which we have ever had to choose from.
It's clear to see that each individual brand has paid particular attention to their outerwear offering this season with a renewed emphasis on style appeal, along with improving upon the all-important functional elements. Warmth and comfort is essential, of course, but we are also beginning to see more styles which embrace the "hybrid" design with details such as engineered sleeves, additional stretch or lightweight padding often featured.
Scroll on below to discover the best hybrid golf jackets of the season, as chosen by our top style editors here at Golfposer.
Hybrid Golf Jackets| Nike Golf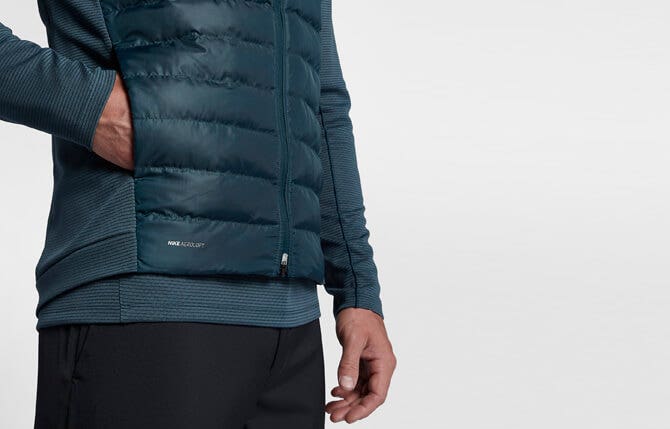 This year, Nike Golf have produced one of our favourite ever outerwear styles with their new Aeroloft x Hyperadapt x Aeroreact golf jacket.
The design updates for 2017 include the introduction of Aeroreact sleeve and side detail for even more comfort (replacing the older jersey style fabric), while the Aeroloft padding has been extended down to fully cover the rear side.
Combining these key elements with the super lightweight, ventilated Aeroloft padding and Hyperadapt technology for freedom of movement really does help to elevate this jacket to new heights - already worn by the likes of Lucas Bjerregaard on the European Tour.