Puma PWRWARM - The Concept
"A ceramic print that reflects more of your body heat back to you, so you can keep playing."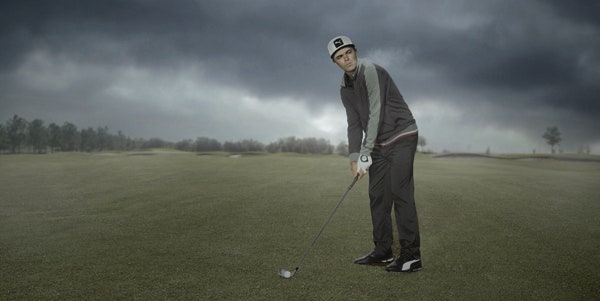 Puma PWRWARM technology is unique and innovative. It has been in development for an extended period of time and that dedication and effort from the Puma designers has certainly paid dividends. The concept itself is quite simple, the experts at Puma wanted to develop a lightweight fabric which would help regulate your body temperature during performance; Puma PWRWARM began as an advanced technology for running and training wear and this pioneering concept has now overlapped into golf.
It's a trend which we have all seen come to the fore over the past few seasons. The professionals are more athletic than ever, our footwear more sports-inspired and now our golf clothing is even adopting the same technologies used by athletes. But with the blurring of these lines comes a sense of clarity - golf wear is becoming more technical than ever with a renewed focus on lightweight designs, advanced fabrics and garments which will prove beneficial rather than acting as a hindrance in our performance.
Puma PWRWARM - The Science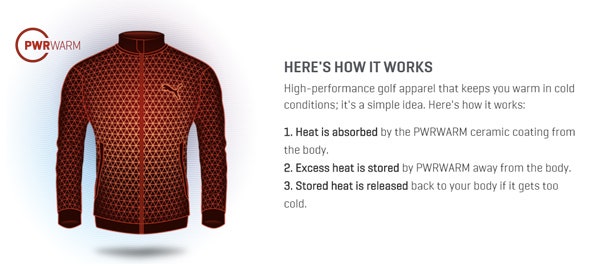 "PWRWARM is a ceramic print which absorbs your body heat, stores it and then gives it back to you when you cool down. This will help you maintain a more average body temperature on the course," explains Thom Baker, Creative Director at Puma Golf. "A great innovative feature of Puma PWRWARM is that it can be applied to a very lightweight fabric, so you don't have to wear anything big and bulky to retain body heat."
The ceramic print itself has been developed using minerals which best retain heat, meaning that the excess can be stored away from the body and becomes available for use as soon as your body temperature drops below its optimum 37ºC. "This kind of technology is science," furthers Thom, "and this is where textiles are going."
Puma PWRWARM - The Styles
The Puma PWRWARM range for AW15 consists of the classic Popover quarter zip sweater, the Puma track jacket and also the stylish crew-neck sweaters. A total of six seasonal colours are available in the popover, whilst Sodalite Blue and Periscope/Black are the two featured colour options of the latter two garment styles.
We love the popover with the alternate colour to the reverse, a style which is certainly on-trend in golf apparel, whilst the crew neck sweater features a soft quilted front for another trendy detail. The track jacket uses a similar styling which has worked so well in previous seasons, ideal for wearing on the golf course as much as this piece is suited for off the course, too.
Puma PWRWARM - Worn on Tour
Oddly enough, we have already seen Puma PWRWARM outerwear being worn at some of the biggest tournaments of the year. Thanks to the inclement weather in St. Andrews for the Open Championship, we saw Rickie Fowler wearing Puma PWRWARM outerwear along with Soren Kjeldsen, helping the pair to stand out from the predominantly grey-clad field at St. Andrews. It's a rarity for golf outerwear to be showcased on such a big occasion but Puma were certainly ahead of the game with the PWRWARM product range at their disposal.
As for the Puma Track Jacket - this garment is so often misconstrued as a casual wear item only. You just need to look at Soren Kjeldsen at the Nordea Masters for proof otherwise; the two-way zip is a clever little design which prevents fabric gathering at address. "Ordinary jackets are for ordinary golfers. Thankfully, we had pros like you in mind when we designed the PWRWARM track jacket," is the official word from Puma. Say no more, we'll take one of each please.
Puma PWRWARM - Our Review
The very fact that Puma PWRWARM technology originated in Puma Running speaks volumes. As much as we hate to admit, running is one of the few sports which eclipses golf in terms of importance to the Puma brand - so to have a crossover in technologies means that PWRWARM golf apparel has had the equivalent time, effort and degree of importance which running apparel normally receives. Puma golf typically invest more into their footwear, shirts and trousers over their outerwear - but now it finally feels like Puma PWRWARM might just be a game-changer for the brand.
TEST PILOT TEAM NEEDED! We are looking for 3 Test Pilots to wear-test & keep the new Puma PWRWARM range. Each pilot...

Posted by Golfposer on Monday, 10 August 2015
As for a full Puma PWRWARM review - stay tuned. Our next test pilot article will feature three individual pieces of outerwear, each with an in-depth customer review attached. Why listen to us when you can listen to real Puma customers?