Introducing the all new PUMA Golf Hi Tops for 2018 which feature one of the most modern and innovative designs in golf footwear today.
PUMA Golf Hi Tops | Masters Edition
PUMA Golf recently unveiled the Rickie Fowler Masters Scripts for 2018 and there was an exciting little snapshot of a Masters Edition golf shoe included. We can finally reveal that these stunning golf shoes are now available to purchase online at Golfposer ahead of the Masters 2018 at Augusta.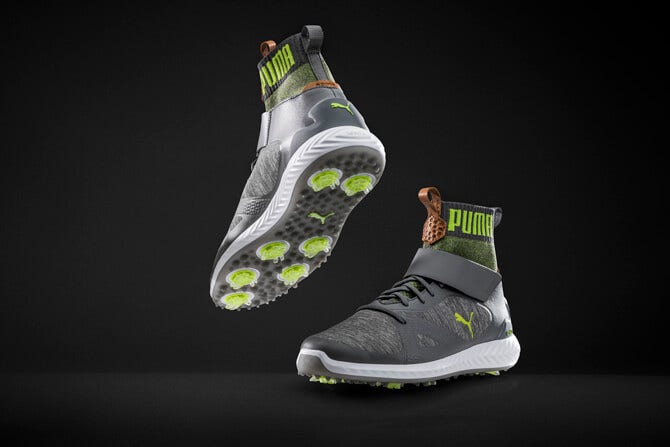 This seriously limited edition style is scripted for Rickie Fowler on day one of the first major this season and we simply can't wait to see him wearing the all new shoe style. Scroll on below to discover all you need to know about the updates on the iconic PUMA Golf hi tops and be sure to keep an eye out for Rickie Fowler playing in the first round this Thursday at Augusta.
PUMA Golf Hi Tops | New for 2018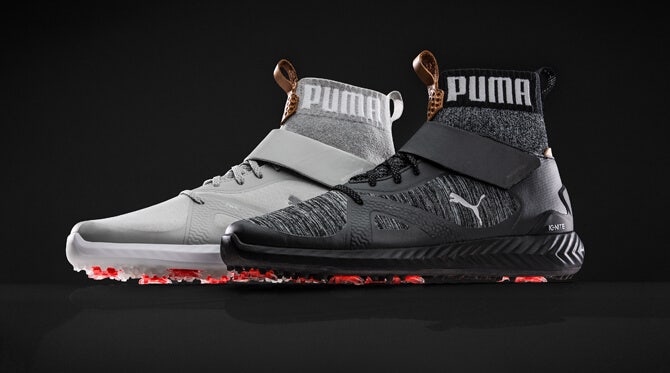 PUMA Golf have revealed yet another exciting silhouette into their family of Ignite PWRADAPT golf shoes for 2018 and it's definitely their most progressive and modern design to date.
Having pioneered this particular golf footwear trend through Rickie Fowler, PUMA Golf have brought about a renewed focus upon blending the utmost comfort with outstanding performance. This new generation features a truly unique aesthetic which has never seen before in golf, while also adopting some of the best materials and technologies which the brand have to offer.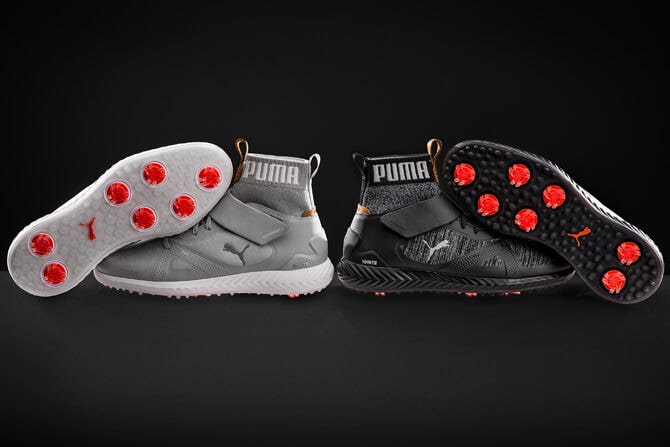 The new PUMA Golf Hi Tops shoes now feature the likes of EVOKNIT, IGNITE, PWRADAPT and PWRFRAME technologies, to name a few. But what do these terms actually mean for you, the consumer? Scroll on below to find out everything you need to know about the all new PUMA Hi-Top Golf Shoes for 2018.
PUMA Golf Hi Tops | EVOKNIT Ankle Collar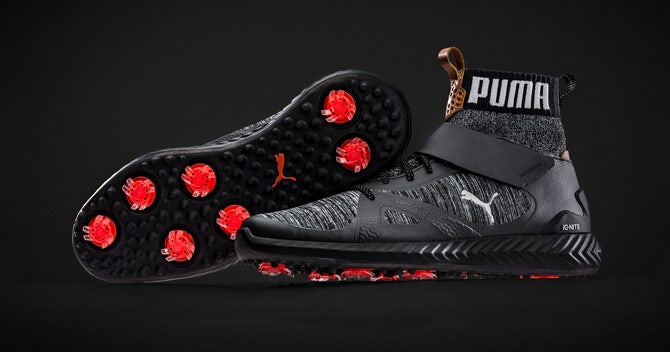 One of the most exciting and intriguing features of these PUMA golf shoes is the introduction of the impressive EVOKNIT fabric at the ankle collar. This particular design element has been one of the foundations for the most popular PUMA hi-top sneakers in memory and has finally transcended into golf footwear for the first time.
The soft fabric deliberately hugs your ankle without feeling overly restrictive, offering a sock-like fit which is immediately comfortable to wear. Having tried and tested these golf shoes ourselves, the new EVOKNIT collar is possibly our favourite aspect of the new PUMA Hi-Top design and elevates the style to new heights - quite literally.
The woven script branding also helps to replicate the PUMA hi-top sneaker aesthetic which is so on-trend at the moment. But, of course, these are golf shoes; meaning that PUMA have further engineered the rest of their new Hi-Tops to help accommodate our many footwear needs on the golf course itself.
PUMA Golf Hi Tops | IGNITE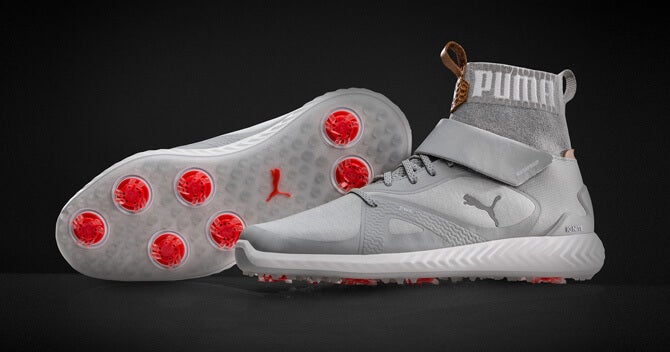 One of the pride & joys of the PUMA footwear team features in this style once again because...well, if it ain't broke...
PUMA's "IGNITE" foam offers superb, responsive cushioning which helps enhance your comfort levels all the way around the golf course and, for the first time, runs along the full length of the midsole.
One of the key benefits of this proprietary IGNITE foam cushioning is the lightweight performance it provides. Golf footwear, in general, has trended towards being as lightweight as possible without compromising on performance and IGNITE cushioning is absolutely integral for PUMA Golf, in this respect.
PUMA Golf Hi Tops | PWRADAPT Sole
Earlier this year, PUMA Golf introduced their proprietary outsole design in a bid to improve traction from each and every lie you may face on the golf course. This "PWRADAPT" technology makes use of seven individual cleated pods which can each move on an independent basis, unlike a traditional sole with fixed-position cleats.
The new "PWRADAPT" family of golf shoes offers a variety of styling options, but our favourite has to be those which use the waterproof stretch fabric within the upper. Unlike previous mesh versions, this top-of-the-range shoe now features an ultra-thin, TPU crafted "PWRFRAME" to reinforce the high stress areas of the foot when you swing - all without impacting upon the lightweight comfort on offer.
This same waterproof upper features within the new PUMA Hi-Top Golf Shoes and is another reason for our profound love for this particular style.
PUMA Golf Hi Tops | Buy Online
All three colours of the new PUMA Hi-Top Golf Shoes will be available to buy online at Golfposer from Wednesday 4th of April, 2018.