Earlier this year, we gave three followers of Golfposer the chance to wear, test and keep two pairs of Puma golf shoes. Their test pilot mission was to compare the Puma DISC golf shoes with regular LACE UP TitanTour Ignite shoes; here are their open and honest reviews.
Puma DISC Golf Shoes | Background
Following the success of our test pilot scheme in recent seasons, we wanted to give three loyal followers of Golfposer on Facebook the opportunity to test and compare Puma DISC golf shoes against their classic LACE UP shoe equivalent.
Puma DISC technology is the brand's answer to the other twist dial/wire lacing systems on the market and the new method is a welcome addition to the Puma Golf footwear collection for 2017. In essence, Puma Disc Golf shoes are designed to provide a custom fit with full support and security around the foot - along with the added convenience of a simple twist action to tighten or loosen your shoes.
It has been quoted that "laceless" golf shoes are a huge trend in Asia with up to 70% of the market share. Wire lacing methods are preferable on the Asian continent because of the prolonged duration of their rounds, combined with the higher heat/humidity factor. DISC golf shoes would hence allow the wearer to tighten/loosen their shoes quickly as they rest and wait in between holes.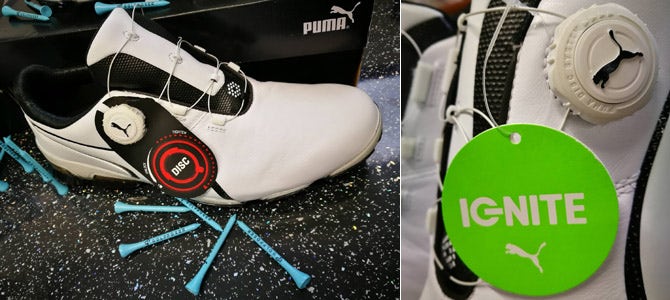 But what did our GP Test Pilots think? How do the Puma DISC golf shoes compare against lace up golf shoe equivalents?
Our questions are in italics, followed by the individual responses which have been colour coded by name for ease of reading. All three test pilots were provided two pairs of Puma TitanTour Ignite golf shoes; one using DISC technology and the other in a regular LACE UP style.
Puma DISC Golf Shoes Review | The Test Pilots
Player Profiles:
Name: David Goldie
Age: 39
Golf Club: Greenburn Golf Club, Scotland
Handicap: 11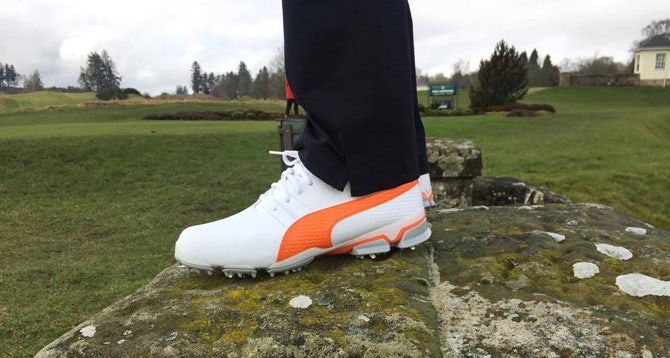 Name: Darren Burton
Age: 31
Golf Club: Royal Cinque Ports (Greenkeeper & Artisan), Kent
Handicap: 2.8 (3)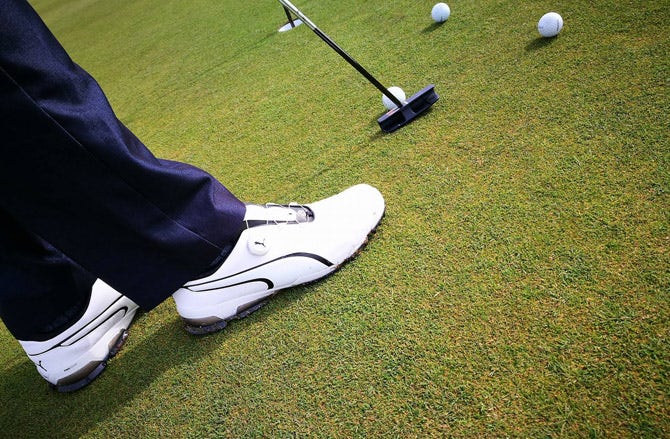 Name: Gary O'Brien
Age: 41
Golf Club: Dumbarton Golf Club, Glasgow
Handicap: 7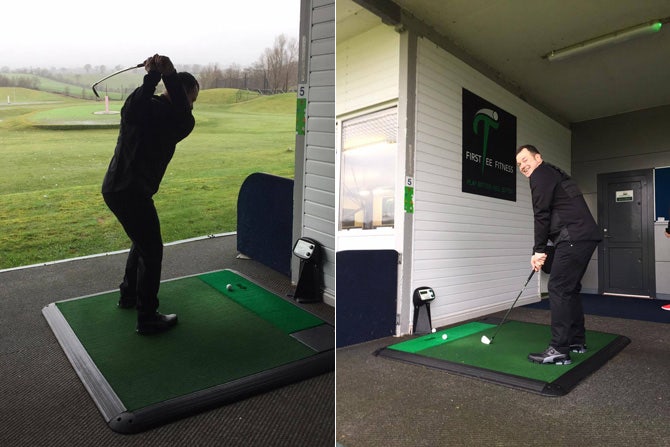 Puma DISC Golf Shoes Review | Feedback
Which golf shoes do you currently wear?
DG: Nike Lunar Control 3 at my home course & Adidas Adipure for links golf on the East Coast of Scotland.
DB: Various Adidas Tour 360 models.
GO: Adidas Adipower Boost.
What was your perception of Puma Golf Shoes prior to testing?
DG: Previously, I had a bad experience with a cheaper model of Puma shoes and so my preconception was that they weren't a patch on Nike or Adidas shoes.
DB: I liked the styles but didn't think the comfort would be a match for my tour 360 shoes.
GO: I had actually bought the previous model of Puma TitanTour shoes. The styling and the 2 year waterproof guarantee drew me to them.
What were your thoughts on the new Puma DISC Technology prior to becoming a GP Test Pilot?
DG: Being of a certain generation, I had owned a pair of Puma running shoes with disc technology. I really liked the tech, so was very keen to see how this would work in a golf shoe.
DB: Couldn't really comprehend the benefits of the system. I seem to remember​ Callaway trying a similar system...
GO: I liked the simplicity of the idea - though unsure how easy it would be to operate.
Have you ever owned/tried any Puma golf shoes before?
DG: As mentioned earlier, I owned a pair of Puma shoes when I first took up golf around five years ago. Being honest, I wasn't impressed.
DB: No, never.
GO: Yes, as above. I also had a pair of the Puma x JL shoes many years ago.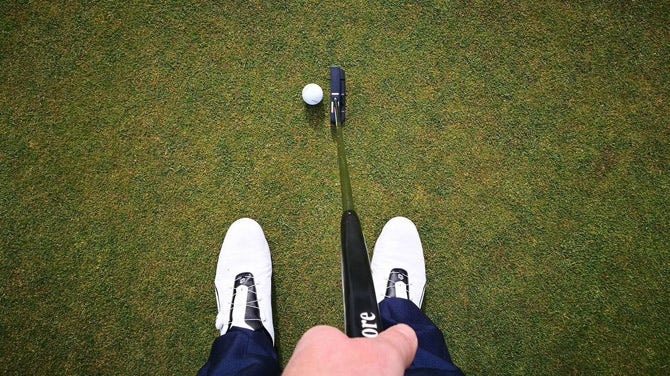 What were your first impressions upon receiving both pairs of shoes? Think about the overall look, materials used, the sole, DISC technology and anything else which stood out...
DG: Firstly, it is worth noting that I had to size down in both styles in comparison to other brands I own. Both soles appear to provide a solid platform but seem heavier in comparison to the Nike Lunar Control range. They both feel like they'll last for many rounds.
Lace Up: On unboxing, I was very impressed. I took the white/orange colour and the shoes are beautiful to look at - I really loved the embossed graduated styling towards the back of the upper. The bright colour matches up well with both lighter trousers along with black trews. They also feel premium; the full grain leather is super soft.
DISC: I took these out of the box and was blown away - they are different to any shoes I've owned. Especially love the Grey Violet colourway.
Lace Up: Similar in style to my current shoes; smart but with a sporty look which would match well with my Sunday best or more casual practice attire. The material on the lace up design seemed of a better quality and the textured finish was nice. The shoe size was perfect and surprisingly comfortable. From the box and straight on the course without any issues or blisters whatsoever. It felt like I had no shoes on at all!
DISC: Similar to the lace up model in every aspect, apart from the overall design of the wire system on the tongue. Looking down at bare wires on the tongue isn't very aesthetically pleasing on the eye for me, particularly whilst looking down when you putt. I believe they could have been hidden behind a material so that it looked like they could be slipped on and tightened - rather than immediately visible like normal laces.
Lace Up: The white and black colour way really stood out. The leather used in the shoe feels very soft but still durable and, on first try, the comfort was as good as I have ever experienced with a golf shoe.
DISC: A few differences in looks to the Lace up model but still very smart in appearance. Initial test proved the Disc system very easy to use, very comfortable to wear and the supportive fit was also as good I have had in a golf shoe. The leather feels similar again, but the Puma Logo at the rear of the shoe was not sewn this time, as it is in the lace up.
Where and how often have you been wearing both pairs of your TitanTour Ignite shoes?
DG: I managed to play a (very wet) Kings course at Gleneagles this month - playing nine holes in each shoe to test them out. I also tried both shoes out at the range.
Lace Up: 4 rounds + 2 range sessions
Disc: 3 rounds + 3 range sessions
Lace Up: 2 Rounds (Troon Fullarton GC + Great Western GC)
Disc: 6 rounds (Troon Darley GC + Dumbarton GC + Great Western GC)
How did the LACE UP compare against the DISC golf shoes in terms of fit and support? Did they both provide a secure feel?
DG: Both shoes fit well. No slipping around and the shoe and provided plenty of grip on a course that was closed the previous day due to flooding. As the weather eases, I will be able to get on the course more often and I look forward to seeing how they both perform over a longer period of time.
Lace Up: The lace up shoes were perfect straight out of the box.
DISC: I like my shoe to feel quite tight and felt the need to tighten the disc golf shoes several times during my first round. They almost need a couple of rounds for the wire and disc system to settle down before eventually providing the perfect fit, without needing to continually tighten them.
GO: Both pairs felt very secure on, extremely comfortable. Once or twice I had to tighten the disc on my way round to maintain the secure fit, though I did not have to do that with the lace up.
What is your lasting impression of Puma DISC technology?
DG: As hoped, the disc system translates into greater stability across the shoe. The disc fastening seems to be sturdy and built to last.
DB: Those visible wires! Only the real let down for me.
GO: Simple to use, a couple of clicks and you are ready to play.
If applicable, did both provide the full waterproof protection, as promised?
DG: Both pairs of shoes were tested very well! The Kings course was wetter than an otter's pocket but my socks were bone dry.
DB: Not applicable (yet)...
GO: Yes, Troon was played in poor weather and my feet were kept dry the whole way round. Dumbarton has also been very wet underfoot and again my feet were dry with both.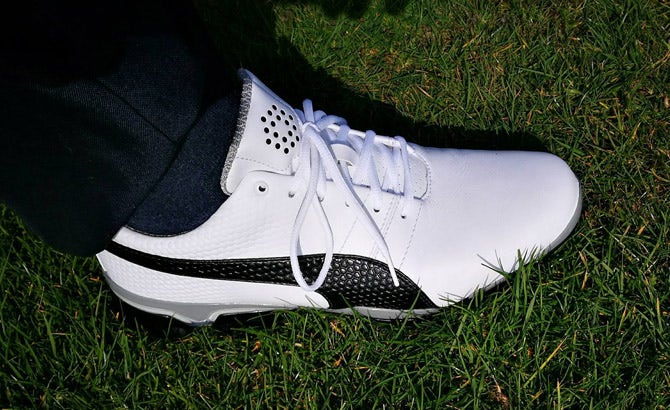 How did both pairs compare against any other golf shoe you've owned before?
DG: Interestingly, I felt that the both pairs of Puma shoes felt like the Adipure in terms of fit. They are narrower than the Nike Lunar Control 3 which have a super wide base. Puma shoes have more of a traditional fit - which isn't a bad thing but just takes a little adjusting to.
Lace Up: The lace ups were a great fit, with no rubbing or tiredness of the feet after a game. Performed really well in the wet, and also cleaned up great post game which is very important in the UK.
DISC: If it's possible, the Disc golf shoes were an even better fit. They provided an amazing and supportive feel with fantastic stability across the bridge of my foot.
Lace Up: Spot on. It is now my first choice of shoe...and I've got quite a few pairs!
DISC: Great for casual golf and using at the range.
Lace Up: Very comfortable shoe and the colour combo was eye catching too. My feet felt in contact with ground - the total opposite to my Adidas shoes which felt like you were standing on a bouncy castle!
DISC: Again very comfortable, feet in contact with ground. Fully waterproof. Some subtle differences between these and the lace up version but only someone with both pairs would notice this.
How were your feet feeling in the hours after each use?
DG: Both provided no ill effects after my game, and confident that will be the case with more wear. Though, the real test will come after 36 holes in a day on a baked, dry eastern links course.
Lace Up: No problems whatsoever.
Disc: No problems apart from having to retighten the disc golf shoes for the first round of wearing them.
Lace Up: Absolutely fine, no aches or pains after wearing these.
Disc: As above.
What was your favourite thing about the shoes?
Lace Up: In the end, it was the colour way. A splash of orange adds a little colour to my summer golfing outfits - though I can't see me going all out for the Rickie look though!
DISC: The support across the upper, as well as the beautiful Grey Violet colour. Very cool shoes.
Lace Up: The overall look, feel and stability.
DISC: The feel and stability
Lace Up: I liked the solid feel of the shoe.
DISC: The little time it took from putting them on to be ready to go.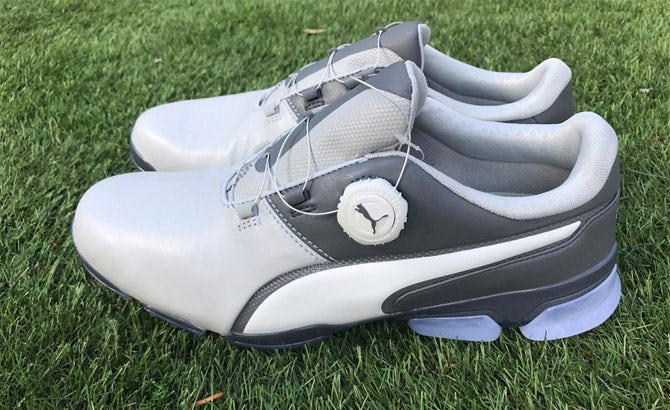 Please rate the following out of 10:
Style
(Lace Up vs DISC)
8 vs 9
9 vs 6
10 vs 9
Comfort
(Lace Up vs DISC)
9 vs 9
10 vs 9
10 vs 10
Secure Feel
(Lace Up vs DISC)
8 vs 9
10 vs 7
10 vs 10
Traction
(Lace Up vs DISC)
8 vs 8
10 vs 10
10 vs 10
Waterproofing
(Lace Up vs DISC)
10 vs 10
N/A
10 vs 10
Would you recommend Puma golf shoes to any of your golfing buddies?
DG: In a word, yes. The lace ups will suit the slightly older golfer, or someone more into the traditional style of shoe. The Disc shoes will appeal to the athlete in you. If you take performance seriously and look for the 1% or marginal gains that we hear so much about, then the Disc system may be worth a look.
Lace Up: Yes, absolutely.
DISC: Yes and no - because of the personal preference in design.
Lace Up: Yes.
DISC: Yes.
Which style would you choose and do you have anything more to add?
DG: I liked the Disc shoes best - they look unique and offer an excellent fit.
DB: It's Lace Up for me - though if it weren't for the visible wires, I wouldn't have been able to pick between them. Also - thank you very much for the opportunity of piloting the new shoes!
GO: Both great shoes, but I think the Lace Up look better. I would like to thank GP for letting me be one of their test pilots. I look forward to wearing these for a full season and see how they fare.
In the end then, it was a narrow victory for the Lace Up shoes - but DISC technology certainly seems to be growing more and more popular. Interestingly, both Rickie Fowler and Soren Kjeldsen will be wearing Puma Disc golf shoes at the Masters, too.
A final thank you to our three GP Test Pilots - David, Darren and Gary - for taking part & providing incredibly useful feedback with their Puma Disc Golf Shoe reviews.
Puma Disc vs Lace Up | Same Price - You Decide.
Puma Disc Golf Shoes | Shop Online