Find out everything you need to know about the Nike Realtree golf shoes which will drop online at Golfposer later this month.
Nike Realtree Golf Shoes | Limited Edition
The Nike Air Max 1 G has been one of the hottest golf shoes of the year and we're excited to reveal the next special edition version which will become available online at Golfposer.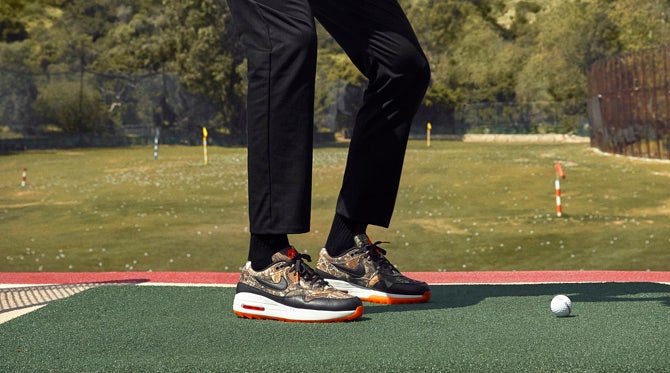 These Nike Realtree golf shoes are a collaboration between two global industry leading brands who have nearly a decade of history together, but never having ventured into the realms of golf footwear until now.
Realtree camo is widely regarded as one of the most iconic and instantly recognisable camouflage print patterns, offering a photo-realistic graphic which is certain to stand out rather than blend in.
The eye catching design is further enhanced by the introduction of a bright orange outsole and matching accent detailing, perfectly offset by the signature white midsole cushioning and black mudguard & Swoosh logo.
Of course, one of the most important aesthetic and functional attributes of the Air Max 1 G shoe is the inclusion of the iconic heel bubble - this time coloured orange to round off one of the most unique looking golf shoes that you're likely to see.
Nike Realtree Golf Shoes | Air Max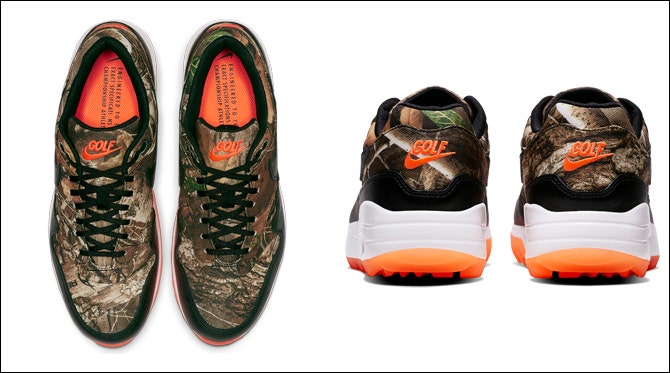 The Nike Air Max 1 G is one of the most outstanding golf shoes to have ever arrived from the brand. They offer incredible comfort with high level performance on the golf course, while still offering a very similar look and feel that a regular Air Max 1 sneaker would do off the course.
If you needed any more proof of their credibility, some of the very top Nike athletes have put the Nike Air Max 1 G shoes into play all throughout the 2019 season. They include Tony Finau & Jason Day - both also having worn some other special edition Nike Air Max 1 G shoes at several major championships this year.
Nike Realtree Golf Shoes | Buy Online
As with every special edition Air Max release, we expect these Nike Realtree golf shoes to be in high demand when they drop later this week.
Follow the product link above and check back at 08:00 BST on Thursday 22nd of August for the chance to get your hands on a pair online at Golfposer.
Read Next: Nike Air Max 1 G
Shop Next: Nike Golf Shoes