Scroll on below to read our most comprehensive Lunar Control Vapor 2 review with three entrusted GP Test Pilots providing detailed feedback on the flagship Nike golf shoe for 2018.
Lunar Control Vapor 2 Review | Nike Golf
We recently asked our followers to get involved with the GP Shoe Debate across our social platforms and, soon after, we surprised three contributors with their very own pair of Nike Lunar Control Vapor 2 golf shoes to wear, test and keep. One of the three consumers also joined us to play the stunning Fidra course at Archerfield Links, East Lothian, wearing his new LCV2 for the very first time.
Below, our questions are in bold text followed by the three consumers' responses in green, blue and orange text.
Lunar Control Vapor 2 Review | The Feedback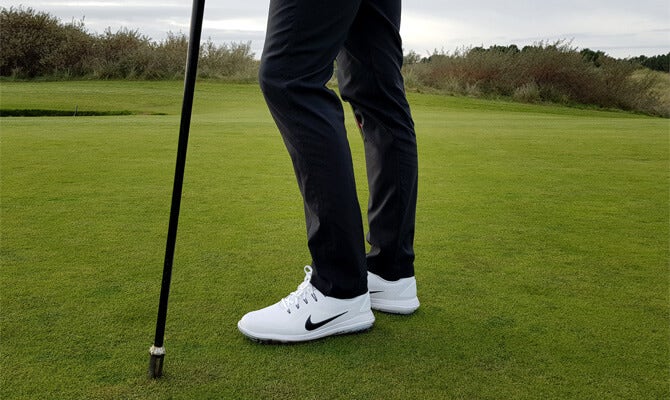 Which golf shoes do you currently wear?
I wear the Nike Lunar Command 2 at the moment - the ones with the BOA wire lacing. Before that I wore multiple versions of the Adidas Tour 360 over a period of say, three or four years.
The Nike Lunar Control 4 from last year.
I have a variety of shoes including Adidas Tour 360, Footjoy Pro SL, Puma Tricks, Adidas Adiboost & Nike Lunar Control 4.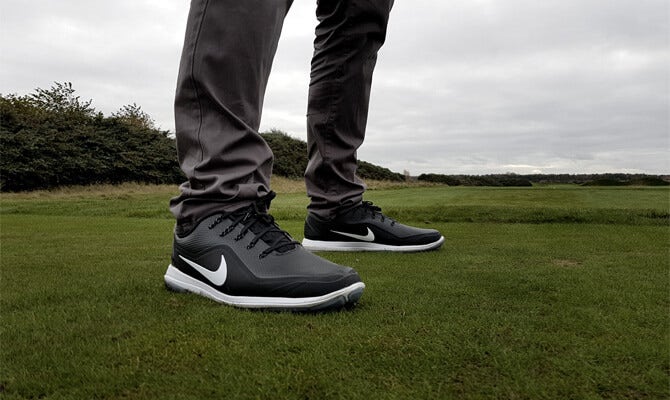 Have you ever owned or tried any Nike Golf shoes before?
Only the ones I have now, they were the first pair I ever tried from Nike.
Yes, the Lunar Control 4 as above.
I've only owned one single pair of Nike golf shoes as above, however I have had a large number of other Nike shoes such as football boots & trainers.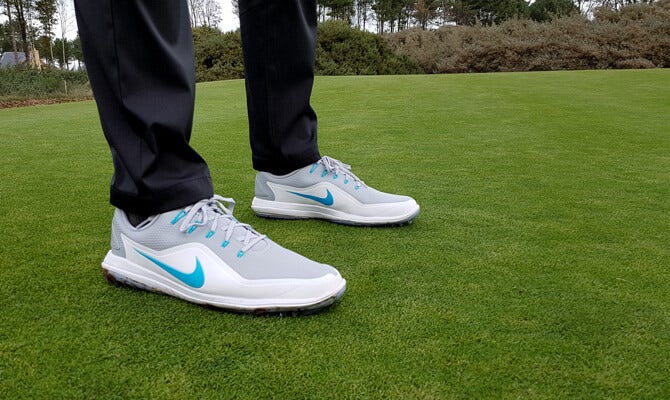 What was your perception of Nike Golf shoes (in general) prior to testing?
Well, I thought the Command 2 was a really good all-round shoe. It's been reliable, it looked trendy and suited my eye.
Before buying my first pair of Nike shoes, I had heard mixed reviews. I always loved the styling, so I decided to take a leap of faith and tried the Lunar Control 4 when they got released. I still wear them now, which says a lot!
I was obviously aware of them and their big market presence but I also kept a close eye on the constant innovations which they develop with their shoes. The most recent tech updates definitely made me take note and I was excited to try them out.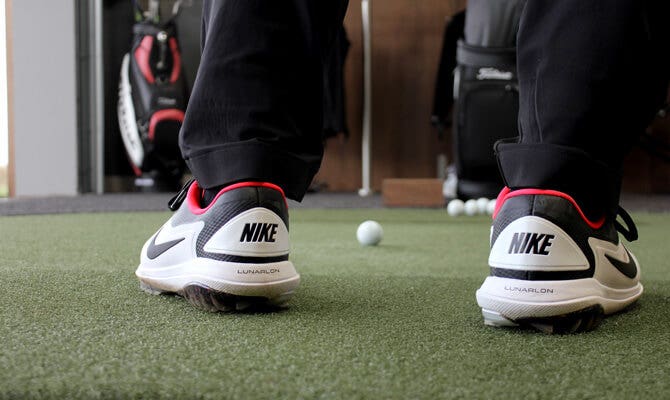 More specifically, what were your thoughts on the Lunar Control Vapor 2 prior to testing?
First impressions - I really liked the look of them. Obviously they look a little more subtle in terms of the placement of the Swoosh being at the side rather than over the toe. It's not a "traditional" shoe by any means but I think these have a look which is more of a hybrid between modern & traditional. Like everyone, I was also a little bit skeptical as to how the new sole would perform - it's just so different and unique.
As I mentioned in the GP Shoe Debate, I was a little unsure about the new traction sole. I had reservations about how they would perform in wet conditions, especially on a hilly course like mine.
I had seen a lot written and spoken about the previous model and, like many, I had my reservations around the traction which you would get with the sole. I wondered how well it would grip the ground and also how it would fare on the greens. I liked the styling of the shoe prior to seeing them in person.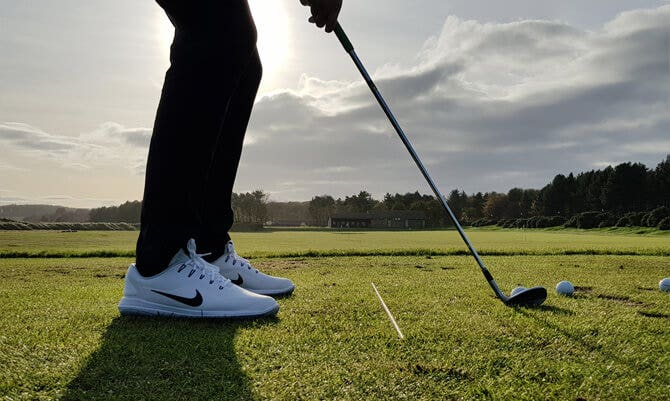 If you remember the original model of the Lunar Control Vapor, which do you prefer the look of?
I prefer these, the LCV2, definitely. Moving the Swoosh was a great move, in my opinion.
I think both look great but these LCV2 have a better upper, which makes them easier to keep clean.
I'm a little indifferent on the looks of them. I think that both of the models look smart, stylish and athletic in appearance. I'm also looking forward to seeing the future LCV2 colour schemes, as some of the later options for the previous Vapor model really caught my eye.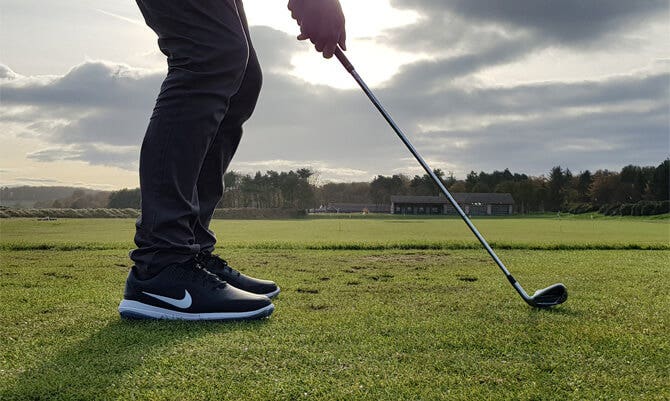 What were your first impressions upon physically receiving your LCV2 shoes from Golfposer?
They lived up to expectation, really. I got the all white version and they look even better in the flesh, if that was at all possible. I was definitely intrigued by the sole design and looked forward to trying them out on the Fidra course at Archerfield.
I thought they looked and felt great - just like most Nike shoes..
After opening the box, my first word was "WOW!". I loved the wolf grey colour, the overall styling and sleek profile of the shoe. On a side note, my friends who I play with all commented on how nice the appearance of the shoes were.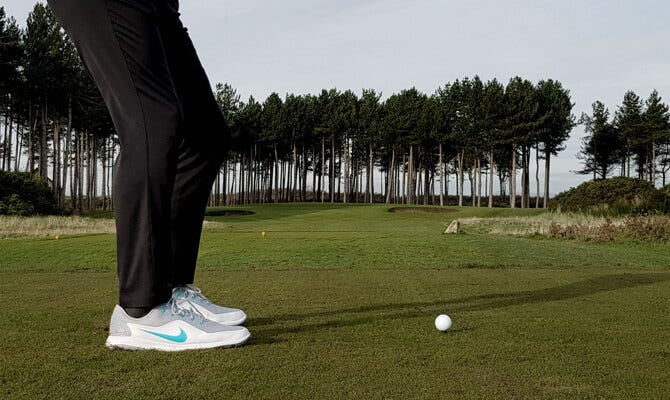 What are your thoughts on the new upper of the shoe?
Well, I can tell that they'll be easy to keep clean straight away. That's quite important for me especially, since I play all through the winter in Scotland. That was one of the reasons I avoided the previous version - because of the negativity surrounding the fabric based upper.
Very good. They were easy to wipe clean straight after my test round, perfect since it can be so wet at this time of year.
The upper definitely lives up to the waterproofing label even though they don't especially look like they will be - even when you first get your hands on the shoes. I think Nike have done well to disguise the fact that the shoe is fully waterproof, without impacting the athletic look and overall feel of the shoe.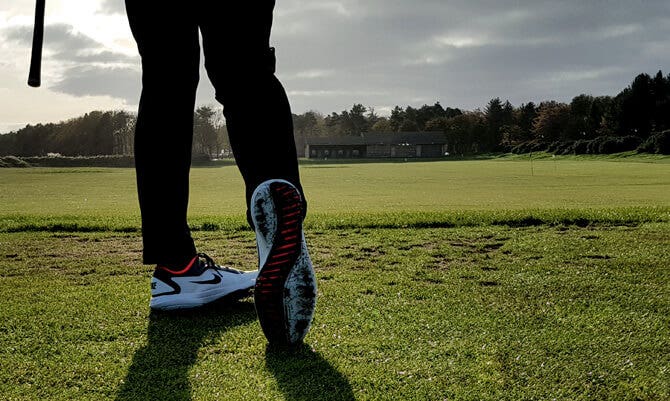 Could you feel the difference in terms of traction & stability with the AIT sole design?
Previously, I had always worn regular cleats but I think the performance of this new sole is just the same - if not better. It's been dry today but I feel like I'm getting a lot of traction as I come through the ball onto my left side, especially. I feel really stable in the swing as well, which is perfect because I have a bit more of a powerful swing.
To be fair, I've never had any issues with previous models regarding traction. It felt a little strange at first with the new design but I soon got used to it. I never experienced any traction issues at all during my test & I felt very stable all the way through as well. My course is definitely not the flattest, so it was a good test.
As previously noted, I did have my reservations on the new sole design. However, since trying them for a few rounds, I could definitely feel the improved grip and stability they offered; I think it's one of the best I've experienced when being out on the course, if not the best! I played in some fairly damp conditions along with some interesting positions and angles to play shots from, but I didn't struggle under foot at all. I've also found that the markings they leave on soft greens are no worse (maybe even better than) most other shoes on the market - even with the drastic style change for the sole plate.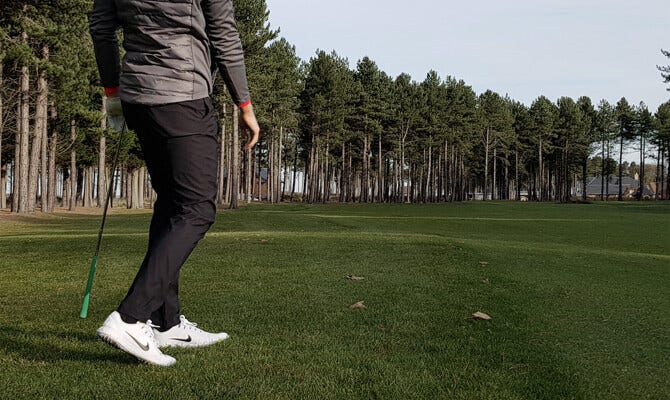 How do they compare against any other golf shoe you've owned before?
I much prefer these - and that's being absolutely honest. I really like the look of them, they've been super comfortable all day and I actually find myself lower to the ground than my Adidas Tour 360 shoes. I've already said that I will be buying the black version, so there's the proof!
I had a pair of Puma golf shoes before and my feet would ache after every round. Not with these, though!
After testing these for several rounds, I really do believe that they are one of the best shoes on the market today. They're potentially receiving the accolade of my favourite ever shoe - which was previously the Adidas Tour 360. That's a big feat in itself, as I've worn those shoes for several years and not experienced any issues with them. So, good job Nike!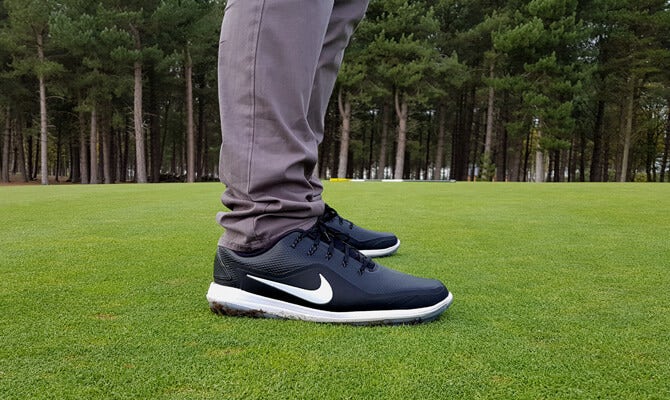 Were you surprised by how comfortable the were out of the box?
My feet feel great and we've been out here for nearly four hours now. Even with the Lunar Command 2 I had previously, it took some time to break those shoes in but that's totally not the case with these. Hands down, these are the most comfortable golf shoes I have worn straight out of the box.
I can confirm that they definitely are comfortable - but that wasn't too surprising. I am used to wearing Nike golf shoes and so I hoped that these would be just as comfortable out of the box, if not more so.
I couldn't fault them. Any Nike shoes which I have had before could also be worn straight out of the box and so these didn't disappoint on that front either! I wore them for three days in a row without any issues or concerns about my feet at all.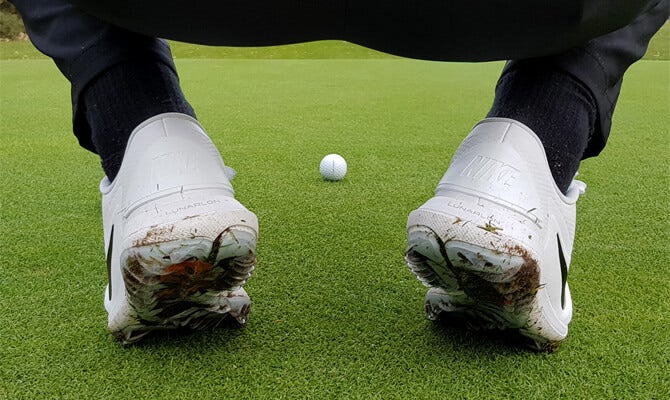 Can you pick your favourite thing about the shoes?
I would say the design of the sole actually. The overall performance of it is really, really good and that's been pleasantly surprising.
The look and the comfort, for me.
It's a difficult choice, as they feel like a complete product and I would recommend them to anyone. But if I had to pick just one single point, it would have to be the new traction sole because it's such a great development and probably surprised me the most.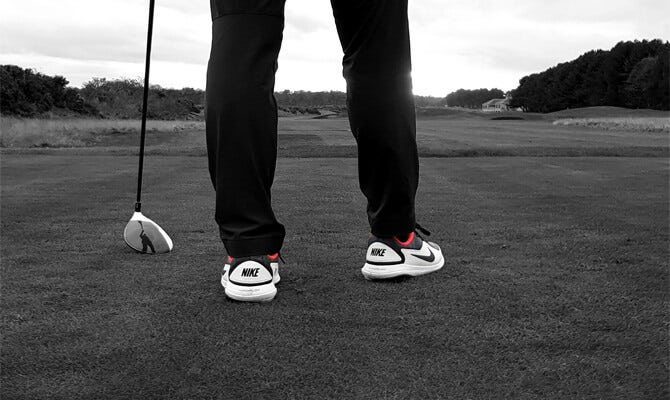 How were your feet feeling in the hours after your round?
Great! Like I said before, that wouldn't normally be the case if I wore any other pair of shoes straight out of the box for so long.
Fresh as a daisy!
Three rounds in three days is quite a lot of golf, but my feet didn't feel like I'd played that much at all. They felt fine and never ached once, I think the shoes kept my feet well supported and dry throughout all of the rounds I'd played.
Our thanks to the three GP Test Pilots for their detailed Lunar Control Vapor 2 review, to Nike Golf and also to the wonderful team at Archerfield Links for their welcoming hospitality once again.