Read our style editor's take on the new Nike Lunar Control 4 golf shoes which were unveiled by the brand this week, a hot collaboration with Rory McIlroy himself.
Nike Lunar Control 4 - Our Review
News of the Lunar Control 4 golf shoes broke on Tuesday and it's all that any one has been talking about ever since. Social media channels are awash with posts and shares linking to articles and features from an array of magazines, influencers and bloggers - but they're all so standardised that it's painful for us to read. So, what is the real word on the street about the Nike Lunar Control 4 shoes and their unique design?

The new Lunar Control 4 shoes have been designed to serve two purposes for Nike in the golf wear market. Primarily, the Lunar Control 4 have been designed as a high quality, superbly performing golf shoe and the subject of extensive input from one Rory McIlroy - somewhat inevitable given the success of the LC3. But secondly and perhaps more insightfully, the Lunar Control 4 have been designed to vigorously shake up the golf footwear market - blurring the boundaries and polarising opinion like no other brand would ever dare.
@GolfThreadsBlog are you thinking what we're thinking...? http://t.co/fmLy0QePb7

— Golfposer.com (@Golfposer) September 7, 2015
They are, quite simply, something we've never seen in golf before. Unless, of course, you remember the "limited edition" version of its predecessor - as seen worn at this year's FedEx Cup. We would love to claim that we were first to predict the new LC4 design back in September, but our less-than-subtle eMAG feature on McIlroy's new shoes for the Deutsche Bank Championship was most definitely underpinned with insider knowledge.
Nike Lunar Control 4 - Rory McIlroy Shoes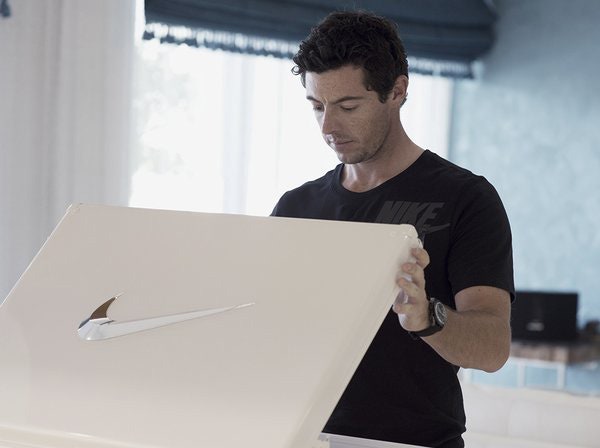 In terms of performance and the inner workings of the shoe, the Lunar Control 4 very much builds on the success of this season's LC3 version. Stability, flexibility, lightweight, traction, comfort, waterproof; it's all still there and still just as superb as the previous style. However, it's buzz-words like these which make it hard to avoid the same sound-bites that every other writer seems to implement when composing their "reviews" - so you can rest assured there's no ctrl-C / ctrl-V shortcuts used here.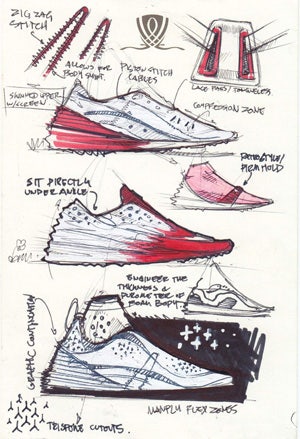 Any way, you've probably read several other "reviews" already and, if you have, then you'll know that Rory McIlroy has been designing the Lunar Control 4 golf shoes since he joined the brand in January 2013. And you'll know that the Lunar Control 4 have been designed for the power player with a super stable platform for swinging at 120mph in true McIlroy fashion. And you'll know that there's a new split-tongue which is designed purely for comfort in walking your 18 holes. And you'll know that Nike Flywire technology features once again for even more comfort in the mid-foot. But you already know all that, so thankfully we won't need to tell you again.
Nike Lunar Control 4 - New Design
The intrinsic technical aspects are ultimately what make these shoes so reliable, so wearable and a such worthy addition to your locker - but it's the aesthetic design which is bound to turn heads and get everyone talking. The controversy lies with just how similar the Nike Lunar Control 4 golf shoe is in comparison to the look of a football boot. More specifically, it's the old Nike Mercurial Vapor boot which graces the turf of many a Premier League ground and Sunday league park alike. It has been, and continues to be, one of the most popular football boots for this generation - but will that popularity translate well into such a traditional sport as golf? Probably not - but that's not to say the LC4 won't kickstart a new trend in golf footwear parallel to that of the spikeless revolution of five years ago.
Nike are experts at dominating a market almost instantaneously - a prime example coming with the Air Jordans which caused such a stir in the NBA all those years ago. That same breaking of tradition is what's being hoped for with the Lunar Control 4 and, whilst Nike may not need to cover any authoritarian fines as they did with Michael Jordan, the purposeful dividing of opinion can only reap rewards for Nike Golf in years to come. Nike want to get us all talking - and only a fool would think the Lunar Control 4 is where they're going to stop.
The Nike Lunar Control 4 golf shoes are now available to order online at Golfposer.