Our chief style editor gives you the low down on the Nike Flyknit Racer Golf shoes which will drop online at Golfposer on Wednesday May 2nd, 2018.
Nike Flyknit Racer Golf Shoes | New for 2018
Nike Golf are the masters when it comes to footwear innovation and the Nike Flyknit Racer is the latest icon to hit the links. This particular silhouette made waves in the sneaker universe when it was first launched back in 2012, originally built for marathon runners but duly picked up by the most stylish and fashionable sneakerheads among us, too.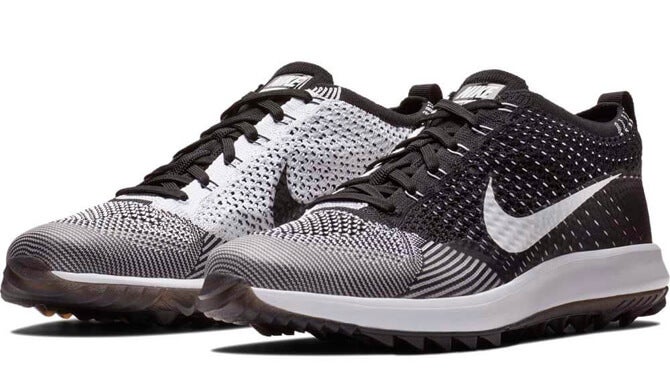 Nike Golf have, of course, experimented with their Flyknit upper in golf footwear before. The Flyknit Chukka was a monumental success back in 2016 - but this mid-top silhouette was perhaps not to everyone's tastes. Next came the Flyknit Elite which used a sock-like ankle collar and the Articulated Integrated Traction sole for the first time ever - however this style was priced well out of budget for the vast majority.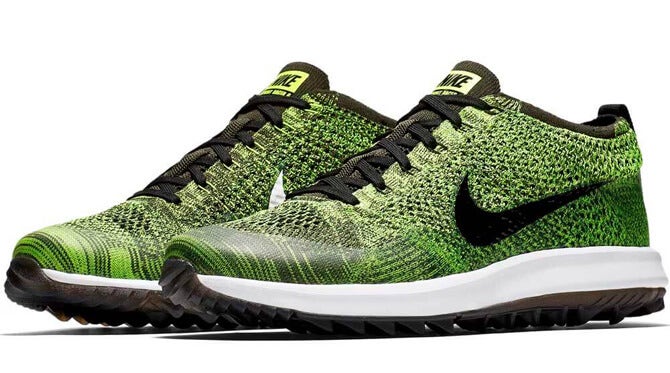 Now, with this latest Nike Flyknit release, many more boxes are ticked. A low top, sneaker-like design will be welcomed with open arms by many golfers worldwide - while a more affordable price point of £129.00 is a lot more justified this time around. The Nike Flyknit Racer G is going to set the world of golf footwear alight - we're certain of it.
Nike Flyknit Racer Golf Shoes | History
"Those who do not learn from history are doomed to repeat it," once said the great philosopher, George Santayana. Nike Golf have learned from their own history this time, that's for sure. The popularity of the Flyknit Racer sneaker is unquestionable; it was only a matter of time before they introduced it into their golf footwear line.
True sneaker aficionados fully understand and appreciate the complexities of a Flyknit upper and, aside from all else, the stunning aesthetic of the Flyknit structure is one of the most recognised and most desirable looks around. It's testament to the popularity of Nike Flyknit that new styles continue to prove just as successful as their predecessors, even six years after the concept was first introduced.
But we also have to remember that the Nike Flyknit Racer was first introduced for its performance benefits alone. Purposefully built for marathon runners to get an ultra light, sock-like feel on their feet without compromising on structure and flexibility, the Nike Flyknit upper was a revelation which was fully embraced by their intended market from the word "go".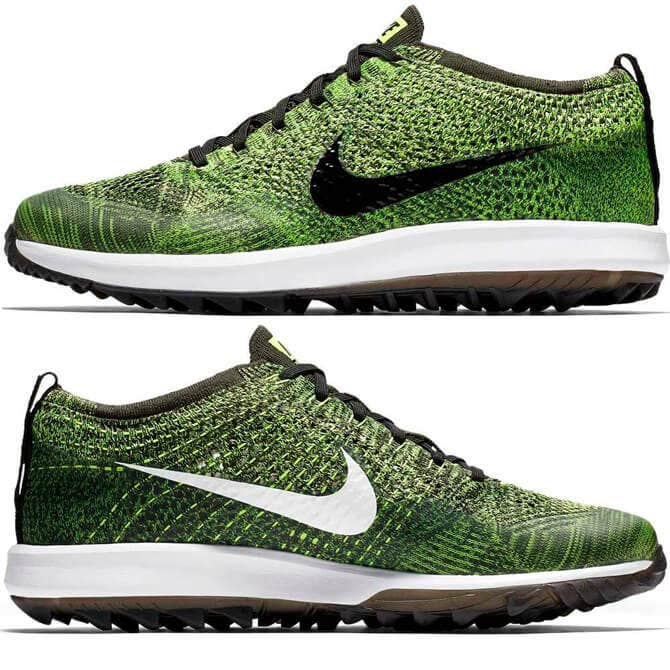 But they quickly became a cult icon in their own right. With such a unique look and outstanding comfort levels, they became one of the must-haves for both sportswear enthusiasts and the most fashionable street style ambassadors; a powerful combination which builds the hype and inevitably trickles down to the farther reaches of society.
And now that society can include us golfers, for the very first time.
"We must welcome the future, remembering that soon it will be the past; and we must respect the past, remembering that it was once all that was humanly possible." That's another quote from George Santayana, just for good measure.
Nike Flyknit Racer Golf Shoes | Technology
So, after that short history lesson - what can we actually expect from the Nike Flyknit Racer Golf Shoes?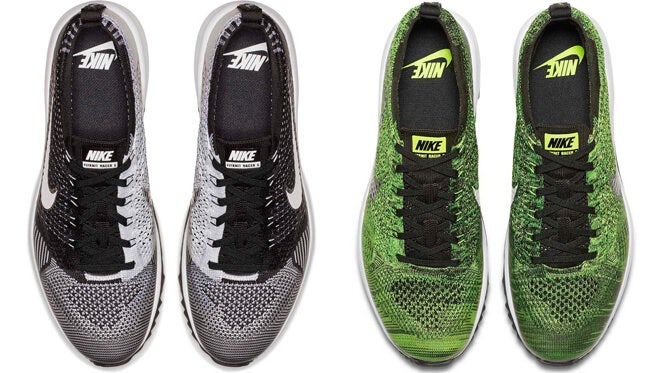 First of all, the Flyknit upper speaks for itself. The featherweight feel; the almost unnoticeable sock-like fit; the high degree of breathability; the super premium aesthetics. That's the first selling point and, for many, that might just be enough.
But Nike don't stop there. The Flyknit upper is integrated with Flywire technology to help provide a more locked down fit, supporting you through your every swing of the club. This technology has become a staple part of the Nike golf footwear line up with a proven track record in its own right.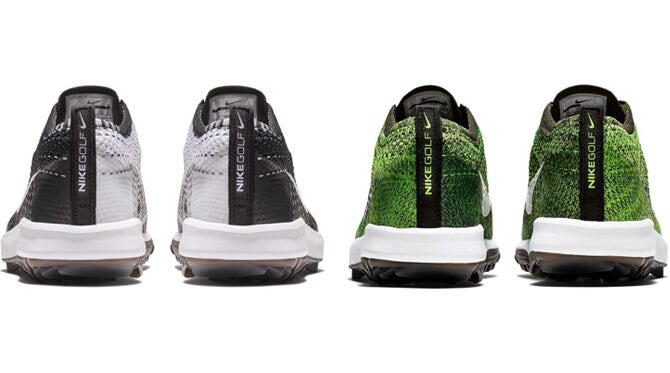 Support is also enhanced by a translucent "no-sew" rand - a detail which also helps to add a touch of water repelling performance. There's also a very thin lining on the inside of the Flyknit structure, thus preventing any debris from entering the shoe.
To further enhance the comfort factor, there is a foam padded collar at the ankle - while the low profile knitted tongue helps with ventilation and comfort once more.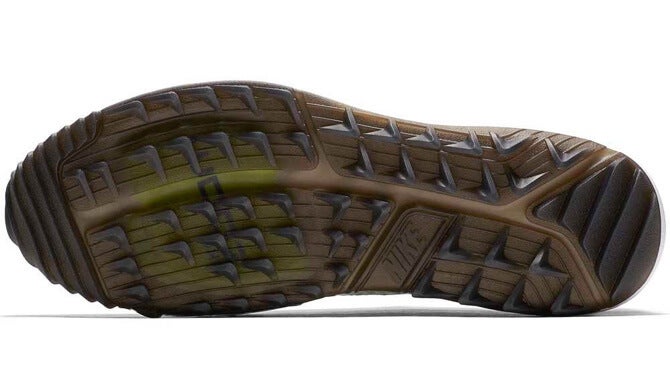 The popular Zoom Air sole unit provides exceptionally responsive cushioning, marrying up perfectly with the full length Phylon mid-sole. Comfort is king, and Nike Golf have prioritized this in the only way they know how.
As always with a spikeless golf shoe, grip is paramount and will always be one of the first question asked by consumers. However, Nike Golf have re-introduced the same outsole which featured on the Air Zoom 90 IT golf shoes and we can personally testify that those shoes are excellent when it came to traction.
The outsole is made of durable rubber, too - thus meaning you can easily wear these shoes on hard surfaces off the course without even realising that you have golf shoes on your feet.
Nike Flyknit Racer Golf Shoes | Buy Online
The Nike Flyknit Racer golf shoes will be available to purchase online at Golfposer from Wednesday, 2nd of May 2018. Two in-season colours of black/white and volt/black will drop on this initial release date, while the Wolf Grey/Gym Red colour will launch in June 2018.
In case the tone of this eMAG article hadn't already confirmed our viewpoint... we simply adore the Nike Flyknit Racer G and we think anyone who gets their hands on a pair will do too.