Find out all you need to know about the Nike Air Max 1 golf shoes which are now available to shop online at Golfposer - including the special edition NRG styles celebrating the Waste Management Phoenix Open 2019.
Nike Air Max 1 Golf Shoes | 2019
For several years now, Nike Golf have been introducing some of their most iconic sneaker silhouettes into golf footwear to great effect. Their re-mastering of styles such as the Roshe, the Flyknit Racer and some of the best Air Jordan shoes have all been incredibly well received and now, we're very excited to reveal the next chapter in the Nike Golf footwear story. Introducing the style we've all been waiting for...the Nike Air Max 1 G.
Nike Air Max 1 Golf Shoes | Heel Bubble
This brand new spikeless Nike golf shoe blends all of the signature Air Max 1 details with golf specific footwear technologies to produce an almost identical replication for the links.
The iconic AM1 sneaker silhouette has been adopted in its entirety which helps to recreate a very similar look and feel throughout the whole upper. The new design also means that the Air Max 1 G is one of the very first Nike Golf shoes to feature a visible "Air Max Unit" at the heel - helping to complete the OG aesthetic perfectly. Long term followers of Nike Golf & Golfposer might recall a previous attempt at an "Air Max inspired" golf shoe from three years ago; but it was this iconic air bubble whose presence was sorely missing that time around.
When it comes to performance, this cushioning heel unit combines with the full length Phylon foam at the midsole for extreme comfort all day long. The spikeless rubber outsole is soft yet durable enough to wear on any terrain, while the pattern has been inspired by Nike's integrated traction technology for reliable grip and stability throughout your swing. The Nike Air Max 1 G shoes also boast a one year waterproof warranty for added peace of mind.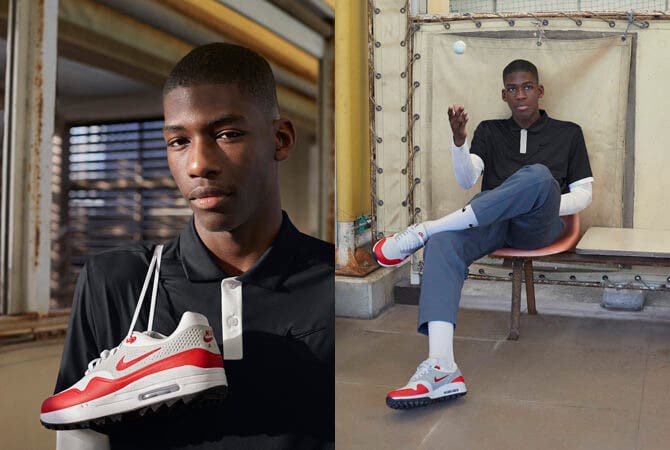 The sneakerheads among us will know all about the incredible day-to-day comfort that an Air Max 1 sneaker provides and you can be sure that this golf specific version will provide the very same.
We definitely won't be alone in wearing the Air Max 1 G in almost every situation; from the offices here at GPHQ to a quick nine holes in during the Summer months. Wear them to the range, wear them to the shops, wear them anywhere you like. Heck, some of us might even think about replacing some of the more exhausted Air Max sneakers from our collection...they're just that good.
We firmly believe that this shoe style might just be Nike Golf's best work to date (spikeless shoe or otherwise) which is a very, very bold statement to make.
Nike Air Max 1 Golf Shoes | Colours
Four in-season colour ways will become available to purchase online at Golfposer from February 2019. These include a super clean white/gum option, a stylish black/gum option, the white/university red option and finally a "pure platinum" style (coming later in March).
Nike Air Max 1 Golf Shoes | NRG Editions
You should also keep an eye out for some super special edition NRG releases which are also ready to drop in early 2019 and are simply not-to-be-missed.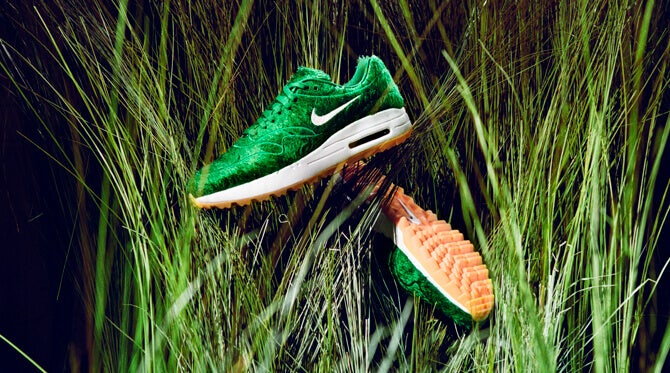 These will include the "Green Grass" and the "Sunday Payout" styles which are both incredibly unique in their respective designs. They have been especially created ahead of the Waste Management Phoenix Open 2019 which is "The Greatest Show on Grass" - hence the 3D grass effect upper on the first NRG model.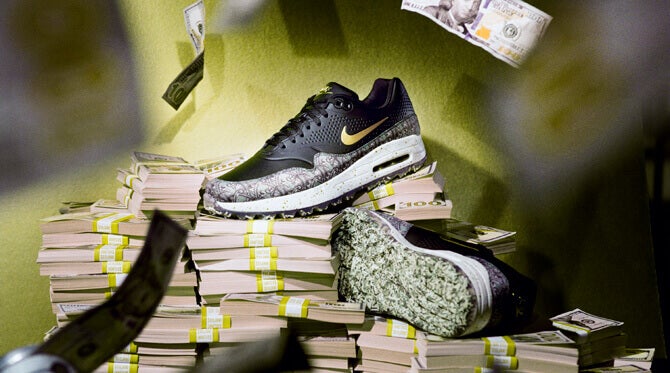 The second style celebrates the financial windfall which is up for grabs on Sunday of the tournament and features a dollar bill print through the mudguard, while the sole has an intrinsic design of shredded currency notes for an eye catching look.
Nike Air Max 1 Golf Shoes | Shop Online
Visit any of the links below to shop the in-season colour ways which are now all available at Golfoser.
You should also stay tuned to our social channels for news of more limited edition NRG releases coming throughout the rest of 2019.
Read Next: Rory McIlroy Interview
Shop Next: Nike Golf Shoes