Nike Aeroreact technology has been introduced to golf wear for the first time and our chief style editor gives you the low down on what the new polo shirts and mid layers have to offer on the golf course.
Nike Aeroreact Golf Clothing | Origins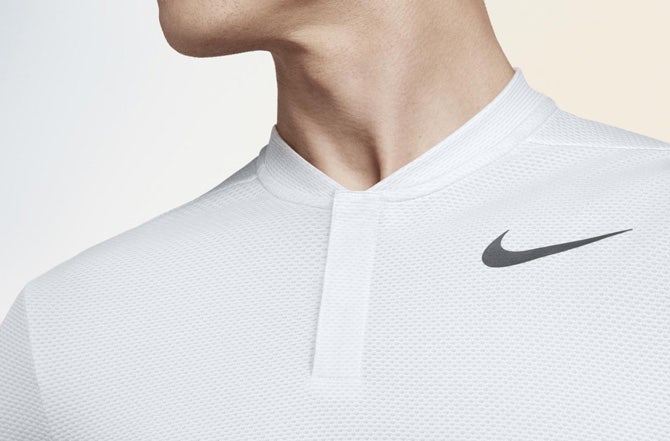 As a brand, Nike are one of the key innovators in sportswear and continue to improve and adapt their clothing ranges to cater for the world's most demanding athletes. We, as golfers, have very similar needs and an even higher level of expectation and now - Nike Golf have responded.
Introducing Nike Aeroreact Golf polo shirts and mid layers; designed to adapt and adjust as your perform on the golf course.
Following extensive research and development by the Nike Explore Team, the brand introduced Aeroreact clothing for the first time just over one year ago, primarily for the running wear market. Introduced to tennis soon after, Nike Aeroreact clothing has proven hugely popular and the designers have since welcomed feedback for further improvements. That, then, brings us to the stage we find ourselves today with tried and tested technology ready to hit the links in 2017.
Nike Aeroreact Golf Clothing | The Technology
So, how does it work?
Designed to react to your moisture levels, the bi-component yarn allows the Aeroreact fabric to open its structure as you sweat more - hence increasing airflow and helping the moisture to evaporate quicker. This results in better thermo-regulation and keeps your body cool in warmer conditions, but this also means that the fabric effectively "closes up" when you're own body is cooling down.
Nike Aeroreact technology is simply an extension of the body's natural response system; the pores on our skin open up to let sweat escape when our core temperature increases through exercise or other external factors. Nike Aeroreact clothing assists your body in staying cool, staying comfortable and staying dry but also in retaining a degree of heat when you need it most.
Nike Aeroreact Golf Clothing | On the Course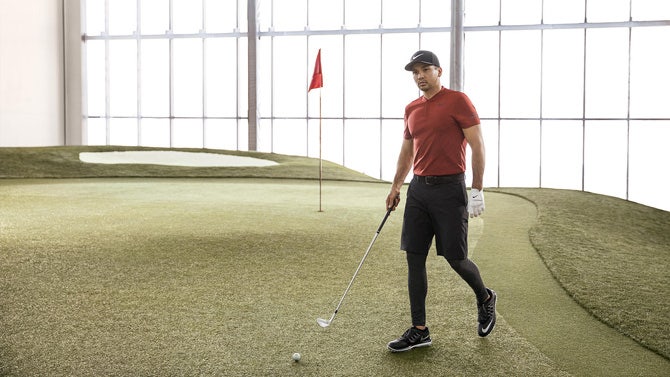 As your core temperature increases, your body works harder and harder to ensure you remain cool, thus preventing you from performing at your optimum level. Nike Aeroreact golf clothing allows you to stay cool and comfortable on the course with zero distraction, helping you to stay focused on what matters most - your next shot.
Furthermore, we all know that external conditions on a golf course can easily change over eighteen (or even nine) holes. Imagine teeing off in the mid-afternoon sunshine and then in rolls the cloud-cover at the ninth hole, just as the sun also begins its descent into the horizon.
Ordinarily, we would probably pull out an extra layer from the golf bag to see us through the rest of the round, but with Nike Aeroreact golf clothing, you wouldn't need to do this. Just as new Nike Golf athlete, Jason Day, stated in a recent press release: "I don't have to make any adjustments."
Aeroreact golf polo shirts (above) and mid layers (soon to arrive online) will support the body's thermo-regulation capabilities and reduce the need to make outfit changes on the golf course. The fabrics are not only responsive and lightweight, but also offer a superior handle with a real quality feel. The difference in tactility is obvious once you get your hands on a piece of Nike Aeroreact golf clothing and, once on the golf course, you'll feel the difference even more.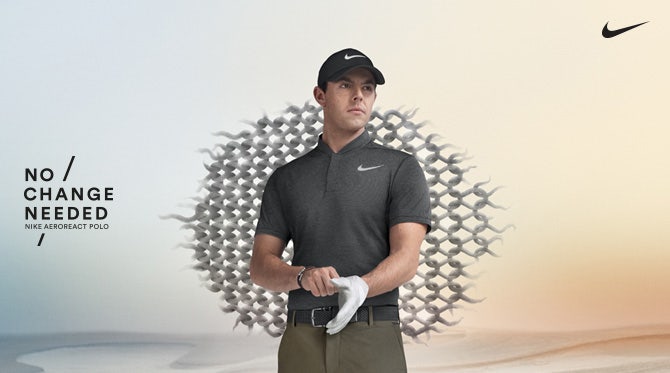 Click here to shop all Nike Aeroreact golf shirts and stay tuned for mid-layers arriving online shortly.