We recently invited three VIP customers to wear test Nike Aeroloft golf outerwear at Archerfield Links on a seriously cold day in November. Read on below to discover their detailed feedback...
Nike Aeroloft Golf Jackets | VIP Experience
Earlier this month, it was our pleasure to host a series of consumer feedback sessions in conjunction with Nike Golf - where we were joined by some of the brand's top design, sales and marketing experts from around the world. One such feedback session focused on Nike Golf outerwear and, unbeknown to our consumers, we were about to invite three of them to play at Archerfield Links to wear, test and keep a brand new Nike Aeroloft golf jacket each.
Our three lucky participants were chosen based on their feedback, which consisted of three separate viewpoints. Ally Hunter (left, grey jacket) was considered the "Nike Skeptic"; Duncan Rennie (far right, black jacket) the "on-the-fence" and Leigh Dalgleish (middle right, cargo khaki) was the self-confessed "Nike fanatic". It was a purposefully broad mix of consumers who we trusted to provide honest feedback - no matter what.
Nike Aeroloft Golf Jackets | On Tour
As you may remember, Nike Aeroloft golf jackets were heavily featured during the Open Championship at Royal Troon thanks to Rory McIlroy and the bitterly cold "summer" on the west coast of Scotland. Other Nike athletes have also showcased the styles during some of the season's biggest tournaments such as the Alfred Dunhill Links and the British Masters.
The Nike Aeroloft golf jackets look the part - we know that much. But how would they perform? Are they really as good as Nike tell us? How warm would you feel after playing 18 holes in temperatures no greater than 2ºC on Scotland's east coast?
Nike Aeroloft Golf Jackets | Reviews
Leigh Dalgleish - the Nike Fanatic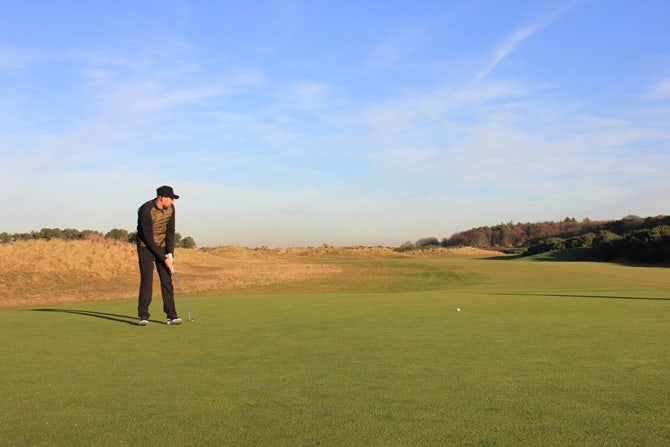 Thoughts from the first tee?
I was actually considering buying one of the jackets already, so to receive one for testing is great. I think they look smart and if Rory & co. have been wearing it, then it must be good. I'm looking forward to testing it in these cold conditions.
Do you like the Nike Aeroloft style?
Absolutely. I opted for the cargo khaki - it's a fashionable and on-trend colour which actually mixes well with other colours. The style is very athletic which is what I like, I already wear Nike a lot (including all of my gym gear) so it'll fit into my wardrobe perfectly. I would probably wear this casually, too.
What else did you wear?

I wore a simple base layer, a Nike Flex Knit sweater and then the Nike Aeroloft jacket. My pants were the Nike modern tech and finished with Air Zoom 90 IT shoes in black.
How did you find the warmth levels?
Exceptional. It really keeps the core warm and you can't feel the chill in the air. It's literally freezing today - even this morning I was thinking "am I really playing golf in this?!" after I spent ten minutes defrosting the car! I'm really impressed.
What about the comfort factor, fit included?
The fit is perfectly snug but without that restrictive feeling. It hugs the body enough to retain that all-important warmth level but with so much stretch in the sleeves and shoulders. The biggest compliment I can pay is that I didn't even notice wearing it for the full 18 holes.
Duncan Rennie - the On-The-Fence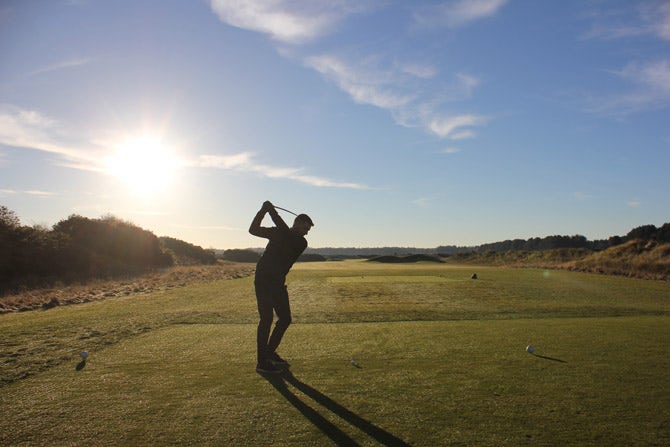 Thoughts from the first tee?
I have always been a little bit skeptical of Nike outerwear in seasons gone by but I'm intrigued to test the Aeroloft technology out. The Golfposer consumer sessions were insightful but you can only say so much without actually getting to test a product for 18 holes in these types of conditions.
What else did you wear?
I went for a base layer and shirt beneath the Aeroloft jacket. I couldn't go more than three layers for playing golf.
Do you like the Nike Aeroloft style?
I saw Rory McIlroy wearing it at the Open and it really caught the eye, in a good way. I have the same all-black version and it's quite easy to style with other products, trousers and shoes included. The blade collar looks good but you need to consider what layer/collar you wear beneath in order to keep the outfit looking good.
How did you find the warmth levels?
Very surprising for a jacket which is so lightweight. My favourite jacket from another brand is lightweight and waterproof, but certainly nowhere near as warm as this. 18 holes and not even a consideration about how cold I was at any stage. I play on the East Coast a lot and it's notoriously cold at this time of year especially.
And the comfort factor, fit included?
I tend to be quite specific when it comes to how my jackets fit but Nike have nailed it with this one. It doesn't need the waist toggle because there's no excess fabric at the mid-riff, the shoulders and sleeves are fitting nicely and the rear is longer for coverage when putting. It feels snug, which is how I like it, but there is almost no restriction in the swing.
Ally Hunter - The Nike Skeptic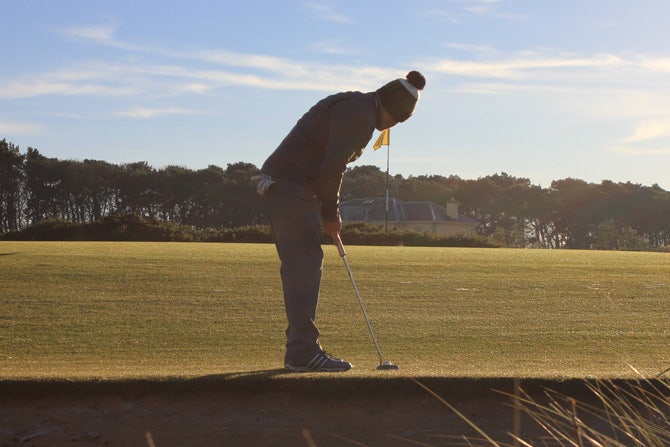 Thoughts from the first tee?
I must say, I have never been a fan of Nike golf clothing and that includes their jackets. Every time I see something new worn by the likes of Rory McIlroy, Brooks Koepka and Tony Finau I just think "...but I don't look like that?". I would never have purchased this jacket, so it will be interesting to see what I think after today.
What else did you wear?
I had a base layer and V Neck sweater. I even took off my knitwear after nine holes to really test out the Aeroloft!
Do you like the Nike Aeroloft style?
The style actually looks good on me, despite my initial thinking. I am still to be convinced by the crew-neck style but this full zip jacket is really sporty. The water resistant shell means I wouldn't even bother with taking a waterproof with me, if the rain got that heavy then you shouldn't be playing!
How did you find the warmth levels?
I hate to be proven wrong, but it really does perform well. You couldn't have guessed that the mercury was never above two degrees and I think it will be the same story in even stronger winds. I wore this comfortably with just a base layer for nine holes - that tell's you everything.
And the comfort factor, fit included?
I went for the medium instead of the large because it still fits well and looks good, but there's so much stretch that it didn't feel tight. I sometimes struggle to find a well-fitting jacket but I'm quite surprised by this style. I'll definitely be looking out for more Nike outerwear in future.
Andy Coulter, Team GP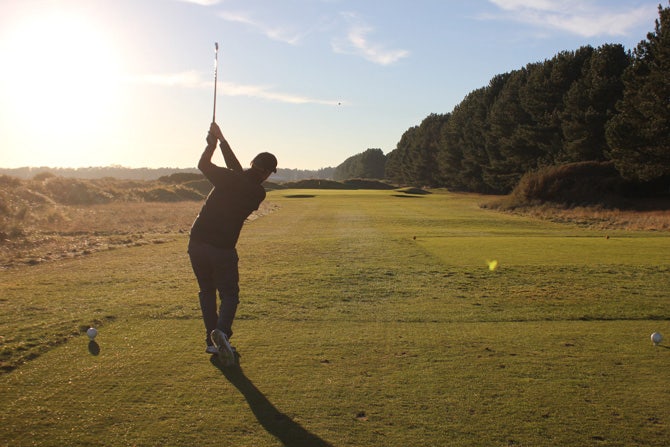 Thoughts from the first tee?
We have been selling the Nike Aeroloft golf jackets online for several months now and the hype was incredible after the Open Championship. It will be interesting to hear the thoughts of the other three guys as the day progresses but, so far so good.
What else did you wear?
I went for an Icebreaker Merino base layer and Nike polo shirt to keep it simple!
Do you like the Nike Aeroloft style?
I always liked the look of these jackets from the beginning; they look technical and sporty which is one of the key trends of the season. I went for black and I can see myself wearing this on so many other occasions away from the golf course.
How did you find the warmth levels?
Seriously impressive. It's all about keeping that core warmth level and the Aeroloft technology does this expertly. I have tested so many jackets over the years and I can seriously say that this style is up there with the best for lightweight warmth.
And the comfort factor, fit included?
The secret is in the sleeves; this stretchy fabric is superb for reducing any restriction and making the jacket quiet throughout the swing. You don't notice you're wearing it and you can't feel the cold. The fit is snug and flattering but without restricting movement and natural body motion. It's an investment but one seriously worth considering if you regularly play golf in these conditions!
Nike Aeroloft Golf Jackets | Archerfield Links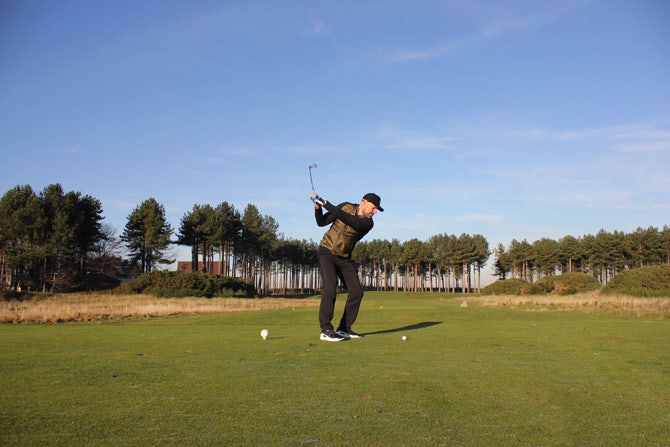 The beautiful Fidra course at Archerfield Links was the chosen location for our 18 holes of Aeroloft testing on an extremely cold and frosty morning in November. A stunning track which you could really never tire of playing, whilst the course actually held up very well considering the frosty conditions underfoot. Our thanks go to the team at Archerfield for their wonderful hospitality once again!
Here are some more of our favourite images from the Nike Aeroloft experience day, with more available to view via the Facebook album below. There's also an attempt at the #MannequinChallenge for your viewing pleasure...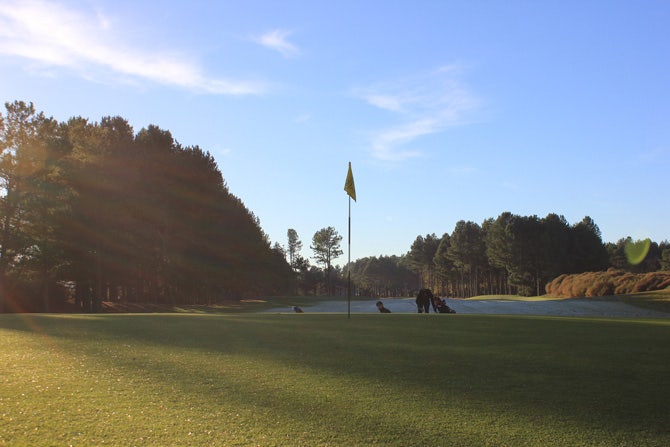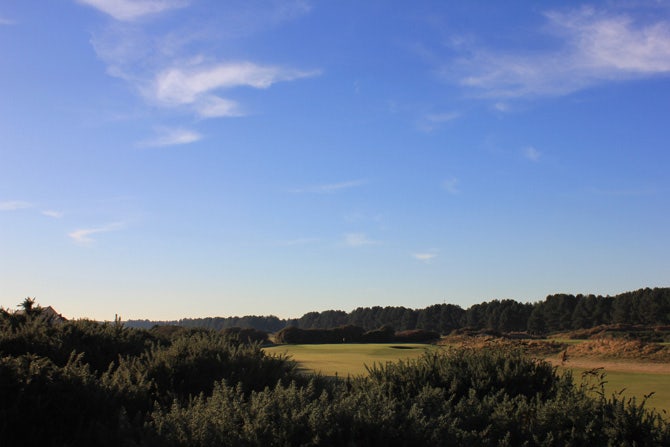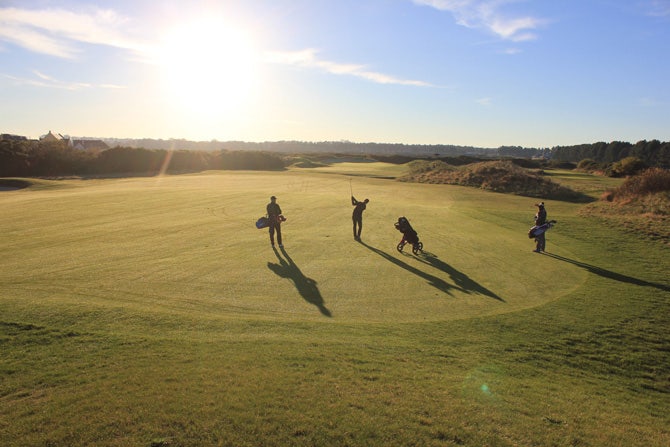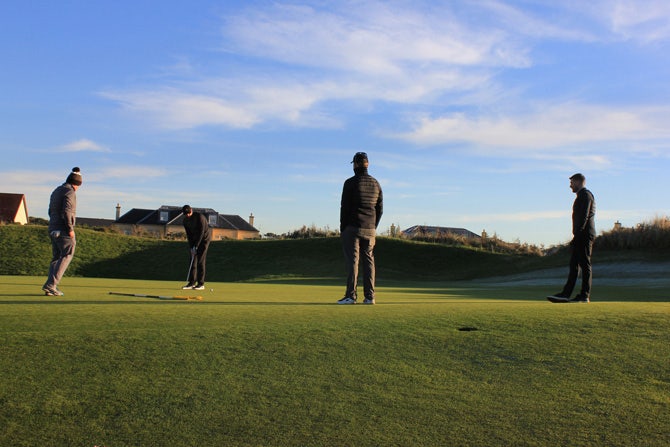 Click here to shop Nike Aeroloft Golf Jackets and Gilets online at Golfposer.