Read the most comprehensive of Lunar Control Vapor Reviews with four of our genuine customers providing an open and honest view of the newest Nike Golf shoe on the market - which launches at midnight on the 3rd of March, 2017.
Lunar Control Vapor Reviews | Background
Earlier this year, we surprised four of our loyal customers with the opportunity to wear, test and keep the new Nike Lunar Control Vapor golf shoes before any one else could even purchase them in Europe. All four are uniquely located around the world (UK, Ireland, Denmark, Abu Dhabi) and after two weeks of testing, the four Lunar Control Vapor Reviews are featured below; unfiltered, unedited and uncompromised.
That means it's a slighty long read, but it's an open and honest critique from four savvy golfers who know their footwear better than anybody.
Our questions are in italics, followed by the individual responses which have been colour coded by name for ease of reading.
Lunar Control Vapor Reviews | Test Pilots
Player Profiles:
Name: Martin Bell
Age: 44
Golf Club: Douglas Park GC - Bearsden, Glasgow
Handicap: 3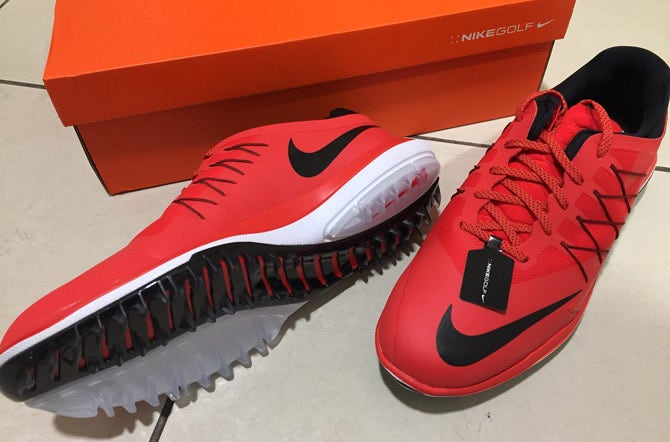 Name: Michael Williams
Age: 31
Golf Club: Abu Dhabi City GC, UAE
Handicap: 6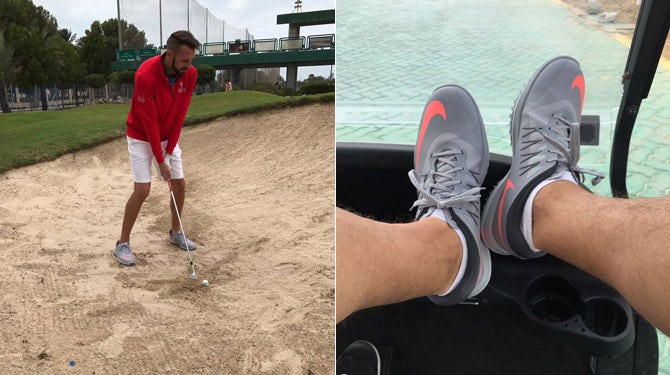 Name: Shane Travers
Age : 32
Golf Club: Palmerstown House PGA, Ireland
Handicap : 9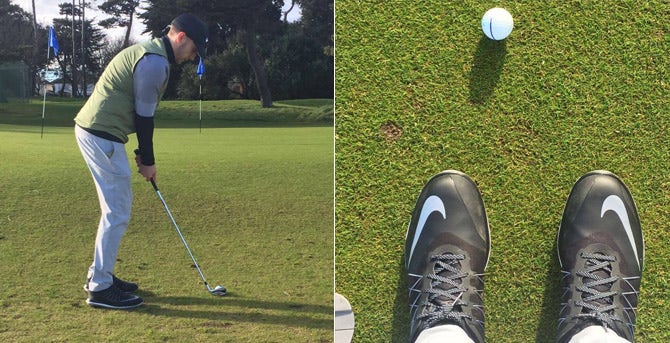 Name: Henrik Dyhr
Age: 49
Golf Club: Barløseborg GC, Denmark
Handicap: 9.2

Lunar Control Vapor Reviews | Feedback
Which golf shoes do you currently wear?
MB: I've worn Nike golf shoes on and off for as long as I can remember. I have tried Puma in the past, but most recently I have been wearing the Nike Lunar Control 4 and the new Nike 2017 Lunar Command 2 BOA this year.
MW: I have recently bought some Footjoy Pro/SL but last year I used Puma TitanTour Ignite, Nike LC4 and the Nike Flyknit Chukka. The latter style is still going strong but the others have all perished due to hot, sweaty and dusty conditions for most of my golf in Abu Dhabi.
ST: Nike Explorer Golf Shoes.
HD: Nike Lunar Control 4.
What was your perception of Nike Golf Shoes prior to testing?
MB: I've always been a big fan of Nike Golf shoes with their gradual evolution (and occasional revolution) each year. Having been the market leader in sports shoes for so many years, it is no surprise that they also make great golf shoes with a range of styles and budgets for everyone.
MW: I've had plenty of Nike Golf shoes in the past and they are always extremely comfortable and look stylish. Whilst not necessarily being "classic" in style, they always impress and come in a variety of colours that go with whatever golf outfit you want to wear.
ST: Aesthetically, Nike golf shoes were always ahead of any other brand in my opinion.
HD: Generally speaking - I think they are innovative, stylish and modern with good comfort.
What were your thoughts on the Lunar Control Vapor prior to becoming a GP Test Pilot?
MB: I was aware of the Lunar Control Vapor being Nike's flagship shoe for 2017 and I noticed that both McIlroy and Jason Day were wearing the shoe early in the season. I thought the Nike Lunar Control 4 was a very strong shoe so the Nike Lunar Control Vapor has a tough act to follow. I had an idea that the shoe would basically be the love child of two of Nike's best shoes from 2016 - the Lunar Control 4 and the Flyknit Elite. Bringing together a new waterproof upper with the traction system from the Flyknit Elite sounded like a perfect combination.
MW: Having seen the professionals using these shoes when they played in the HSBC Abu Dhabi Championship - I wasn't sure about the style initially as they looked a bit chunkier than last year's LC4. However, they also looked very supportive and comfortable and I was excited by the new sole design - namely how it was going to help with the golf swing and how they felt to walk in.
ST: I had seen a picture of them worn by Rory McIlroy and thought that they looked totally different to any golf shoe I had come across before.
HD: Stylish with a great design.
Have you ever owned/tried any Nike golf shoes before?
MB: As mentioned, I've worn many Nike golf shoes over many years. The ones that particularly stand out are the TW SP-8 from '07 and the Nike Free Inspired TW13.
MW: I've enjoyed a long line of Nike Golf shoes in the past, most recently the LC4 and the Flyknit Chukka shoes. I think I've had every version of the Lunar Control series!
ST: Yes, Nike Gents Explorer shoes.
HD: Yes, the Nike Lunar Control 4.
What were your first impressions upon receiving your LCV shoes?
MB: I've always liked my shoes to stand out a bit and so when Golfposer offered me a choice of colour for my test shoe it was an easy choice to go for the Max Orange/Black option! The Max Orange isn't a traditional orange; it is much more of an red/orange shade which I like because it stands out enough without being too over the top. The black Swoosh is a nice contrast and I think the shoe looks great overall. It's a shame you can't see the sole when wearing them as it is very cool – more on that later.
MW: I love the colour and the contrast of the Wolf Grey with the Lava Glow swoosh. In addition, there are some lovely angular parts to the shoe - no 2 lines look parallel which creates a really sporty look. I liked the look and feel of the fin-like blades which have replaced the spikes, in fact they are very similar to my Nike football boots. They immediately felt comfortable out of the box and I also liked that, even though they are quite a wide shoe, they didn't crease when tightening the laces. They also look good with both shorts and regular trousers (crucial for golf in the UAE).
ST: Upon receiving my LCV shoes, my initial reaction was that they looked really cool. The sole on them was really funky - like nothing I had ever seen on a golf shoe before. I chose the black with metallic silver and they are instantly recognisable. They don't look like they would be out of place on a golf course, either.
HD: My first impression was very positive and I like the way the sole was created. The big Nike Swoosh was very special and a nice feature. I chose the Cargo Khaki colour and I'm very impressed with the way it looked.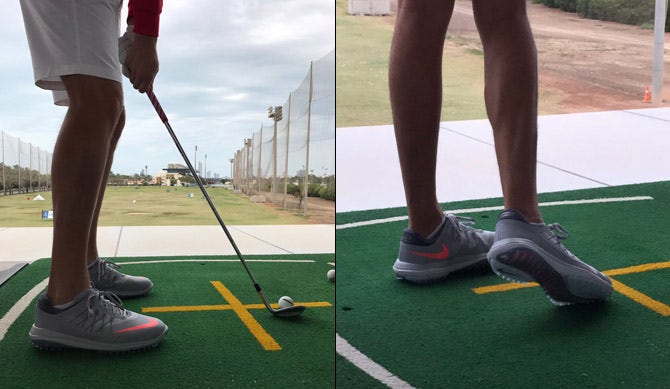 What are your thoughts on the upper of the shoe?
MB: I was pleasantly surprised as the upper is much improved from the Lunar Control 4. They feel more supportive and the Nike Flywire technology really holds your foot in place when you're swinging. They also feel lighter - which I'm putting down to the new traction system on the sole. It was also noticeably more comfortable than previous Nike offerings - which is saying something as they have always provided a great ride for me.
MW: I like that Nike have stuck with the large Swoosh on the toe. The design of the upper may appear a bit more tapered than the Lunar Control 4, but I chose the same size and they were a perfect fit.
ST: The upper felt very light and flexible when wearing them. They stayed supportive of my feet, regardless of my stance.
HD: A great design and the unique way it fits is incredible.
Could you feel the difference in terms of traction & stability with the new, unique sole design?
MB: The new traction system definitely contributes to the shoe being extremely light and well cushioned and the absence of any soft spike cleats undoubtedly adds to the comfort factor. The new sole design may be a concern to some golfers, but this was also the case when metal spikes began to be replaced with soft spikes. Having played two rounds in soft ground conditions and hitting off some well worn tee mats, there was no loss of traction at all. The same was true when walking the course and so I think this may be the start of something revolutionary (especially considering the comfort factor).
MW: On the course, I really enjoyed the new design - although I would say that on the greens over here they were quite visible in their markings. I felt very secure and well locked into the ground both on the tee and around the green especially - it felt very easy to keep balanced through my shots. I wore these on the mats at the range, too, and I felt I was a little higher off the ground and that I wasn't overly stable - sliding around on occasion. This is my only (minor) criticism.
ST: 100% yes. There was great traction on them playing out of wet rough and sandy bunkers.
HD: A whole new feeling compared to my old Lunar Control 4 - very good grip!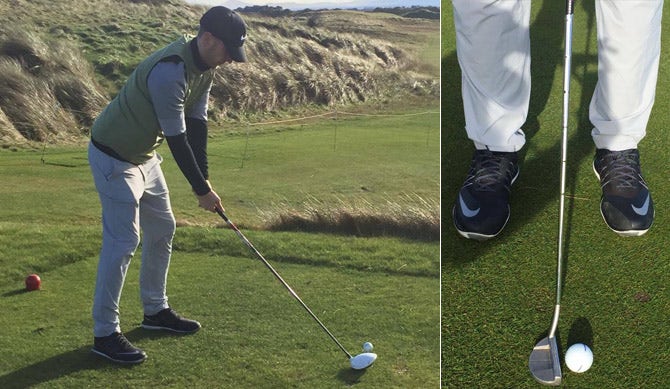 If applicable, did they provide the full waterproof protection, as promised?
MB: As you would hope and expect with a premium shoe, it is fully waterproof and I had no issues at all in damp conditions.
MW: N/A
ST: YES. My previous shoes really let me down on this front so it was nice that I didn't have to change my socks after the round from being damp.
HD: I can confirm - it works!
If applicable, did your feet feel hot & uncomfortable in higher
temperatures?
MB: N/A
MW: Absolutely, I played in 29°C heat last week and they felt excellent. My feet were warm and supported rather than feeling hot and sweaty. There was definitely no issue and no blisters from rubbing in the higher temperatures.
ST: N/A
HD: N/A
How did they compare against any other golf shoe you've owned before?
MB: Comparing the Lunar Control Vapor to the 2017 Lunar Command BOA, it was interesting to note that the latter required three or four rounds to break in the stiffness of the upper, whereas the Lunar Control Vapor were comfortable straight out the box. The traction sole on the Lunar Control Vapor definitely also gives them the edge in terms of comfort. Both are excellent shoes but the additional cushioning and lighter weight gives the Lunar Control Vapor a win.
MW: I have a slight addiction with golf fashion, and I have owned A LOT of golf shoes. These are certainly very comfortable and felt thicker around my foot than last year's shoes. I did find them heavier than the Flyknit Chukka, but this helped when feeling grounded through my shots, especially when driving the ball.
ST: Living in Ireland, we receive a lot of rain and the gripping/waterproof ability on my old shoes wasn't the best - but the LCV offered so much more in both respects. Not only do they look good, but they feel like slippers!
HD: I've had around 30 pair of golf shoes and I've never experienced anything quite like these. Good fit, good grip and excellent looks.
How were your feet feeling in the hours after each use?
MB: Despite these shoes being brand new, I had no soreness at all with my feet. I played four rounds in a day last year for charity wearing the Lunar Control 4 and would foresee no issue with doing the same with the Lunar Control Vapors.
MW: They felt like I'd been wearing my Nike running shoes, they're that comfortable. I kept them on for an entire day (drive to golf, range, round, meal after, drive home) and my feet felt like they hadn't done anything.
ST: Usually, wearing new shoes means your feet can take a battering - but the comfort levels of the LCV's was immense. Honestly, the comfiest golf shoes I've ever worn.
HD: No problem at all.
What was your favourite thing about the shoes?
MB: It's a toss up between the styling and the new traction sole. The additional comfort and excellent traction offered combines with technology such as Flywire and Lunarlon to make it an overall winner. I loved the Max Orange!
MW: I really liked the overall comfort of the shoes; they were much more cushioned than other models and felt very much more stable. The colours are also extremely cool and the new traction system is really incredible on the course, especially over here in Abu Dhabi where we don't have muddy conditions. The shoes feel like they anchor you very well.
ST: These shoes delivered on so many fronts. They looked great, felt great and offered great support. But if I was to pinpoint one favourite thing about them would be how comfortable they were.
HD: The design of the new sole.
Please rate the following out of 10:
Comfort
MB: 10
MW: 10
ST: 10
HD: 10
Traction
MB: 10
MW: 10 (6 at the range)
ST: 10
HD: 10
Waterproofing
MB: 10
MW: N/A
ST: 10
HD: 10
Style
MB: 9
MW: 8.5
ST: 10
HD: 10
Would you recommend Nike LCV golf shoes to any of your golfing buddies?
MB: I would absolutely recommend the Lunar Control Vapor to any keen golfers who want a great looking shoe with the performance to match.
MW: Absolutely, they are comfortable and stylish and will make everyone think they are going to hit it like Rory.
ST: Yes - I have already have recommended them.
HD: Yes, no doubt about it. I have already recommended them to many of my friends.
Anything more to add?
MB: Nothing other than just to say a big thank you again to Golfposer and Nike for giving me access to this shoe ahead of the official UK launch on March 3rd.
MW: Just a massive thank you for being able to take part in this program and hopefully I can be useful again in the future!
ST: We play in so many different weather patterns here in Ireland and these LCV's kept my feet dry, looked really good and felt amazing on. One thing I did notice was that they left a slight mark on the greens on the really wet days, but no worse than wearing spikes I'd say. This is the best looking shoe on the market, in my opinion, with a good variety of colours available.
HD: No :)
Thank you to our four GP Test Pilots - Martin, Michael, Shane and Henrik - for taking part & providing incredibly useful feedback with their Lunar Control Vapor reviews.
Be sure to visit our dedicated Nike Golf page here once the Lunar Control Vapor golf shoes have been released at midnight, March 3rd 2017.