Below is an in-depth Leica Golf rangefinder review as compiled by our most recent Golfposer Test Pilot - a genuine, independent consumer who was found after a widespread search on Facebook.
Leica Golf Rangefinder Review | Player Profile
Name: Adam Brown
Golf Club: Tandragee Golf Club, NI
Handicap: 1
Leica Golf Rangefinder Review | Perceptions
Have you ever used a golf laser rangefinder before?
Yes, I have used both my dad's and brother's rangefinder devices in the past.
How much did you know about Leica before the test pilot experience and were you aware that the brand made rangefinders for golf?
I actually knew nothing about Leica before the test pilot experience, therefore I wasn't aware of their rangefinders.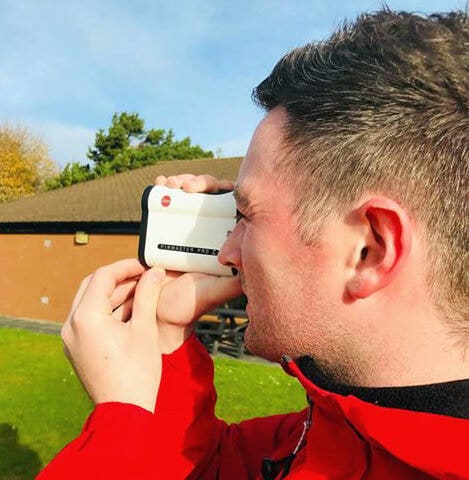 What were your initial impressions upon receiving your Pinmaster II Pro device?
My initial impression was very good - I was very satisfied when I received the device. I was very impressed with the way it was presented and the device itself was slick, smart and lightweight.
How easy was the device to use & operate? Did you have to read the instruction manual?
In comparison to others I have tried, this was by far the easiest navigated round. There was little to set up, it was fast to load and it was pretty much good to go with just one click of a button.
Leica Golf Rangefinder Review | Performance
Did you always manage to lock the laser onto the target with ease?
Hand on heart, I can honestly say that I never liked handheld lasers in the past. I think this was mainly because I always caught a tree 30 yards past or something else behind the green. However, I'm pleased to report that this was the easiest and most trustworthy piece of kit I've tried. I was able to lock in every target I wanted to hit or aim at, without fail. That's not to say that my shots always hit the intended target - but at least I was confident that I could dial in my number and trust the yardage.
How clear were the optics under all of the different lighting conditions you found yourself in?
To be fair, light was never an issue. It was always clear to see the display - no matter the conditions.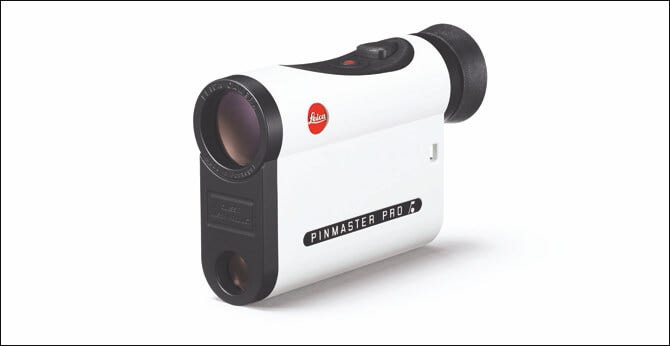 Were the readings always accurate, by your estimations?
I fully trusted the accuracy - maybe not always the swing though! I would say that the accuracy was most definitely spot on; the Leica device has totally changed my mind of handhelds.
How useful was using the angle compensated distance mode?
It was very helpful in practice but I was unable to use this mode in the competitions which I've played in. It was easy to toggle between the two modes, which was helpful. It's really useful for learning and remembering the differences - I feel like it gave me an extra edge.
Leica Golf Rangefinder Review | Conclusions
What was your favourite thing about the device?
By far, my favourite thing about the device is how it looks and feels. The Pinmaster II Pro is slick with a robust yet weightless feel. It's very comfortable to use in your hand and I also liked the vibrant white colour. As soon as it was in my hand, I just knew it was going to make the difference to my game.
Anything more to add?
In absolute honesty, I have already been recommending this piece of kit to anyone and everyone whom I play golf with. It's just so easily used and hassle free. I'd like to thank the team at Golfposer this test pilot opportunity; I feel it will truly will make all the difference for improving my game and I'll look forward to using it in both competition and practice very soon.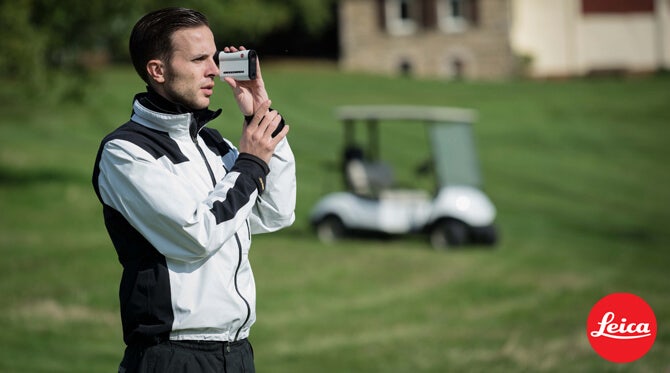 Shop Next: Leica Golf Rangefinders