We can officially confirm that the "Cool Grey" Jordan 11 Golf Shoes will drop online at Golfposer in November 2019. Scroll on below to get all the details you need about this upcoming Air Jordan release.
Jordan 11 Golf Shoes | Cool Grey
The Air Jordan 11 golf shoes in "Cool Grey" are the ones we've all been waiting for. It is the second golf adaptation of one of the most famous sneakers in the world - having originally landed in the retro "Concord" colour way earlier this year.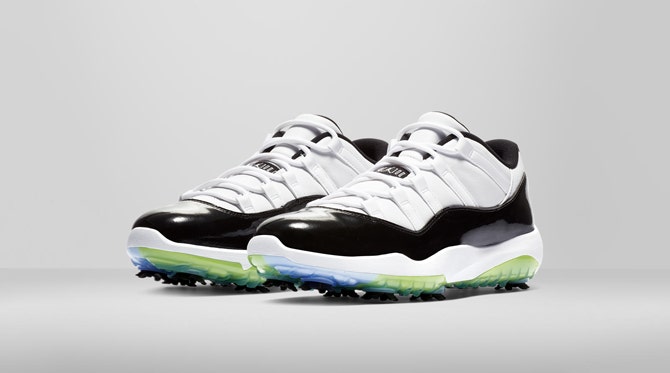 A brief history lesson, for those who don't already know. The Jordan 11 sneaker was the basketball shoe which Michael Jordan wore during NBA Play-Offs during his 1995 comeback; specifically wearing this white/black patent leather combination during a semi-final match for the Chicago Bulls. Various colours of his eleventh signature shoe were worn throughout the 95/96 title winning season which followed, but it's this white & black combination which is now affectionately known as "The Grail" in the sneaker universe.
What's more, these "Concords" were designed by Tinker Hatfield - a world renowned legendary designer - and his inclusion of the 360º patent leather mudguard was the key detail which made these sneakers truly stand out from the crowd. It's a design element which was completely new and never previously seen on any pair of Jordan sneakers that came before; this focal point of the design is exactly what continues to cement the AJ11 sneakers as the true icon that they are today.
Jordan 11 Golf Shoes | Buy Online
Nike Golf have been bringing Air Jordan golf shoes to the market for many years now, but none have received quite the hype that these Jordan 11 in "Cool Grey" have received thus far.
Rumours of the style first surfaced when Justin Timberlake wore the style at the Dunhill Links earlier this year and we're very excited to inform that yes, the rumours are absolutely true. The Jordan 11 golf shoes will drop online at Golfposer at 08:00 GMT on Friday, November 22nd 2019.
We expect some unprecedented demand for the Jordan 11 golf shoes so you better be sure to set your alarms & have the page loaded, ready to push those buttons as fast as you can.
Read Next: Air Jordan ADG Golf Shoes
Shop Next: Nike Golf 2019