Find out where you can buy the most iconic of Jason Day golf shoes including the Lunar Control Vapor 2 Nike Golf shoes worn at East Lake for the Coca Cola Tour Championship 2017.
Jason Day Golf Shoes | New Nike Footwear 2017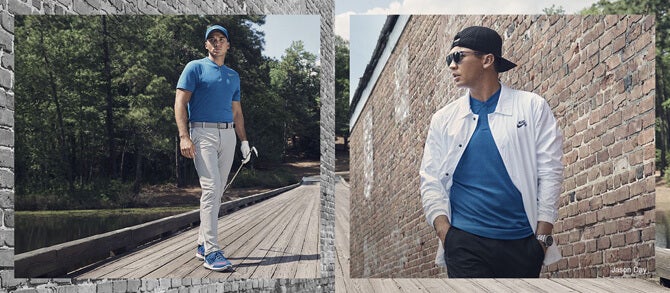 Jason Day is one of the biggest style icons when it comes to golf footwear, for sure. Since signing with Nike Golf at the beginning of 2017, we have seen Jason Day wearing a variety of Nike Golf shoes which have caught the eye including styles such as the Air Jordan 1 high tops, the Air Max inspired Air Zoom 90 IT spikeless shoes and the classic Nike Lunar Command 2 golf shoes.
He has also been spotted at the FedExCup Coca Cola Tour Championship wearing the as-yet-unreleased Nike Lunar Control Vapor 2 golf shoes in a super limited edition colour way.
Discover where to buy these particular LCV2 golf shoes below, with very few pairs available worldwide.
Jason Day Golf Shoes | Lunar Control Vapor 2
The Lunar Control Vapor 2 golf shoes will be available in October 2017 right here at Golfposer. Ahead of the full release of seasonal colours, Nike Golf have revealed a limited edition "player camo" colour way which was seen on the feet of both Jason Day and Paul Casey at East Lake for the Tour Championship.
Stay tuned for news of the official release date by following Golfposer on all of our key social media channels.
Jason Day Golf Shoes | Air Jordan 1
Jason Day sparked a heated debate with his choice of Nike golf shoes at the Open Championship 2017. The high tops he showcased were a player exclusive colour way of the Nike Air Jordan 1 golf shoes - a limited release style which was available at the very beginning of the year in two other colours.
Sweet shoes @JDayGolf I would wear those to any golf course ???? pic.twitter.com/tMI2qW0n2k

— Michael Laguna (@ML23_LA2LV) July 20, 2017
Jason Day Golf Shoes | Air Zoom 90 IT
Jason Day can be seen across Instagram wearing spikeless golf shoes such as the Nike Air Zoom 90 IT when practicing at the golf range. We particularly love this Air Max inspired style, now available across a spectrum of colours for 2017.
Jason Day Golf Shoes | Lunar Command 2
Finally, the Nike Lunar Command 2 golf shoes have probably been the wardrobe staple for Jason Day in 2017. A great value style which comes in many seasonal colours which is sure to provide all the comfort and performance you need this season.