The brand new Hugo Boss collection has just started to arrive online at Golfposer and here we take a look at some of the key styles which will act as a pre-cursor to the full range coming in Spring 2016.
Hugo Boss Pre-Spring - Now Online
It's one of our favourite times of the year when swathes of new Hugo Boss clothing arrives online at Golfposer. Last week was the turn of the Hugo Boss Pre-Spring 2016 range to excite and enthuse and the offerings have lived up to expectation, once again. Fresh new colour palettes and updated shirt, knitwear and trouser styles are featured; here is our style editors' guide to the changes made and what's new from Hugo Boss this season.
Hugo Boss Pre-Spring - Golf Knitwear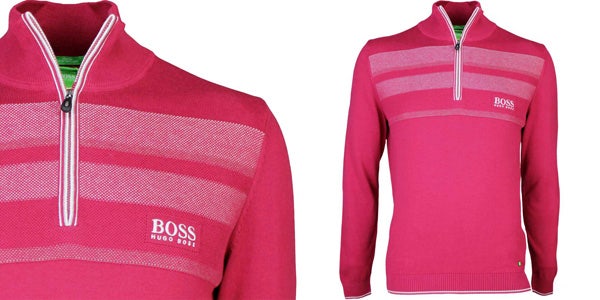 Given the time of the year, we feel that starting with a review of the Hugo Boss knitwear would be the most appropriate. As we know, the Zelchior Pro sweater often provides the core of the range and the same is true of the PS16 collection once again.
A new design has been introduced and makes use of contrast knit detail across the chest, whilst other updates include a new patch logo and subtle tipping at the hem, cuffs and zip. This Hugo Boss Pre-Spring quarter zip is certain to become a wardrobe staple for many stylish golfers and we love the updated styling of this timeless classic - perfectly suited to wearing both on or off the golf course.
The introduction of a small logo quarter zip sweater is welcomed, too. Titled the Zarm, this new style features sophisticated chest detail in the form of four stripes, whilst additional texture detail offers a different feel through the body. A contrast Hugo Boss logo at the left sleeve provides an understated, minimalist look - but we feel like there's more than enough in this design to remain unmistakeably Hugo Boss.
Hugo Boss Pre-Spring - Golf Shirts
The leading shirt from the Hugo Boss Pre-Spring 2016 range is this updated Paddy Pro 1 style - featuring a design which has already proven a hit this past week. A partly printed contrast brings a mesh panel effect, whilst the soft fabrication offers a great feel throughout. Available in grey/black and dark pink, this particular shirt also has two more colours to come in the form of nightwatch navy and verdant green. A crowd-pleaser, for sure.
The next shirt option is the Paddy Pro 2 - a purely cotton based shirt perhaps best understood as a more technical version of the classic Paddy Pro shirt itself. Tonal, textured detail features throughout to add a touch of sophistication, whilst the new Oxblood colour way is a particular favourite of ours.
The afore mentioned Paddy Pro shirt returns and is unchanged aside from the fresh new colours, whilst the slim fit option in the Paule Pro has seen wholesale changes. A new technical, poly based fabrication with enhanced stretch will appeal to those may have been turned off by the "slim fit" tagline - whilst new printed Hugo Boss branding featured at the right rear. A far cry from the FA15 Paule Pro shirt which will be music to many ears.
Hugo Boss Pre-Spring - Golf Trousers
Talking of updates, the popular Leeman chino trousers have seen changes for Pre-Spring - but don't hit the panic button just yet. The only difference between the old 1-W and the new 3-W is the detail at the pockets, now offering a more appealing contrast with each colour way. The Leeman is the slim fit style with tapered legs, whilst a new LASMAN 3-W chino has also been introduced with a regular fit leg. It's nice to now have a choice, isn't it?
For fans of the classic Hakan 7 pants, there are a handful of new colours arriving imminently. Keep an eye on the NEW ARRIVALS page for news of their introduction this season.
Hugo Boss Pre-Spring 2016 - Review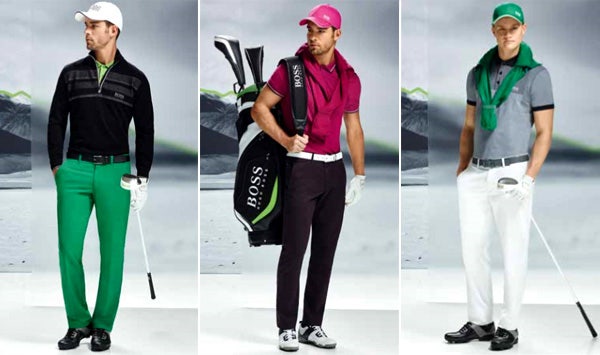 What with the brand now spreading the collections over four drops per year, the Hugo Boss Pre-Spring range for 2016 arrives at a time when we are all in need of a little pick-me-up and this collection does just that. Whether you're looking for Christmas gift ideas or simply to update your own Hugo Boss wardrobe, we feel that there's something for everyone even within this modest and refined Pre-Spring capsule collection!