We focus on the latest Hugo Boss x Martin Kaymer golf collection for Spring 2016 with new products arriving all the time at Golfposer.
Hugo Boss MK Range by Martin Kaymer
Martin Kaymer announced the arrival of his new Hugo Boss golf clothing for the season ahead via Twitter last week and here we take you through some of the key styles, colour options and looks which the stylish German will be wearing in the coming weeks and months.
Over the past few seasons, Hugo Boss have gradually been increasing the size of the Martin Kaymer golf collection and thus, for Spring 2016, we see one of the most comprehensive MK offerings yet. This is clear to see through a diverse range of Hugo Boss MK golf shirts which are on offer with no short of twelve different options to choose from this season.
Selected colours of the three key styles are now available to choose from and our favourites include the MK in Training White or Nightwatch Navy, the MK 1 in Rococco Red or Dark Phantom Grey and finally the MK 2 in Bonnie Blue. Each style adopts the trend of taped graphic detail which is often subtle yet distinctive - sure to stand out on the screen when worn on tour by Martin Kaymer.
Usually, we only have two Hugo Boss MK golf sweaters to choose from. For Spring 16 however, we have the luxury of four different colours of the all new Zayo MK - a gorgeous pullover with rib detail featured at the shoulders to combine well with the knitted vertical detail featured at the rear. Classic options include black and Nightwatch navy, whilst the much more adventurous Freesia yellow and Rococco Red are also set to arrive online soon.
As retailers, we can often bemoan the lack of campaign imagery and the prolonged delays in the tour professionals receiving their new products to wear; however we must applaud Hugo Boss for having their finger on the pulse this season. As noted, Martin Kaymer has already tweeted his new wardrobe and has already been wearing some of his fresh new outfits on tour - meanwhile the seasonal campaign imagery is some of the best we've had available in recent memory. Here are some of our favourite Hugo Boss MK looks for this season...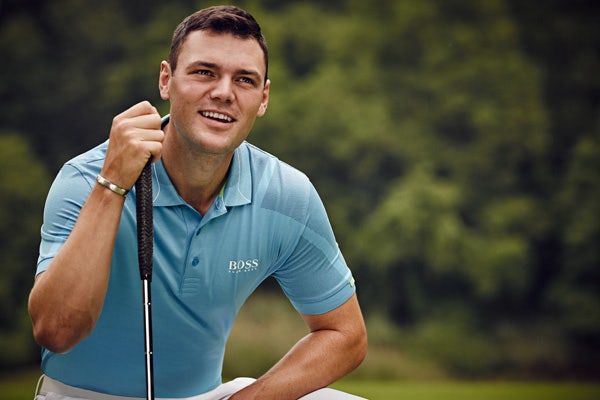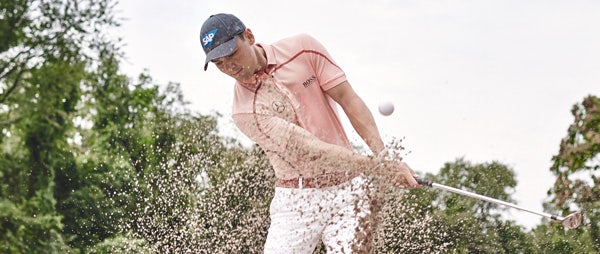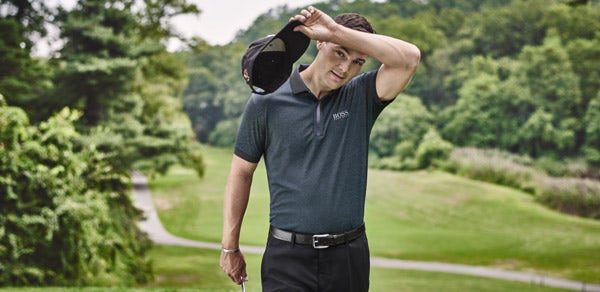 Shop the Hugo Boss MK Golf Collection online at Golfposer.