The arrival of the new Hugo Boss golf waterproofs online at Golfposer prompted quite the reaction this week. But what has made them one of the most in-demand products in memory?
Hugo Boss Golf Waterproofs - The Story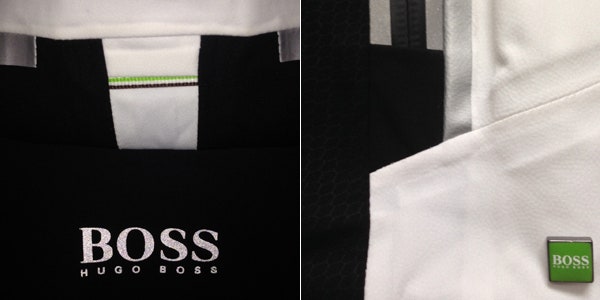 After they were seen worn on the course at St Andrews by Martin Kaymer, we noticed a significant spike in requests for this particular Hugo Boss rain suit and within just hours of going on sale, selected sizes were already selling out. It was like nothing we have seen before - and some members of our team have been in this industry for many, many years.
The anticipation for the arrival of the Hugo Boss golf waterproofs online was simply unprecedented. Even new golf shoe styles from other brands with dedicated, loyal followers have never received such a response. But, where did all of this originate from?
Hugo Boss Golf Waterproofs - Martin Kaymer
Martin Kaymer effectively introduced the new Hugo Boss golf waterproofs to the world in St Andrews. The weather was simply atrocious for the majority of the week at the Open Championship this year and so Kaymer pulled out the Jalay Pro jacket and Hemer Pro rain pants for the first time during the Pro-Am on Wednesday.
It's somewhat a rare occasion for any professional golfer to wear waterproofs on the course these days, given the nature of the globe trotting tour schedules. That's one reason why Martin Kaymer's waterproof suit got so much attention, the other reason is because it's even more rare for Hugo Boss to produce a waterproof golf suit themselves.
Hugo Boss Golf Waterproofs - Review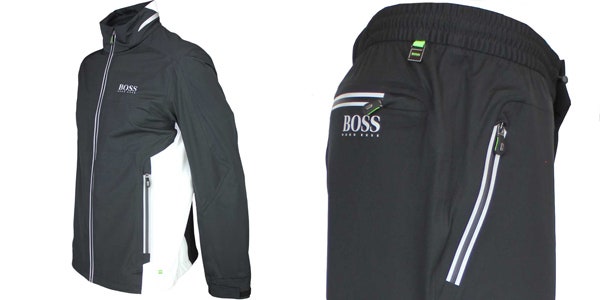 So how do they fare in testing? Simply put, we love them. Hugo Boss is a brand synonymous with quality, reliability and consistency and these Hugo Boss golf waterproofs are just exceptional in their fit, feel and performance. They come with a price tag which may be out of reach for some, but that price tag is fully justified in our opinion.
A double fabrication with a quiet, soft feel to the outer shell will offer comfort and breathability - whilst the fully taped seams ensure full and reliable waterproof capability. Adjustment areas feature throughout the jacket and pants to help you find the ideal fit, whilst added stretch in the fabric makes the suit perfect for golf in all conditions.
Something of an understated yet classic look with a strong black/white colour scheme makes the Boss rain suit highly wearable for any stylish golfer, whilst the tour branding at the left chest, neck and zippers completes a signature Boss look.
Hugo Boss Golf Waterproofs - Limited Edition
You have our word, these Hugo Boss waterproofs are incredibly limited in quantity. The production was slightly delayed in order to get the finished product absolutely perfect in terms of quality and reliability and due to this prolonged wait, some of the numbers in production were reduced. Furthermore, having already seen all four collections for next year, there will be no new replacement for these Hugo Boss golf waterproofs. Once they're gone, they're gone.
Having said that, if you cannot see your size currently online at Golfposer then please don't panic - more are one their way.
Hugo Boss Golf Waterproofs - Size Guide
We know garment sizing is important, so here is an in-depth look at the key measurements for each size. Hugo Boss golf waterproofs come up true to size and feature adjustments throughout the garment to offer the ideal fit.
We recommend taking your normal size of golf jacket and rain pants with Hugo Boss golf waterproofs. To guide you further, the following values are the recommended men's chest to fit and the actual jacket measurements of the exact chest size, rear length and sleeve length.
For the Hemer Pro waterproof trousers, the following values are the ideal waist which each Hugo Boss trouser will fit with the actual trouser measurements of the exact waist and leg length.

Follow this link to shop for the new Hugo Boss golf waterproofs at Golfposer >>