Our chief style editor offers an opinion on the latest trend in golf fashion - the cuffed golf pant, better known as the controversial "golf joggers".
Golf Joggers - The Background Story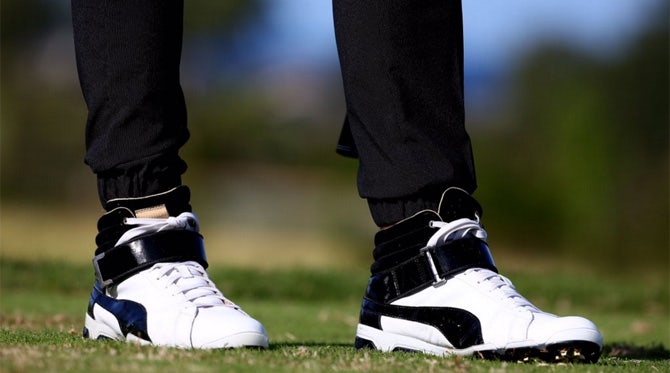 Golf trousers have always been notorious for making a statement on the course - whether that's through the most outlandish colour combinations, the wonderfully random printed pants à la Billy Horschel or the brightest of the bright and fluorescent styles from Rickie Fowler circa 2011/12. But it's the most minor of adjustments to the silhouette of the traditional golf trouser which has prompted some incredibly strong opinions this season, accelerated once more at the Players Championship this month.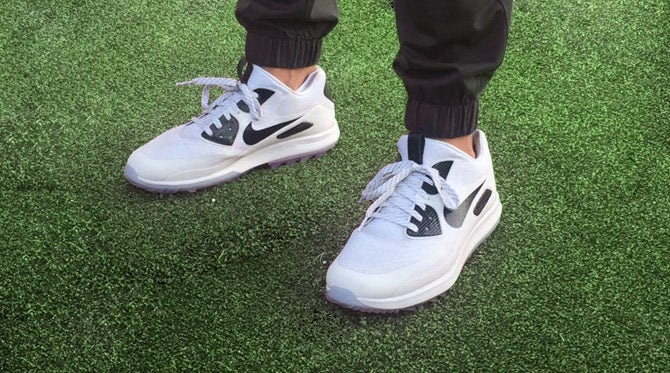 This time at TPC Sawgrass, it wasn't just Rickie Fowler who was centre stage; Rory McIlroy also prompted frenzied discussion and debate with his choice of attire on the first day of the tournament. Both athletes wore a pair of cuffed pants as part of their day one outfits and, given that we've already witnessed Rickie Fowler in his "joggers" on several occasions this season, it was inevitably Rory McIlroy and Nike who were cited by so many on social media this time around.
Golf Joggers - The Reaction
Some were in shock, some were in awe – but everyone with an interest in golf seemed to have an opinion on Rory and his ultra-modern new look. A cuffed golf trouser? Worn by Rory McIlroy? Surely that was something only Rickie Fowler could pull off? "They look awful!" some cried. "They shouldn't be allowed!" others complained. However, for each and every negative comment, there was at least one more who was in adoration of Rory's outfit.
Ricky and Rory bringing the golf joggers into style this week was worth it by itself #TPC pic.twitter.com/aMcdSXUWuT

— Jordan Harrington (@jordan_har) May 16, 2016
They are not for Rory. Stats prove it. #BadLuck Leave the "joggers" up to Rickie. He can pull them off. https://t.co/H6r0XRqv8S

— Andrea (@GirlGolfs) May 15, 2016
A lot of hate for Rory and his golf joggers yesterday. But they're lowkey ???? Let those young boys rumble pic.twitter.com/j2slFaPGfk

— iLL Belichick (@Cellithore) May 15, 2016
Rory McIlroy's cuffed track pants and NIkes at #theplayers. This is golf now pic.twitter.com/9dxAT6wcQm

— Melanie Dinjaski (@MelanieDinjaski) May 15, 2016
First Fowler and then McIlroy - golf fashion is changing. #TrendSetters pic.twitter.com/DQKh7KXtBc

— Compleat Golfer (@CompleatGolfer) May 13, 2016
Golf Joggers - The Professionals Choice
In a similar fashion to Rickie, Rory wore his pair of golf joggers in order to showcase a pair of his new kicks - the Nike Air Zoom 90 IT launched earlier this month. Despite a lot of speculation that the golf joggers were a style enforced upon the athlete by the brand selling the shoes - we would like to highlight the following point. These golf joggers are coming to retail, but neither the Nike Golf Joggers nor the Puma equivalent will be available to the public until much, much later in the year. So that's that theory scrapped, then.
@KennySmithPhoto 100% player's choice. The fact that both brands' cuffed pants aren't even in retail until June or later speaks volumes

— Golfposer.com (@Golfposer) May 12, 2016
The reality is – the golfers themselves love to wear these cuffed golf pants. They offer a distinctive look; they offer a surprising level of comfort with a heightened feeling of freshness; they show off your favourite golf shoes in the best way possible and they simply allow for an expression of individuality. As Graham DeLaet so rightly tweeted: "It's not my style, but at least Rory and Rickie have the balls to be themselves. That's a lot more than most people can say."
It's not my style, but at least Rory and Rickie have the balls to be themselves. That's a lot more than most people can say. — Graham DeLaet (@GrahamDeLaet) May 13, 2016
Golf Joggers - GP Opinion
We're strong advocates for a cuffed golf pant – and not just because we'll have them to sell later in the year. We wear them to the office every other day, we've worn them on nice days at our local courses for several weeks. We find them modern, we find them on-trend and we find them fashionable – though we would tend to agree that Rickie's certainly looked better than Rory's at the Players Championship thanks to the superior fit around the lower leg/ankle area.
And where we actually get the most satisfaction out of the whole "golf jogger" debate is that all of your critics actually missed one of the most sartorially respected and most clean-cut golfers in the world wearing his own version of a cuffed golf pant…twice. Adam Scott, way back at the Northern Trust Open in the middle of February, wore a pair of cuffed pants in plain black followed by another pair with a subtle plaid design – yet everyone seemed to miss them on both occasions. Where were all the critics back then? Perhaps they hadn't quite caught up with the bandwagon of negativity just yet.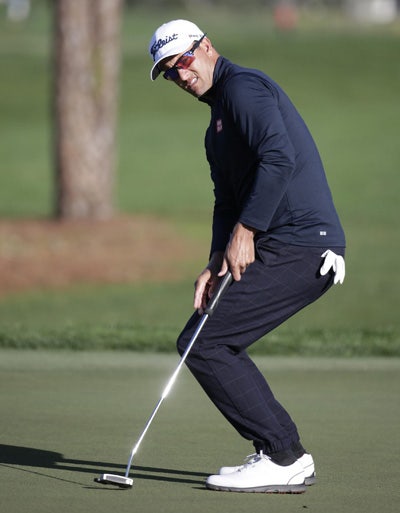 Our point here is that the progressive styling shown by Rickie Fowler and Rory McIlroy should be embraced as something positive for the game. We understand that you might not want to wear a pair of "golf joggers" on the course – but many others do. Brands at the forefront of the golf fashion scene are pioneering these fresh and modern looks and you have our word that, come the end of the year, it won't just be Puma and Nike who are offering a golf specific cuffed pant.
Finally, we don't often wish to enter the whole "image" of golf debate but we feel it needs to be mentioned here. Simply put, golf fashion is beginning to appeal to the younger generation more than ever before and while everyone is entitled to an opinion – it's the negativity surrounding modern golf fashion which might just turn away the golfers of the future. Then again, that's only if the members of clubs such as Muirfield haven't already done so…
The Puma Golf joggers are now available to pre-order, whilst the Nike equivalent will be available online towards the end of 2016.